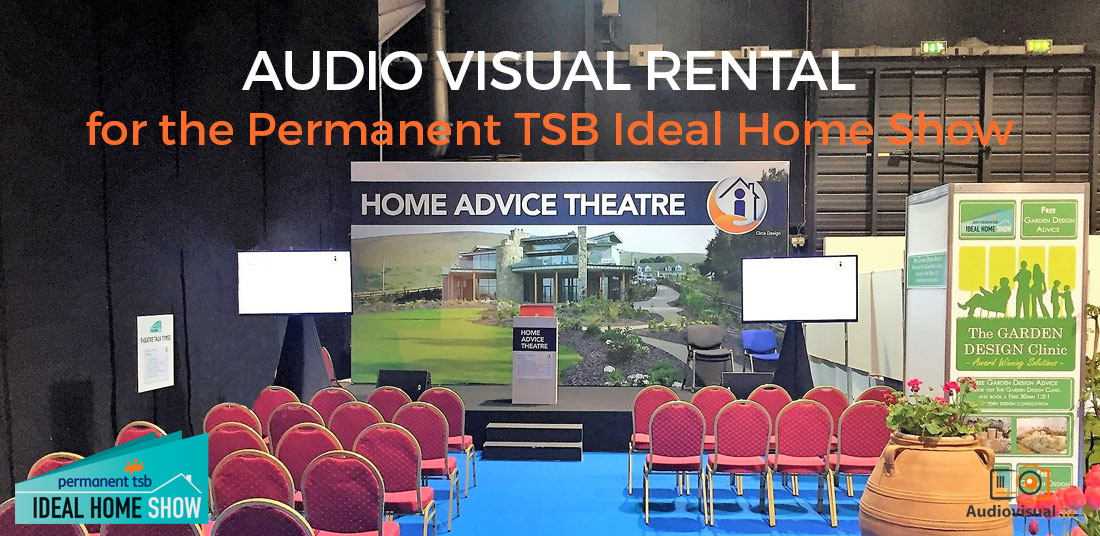 01 Nov

Audio Visual Rental for the Permanent TSB Ideal Home Show

People often ask us what kind of work we do week to week. We've decided, over some upcoming blogs, to showcase some of the events we look after. Last weekend we looked after the audio visual setup for The Permanent TSB Ideal Home Show and thought we might as well start showing you some of our work with that event.
The Ideal Home Show And Vital Audio Visual Needs
Running twice a year (Autumn & Spring), the Ideal Home Show is the go to show for expert advice and inspiration for your home. More and more visitors attend the Permanent TSB Ideal Home Show in search of the whole solution to home improvement projects.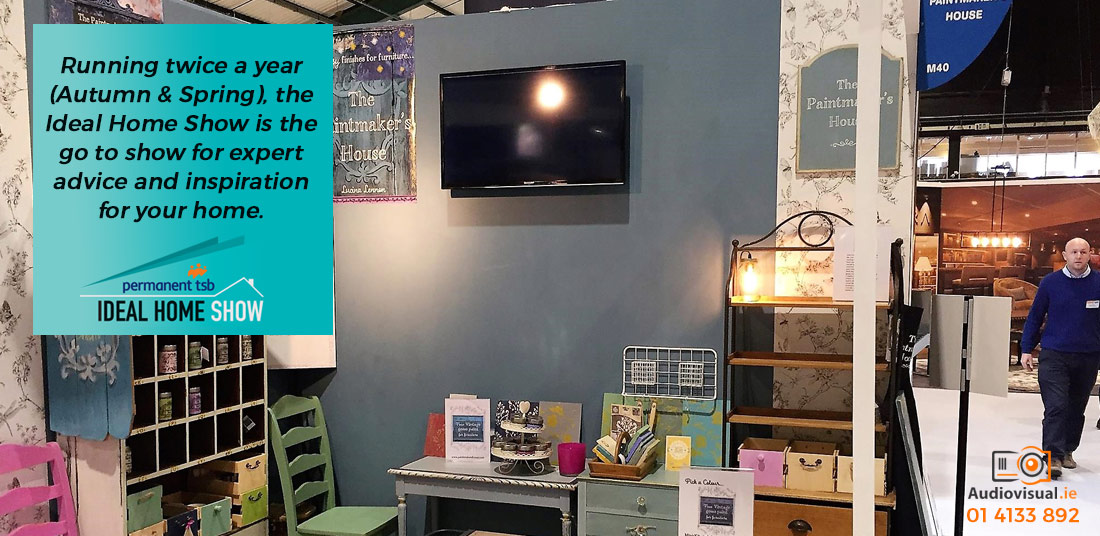 From architectural advice to build solutions and from bathrooms and kitchens to doors, windows, insulation and energy alternatives to furnishings, décor and art. Put simply if you are involved in any home improvement project, construction or if you own a house, the Ideal Home Show is the perfect place to attend.
With almost 30,000 people attending over 4 days, attendees are provided with a host of various stages, seminars and expert discussion on the latest and best practice as well as the latest trends and technologies available. It is vital that these discussions, demonstrations and seminars are relayed to the audience in a clear and concise way. This means that the Ideal Home Show needs multiple display screens, multi-source video switching and crystal-clear audio quality – and that's what we provide.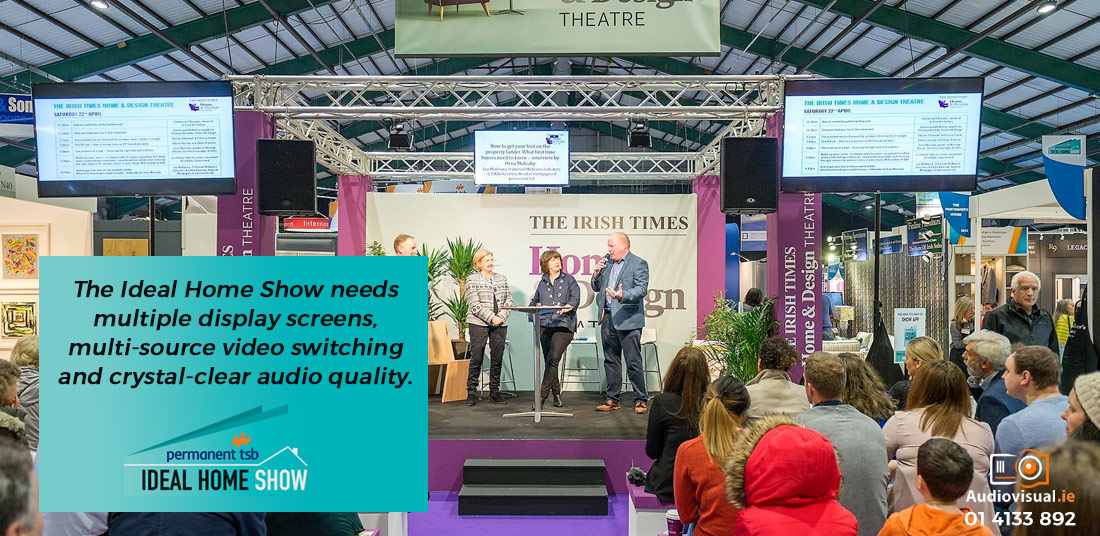 Suppliers of Equipment & AV Technical Services to the Ideal Home Show
AudioVisual.ie have been supplying the AV Equipment & AV Technical services for Ideal Home Show since 2011. We provide the large format displays, sound systems, wireless mics, lighting, vision mixing, lecterns, projectors, screens, and AV technical manpower.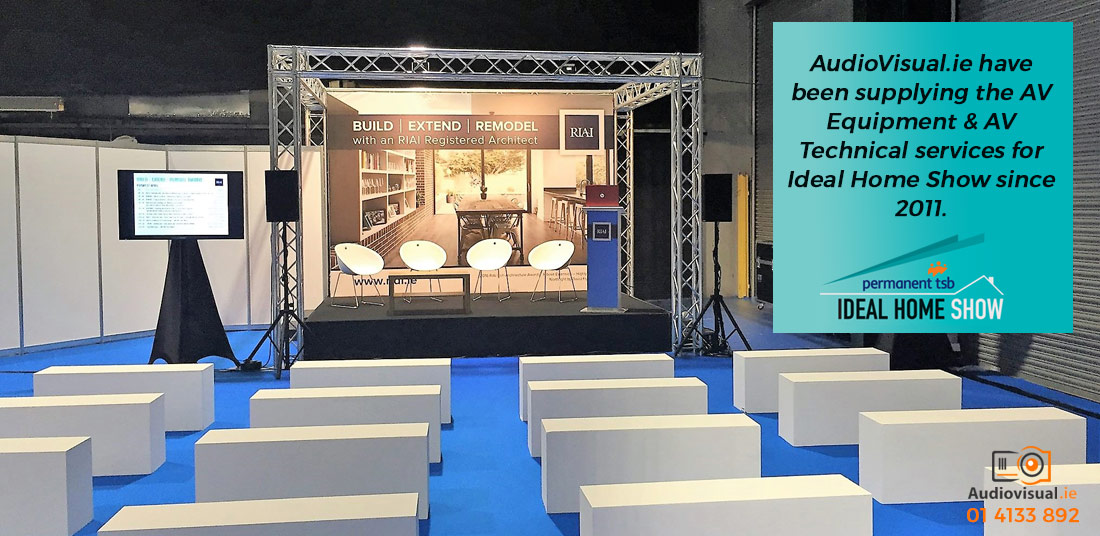 Providing AV Rental To Exhibitors
As well as providing the AV setup for the larger presentations and demonstrations we also look after individual requests from independent exhibitors. Typically this includes 40", 50" & 65" flat screen rentals, sound systems, video wall rentals and LED uplighters.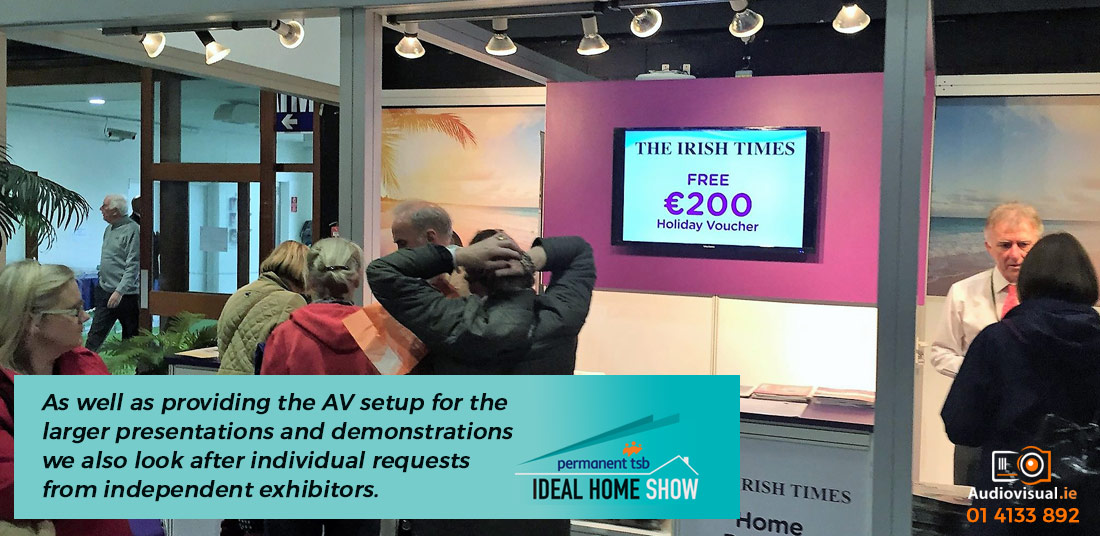 Our team on the ground look after all guests presenting on the seminar stages. This presents a range of requirements including live cameras for product demonstrations, computer presentations, wireless lapel, headset & handheld microphones, and other ad-hoc requirements such as interactive flatscreen displays, close up cameras, overhead cameras and specialist microphones.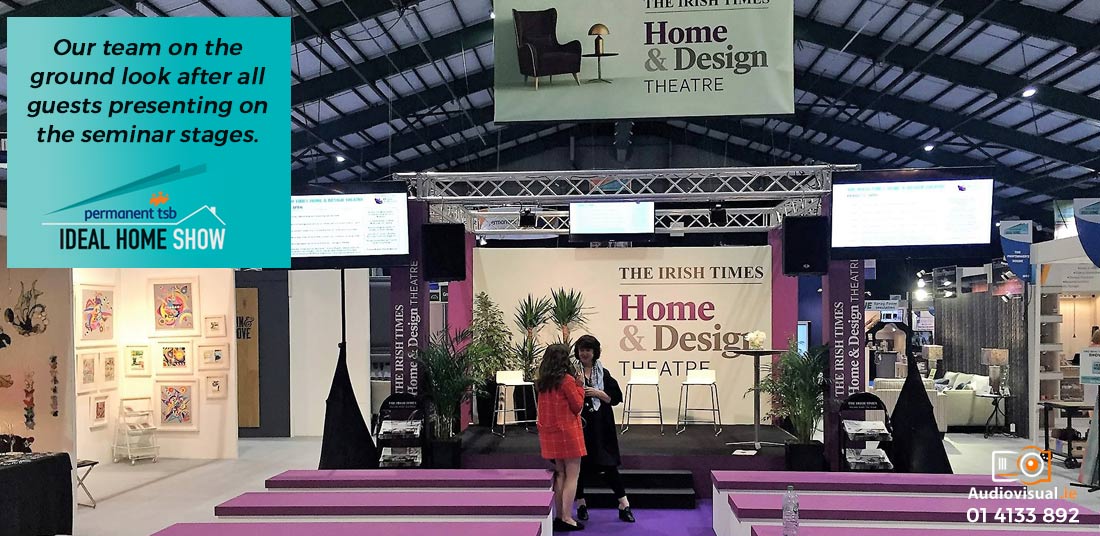 AV Rentals for Exhibitions and Trade Show Booths
If you are planning an exhibition event or taking a trade show booth and want to integrate some AV equipment into your design, don't hesitate to email me ivan@audiovisual.ie, call the team on + 353 1 4133892 or contact us online.