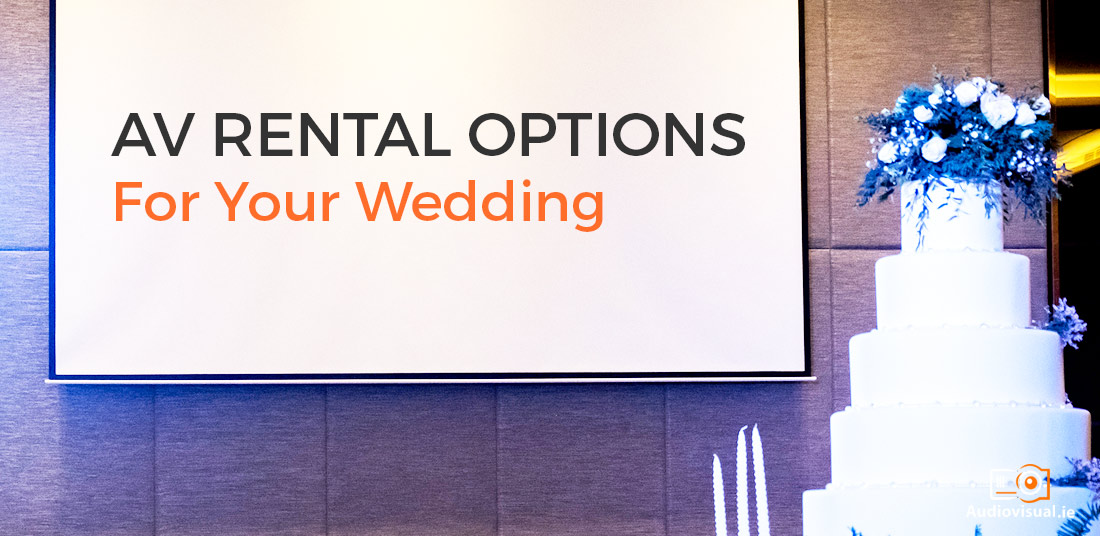 22 Jun

Audio Visual Rental Options For Your Wedding

Planning a wedding can be overwhelming. There are a million things to organise and as many decisions to be made. At audiovisual.ie we offer a range of professional AV services for your wedding day. In this post we'll go over some of the most popular AV rental options for your wedding day.
Battery Sound System for an Outdoor Service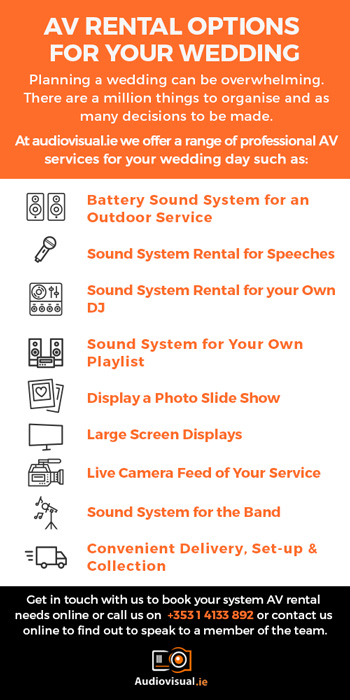 If you plan to get married in the middle of a field, at the edge of a cliff or on a golden beach, the last thing you will want is a celebrant that cannot be heard or a diesel generator chugging away in the background. We have a selection of 120watt Battery PA systems that are portable and high quality. Furthermore, they are ideal for music during the service (USB, SD & Bluetooth options) and after the formalities, can be moved to the reception for great background music and for speeches using the included wireless microphone. A great wedding day all-rounder!
Sound System Rental for Speeches
We have all been at a wedding when the sound of a spoon against a glass rings out and everyone settles down for the speeches. The hotel in-house microphone gets passed to the best man and then it happens. The blown ceiling speakers that were used for last night's gig buzz away in the background, feedback rings out and signal drops in and out as the Mic goes in and out of range. Make sure your speeches get the sound system they deserve. Get the professionals in and let us provide a system that makes sure every guest has the best seat in the house.
Sound System Rental for your Own DJ
If you are bringing in a DJ we can supply the sound system for you. Perhaps your DJ is coming in from abroad. We can spec a system for your room that will guarantee the best sound quality on the night. Whether your DJ is using a laptop, decks or a tablet, we'll provide industry standard connectivity exactly to their specification.
Sound System for Your Own Playlist
Maybe you're not hiring a DJ? Maybe you know you're music or the brother in law has some killer playlists… Why not hire in the latest sound gear and do it yourself. We'll transform your playlist into guaranteed floor fillers! Whatever your music is stored on, we can provide the cables, connectors and know how to make it all work.
Display a Photo Slide Show
This is our most popular request. Why not scan all your old photos, add the digital ones and compile it all into a photo slide show? Everybody loves looking at photos, especially old ones! A slideshow display makes for a great conversation piece throughout your reception and can run on a loop all day (and night). Our most popular sizes are 40" & 50" screens. Run your slide show straight form a USB key!
Large Screen Displays
We provide all sorts of large screen rentals for large audiences. We have TVs in 40, 50, 65, & 80 inch sizes. We have 110" Video walls and LED walls up to 5 Meters wide. Maybe there is a big match on the same day as your wedding and you don't want guests drifting off to the public bar or you simply want a large modern LED display behind the band. We do it all.
Live Camera Feed of Your Service
We can relay a live camera feed of your service to screens located around your venue. Perhaps you are in an unusually shaped venue or you require overflow rooms for additional guests. We can relay quality cabled HD video and audio so your guests do not miss a thing.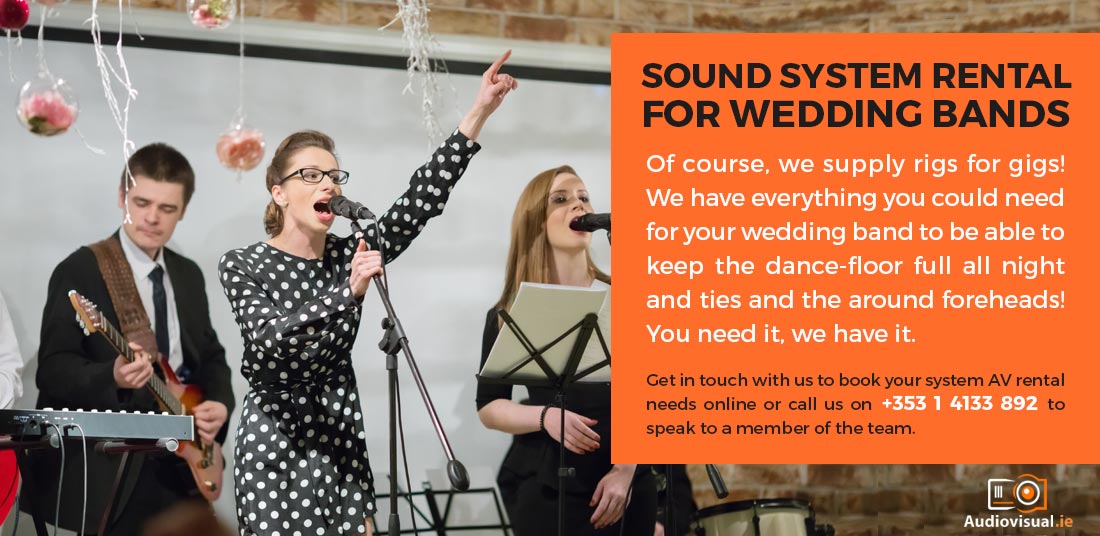 Sound System Rental for Wedding Bands
Of course, we supply rigs for gigs! We have everything you could need for your wedding band to be able to keep the dance-floor full all night and ties and the around foreheads! You need it, we have it.
AV Rental for Weddings : Convenient Delivery, Set-up & Collection
When it comes to weddings we know how important timing is! We deliver your AV gear exactly when you want it and need it. We set it up promptly and discreetly and remove it when your finished with it. What could be easier! At audiovisual.ie we provide a professional, timely and efficient service. We are reliable and most importantly we are experienced. Our team understand your requirements and go the extra mile to make sure everything is perfect.
Get in touch with us to book your system online or call us on +353 1 4133892 to speak to a member of the team.