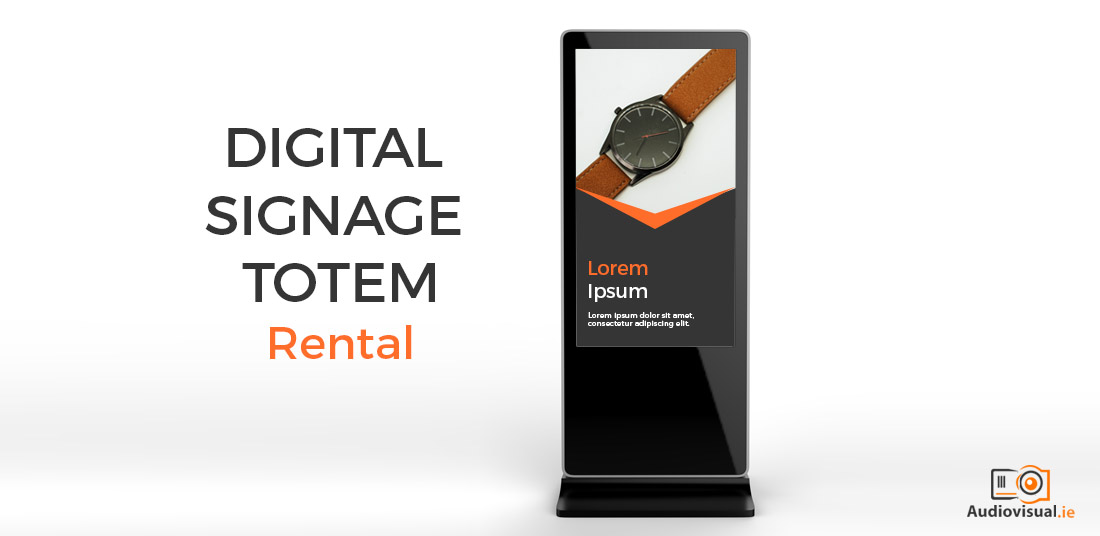 25 Feb

Digital Signage Totem Rental

If your looking for a clever way to market your brand or product at an exhibition, then our 49″ digital signage totems are what you need. The Freestanding Digital Totem Display is the perfect addition to any exhibition or event. With a large Full HD display for crystal clear imaging, it has a multitude of uses including promotional materials.
Where To Use A Digital Signage Totem?
Totems are perfect for exhibition stands, retail shops, window displays, events, product launches, museums, transportation terminals, shopping malls and office lobbies. The Totem can be used to display digital content, videos, images or as a way-finding system, to display video or static content, including files in mov, MPEG4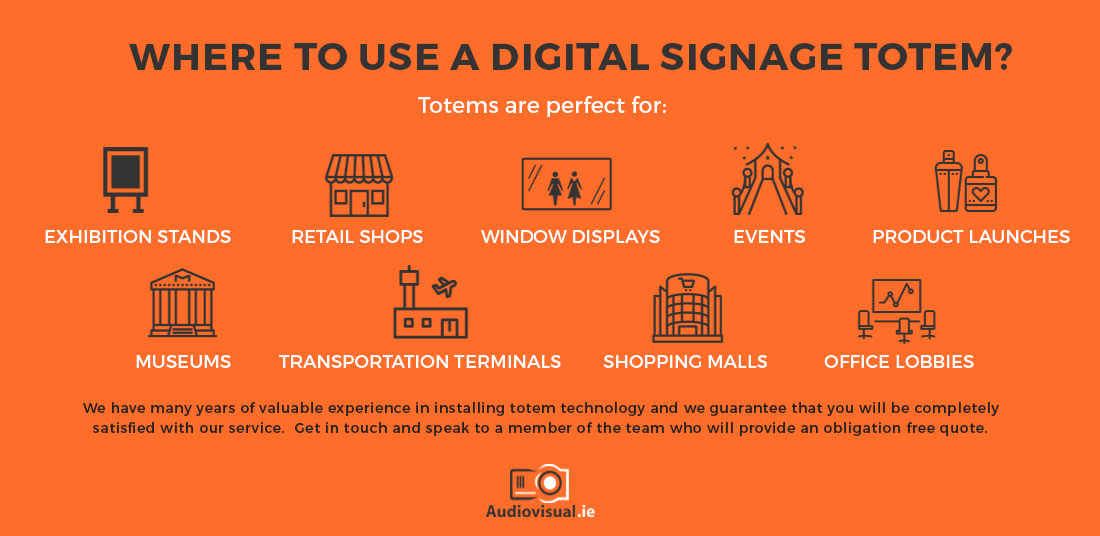 Digital Signage Totem Rental Where You Need It
We offer our services directly to exhibitors, stand builders, event organisers and design agencies across Ireland. Regardless of where or when you have your event we will be able to provide you with the digital totem rental required!
A Digital Advertising Board
The Digital Display Totem is a free-standing, single-sided digital advertising board which can be used to create sophisticated, eye-catching promotional displays. It can support both image slideshows and videos – with or without sound – giving your messages a modern appearance and helping them stand out. The unit is also available with optional bespoke branding which will reinforce your messaging and increase brand awareness.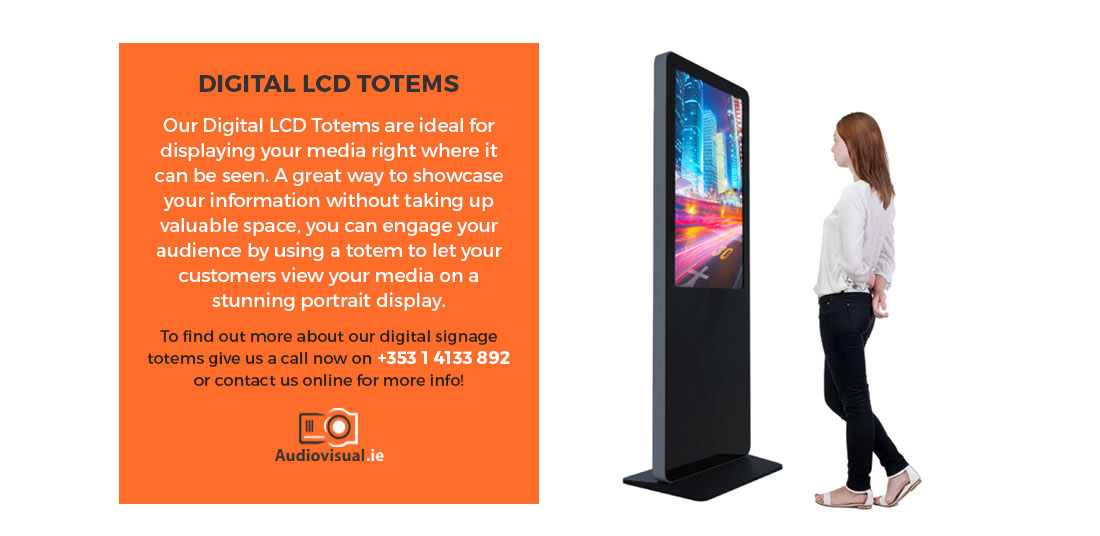 Digital LCD Totems
Our Digital LCD Totems are ideal for displaying your media right where it can be seen. A great way to showcase your information without taking up valuable space, you can engage your audience by using a totem to let your customers view your media on a stunning portrait display.
Compatible With A Wide Range of Media Devices
With onboard HDMI inputs, the options are endless. Connect a media player, laptop, PC, blu-ray, and display stunning portrait content with plug 'n play ease. HDMI ensures crisp clear images from corner to corner. Our media players support video, images, audio, Word, Excel, PPT and PDF formats give you eye-catching displays and offering a variety of exciting digital features. All things considered digital totems are a cost-effective digital advertising medium that provide excellent advertising opportunities.
Small Footprint, Big Impact – Ideal for Exhibition Stands
The Totem eliminates the need for big bulky stands and trolleys normally associated with large format flatscreens. This space can be vital when exhibiting or using floor space in busy reception areas.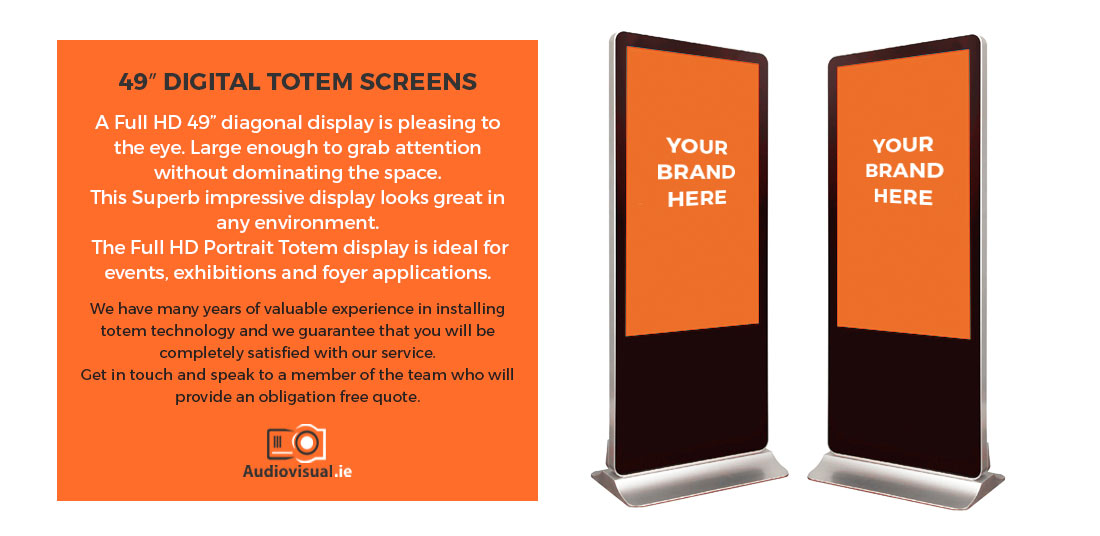 49″ Digital Totem Screens (Diagonal)
A Full HD 49" diagonal display is pleasing to the eye. Large enough to grab attention without dominating the space. This Superb impressive display looks great in any environment. The Full HD Portrait Totem display is ideal for events, exhibitions and foyer applications.
Book Yours Digital Signage Totem Today
We have many years of valuable experience in installing totem technology and we guarantee that you will be completely satisfied with our service. Give us a call on +353 1 4133 892 or contact us online and speak to a member of the team who will provide an obligation free quote.
Don't miss out on future blog posts and be in with a chance to win a €100 voucher by joining our mailing list now!