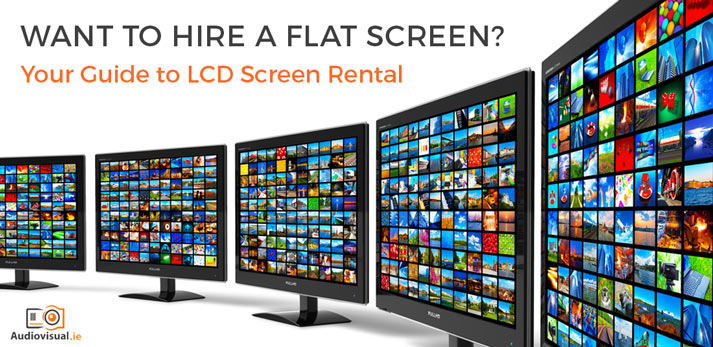 01 Dec

Want To Hire a Flat Screen? | Your Guide to LCD Screen Rental

Large screen monitor rentals are perfect for tradeshows, exhibitions, displays and presentations when you need a clean, crisp image in any location. Flat screens provide you with the facility to locate HD images anywhere without any of the limitations traditionally associated with projection displays. This means no 'dead space' on your expo stand or unwanted shadows and glares around the place. Another big advantage is that you can daisy chain displays to cover large audiences or rooms with multiple displays. This is ideal, for example, when audiences are walking in various directions or are seated at round tables.

Whilst flat screens are perfect for tradeshows and the likes there are a few things to consider when hiring a flat screen display and in this post we'll give you a brief guide to LCD/flat screen rental.
What Size Flat Screen Should I Choose?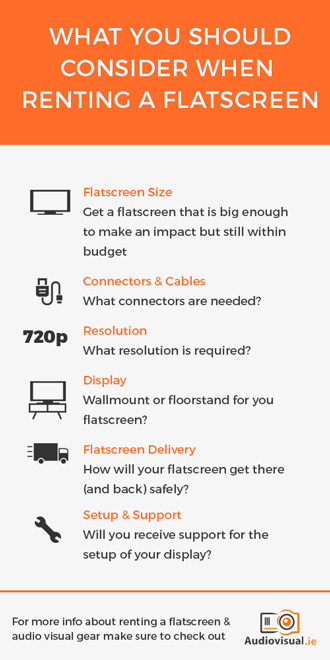 Screen sizes vary from 32" up to 70" (measured diagonally). If you're very limited on space a 32" flatscreen is a great option. It provides more 'real estate' than a computer monitor and looks so much better. 40" and 42" are still the most popular. 50" is a really nice option for a high impact display and 60" for in-your-face applications! Large format 70" screens are unbelievable. Access and space need to be carefully considered with screens of this size. Remember multiple smaller screens may have greater impact than one large screen…… or, if unsure and budget is there, go for both!
Connectivity & Resolution for Flatscreens
The single biggest advantage of using flatscreens is the image quality. Crystal clear images are delivered in Full HD. Presentations look razor sharp and video grabs attention. Signal inputs are extensive offering both VGA & High Definition HDMI Inputs. Another great advantage with flatscreens is the ability to plug and play video via USB. Your video can be looped and run without connecting a laptop or DVD player. (For more about flat screen connectivity check out our quick guide to AV connectivity)
Flat Screen Rental – Wallmount or Floorstand?
Typically flatscreen rentals are set-up on a floorstand. Most expos organisers using a shell scheme for stands will not allow mounting of wall brackets on shell scheme walls. We have some special shell scheme brackets available for screens up to 50" (but don't tell anyone). If you are custom building a stand you can have your screen(s) wallmounted and hide all cables for a nice clean look.
Flatscreen Delivery & Support
Make sure your audio visual rental company don't just dump your flat screen and run! A good AV company will find out in advance exactly what you are doing. What you are connecting to and what you are displaying. They should set you up, provide all necessary cables & connectors and tape everything down to keep the health & safety guys happy. You should be provided with a contact number for support during the rental especially if over the weekend.
Top Tip: Avoid booking expensive power sockets on your stand. Ask the AV company to bring along a 4way extension socket board!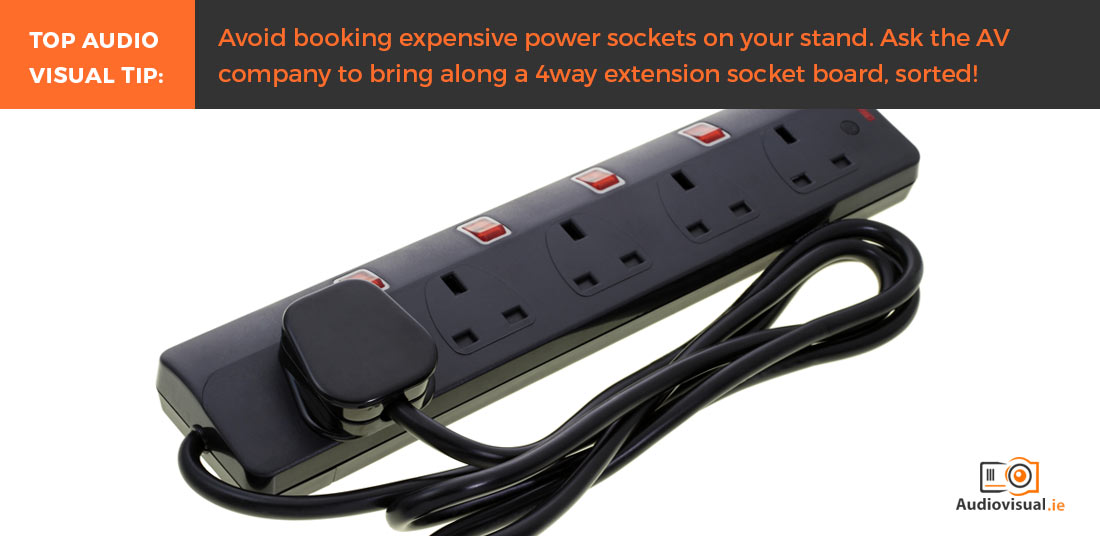 Need To Rent A Flatscreen?
When it comes to flatscreen rental and all things audio visual we have decades of experience. Do you want to speak to an AV expert (about flatscreens, stage and lighting and everything in between)? Then call us on +353 1 4133892, email me directly at ivan@audiovisual.ie, or contact us online and we'll take it from there.