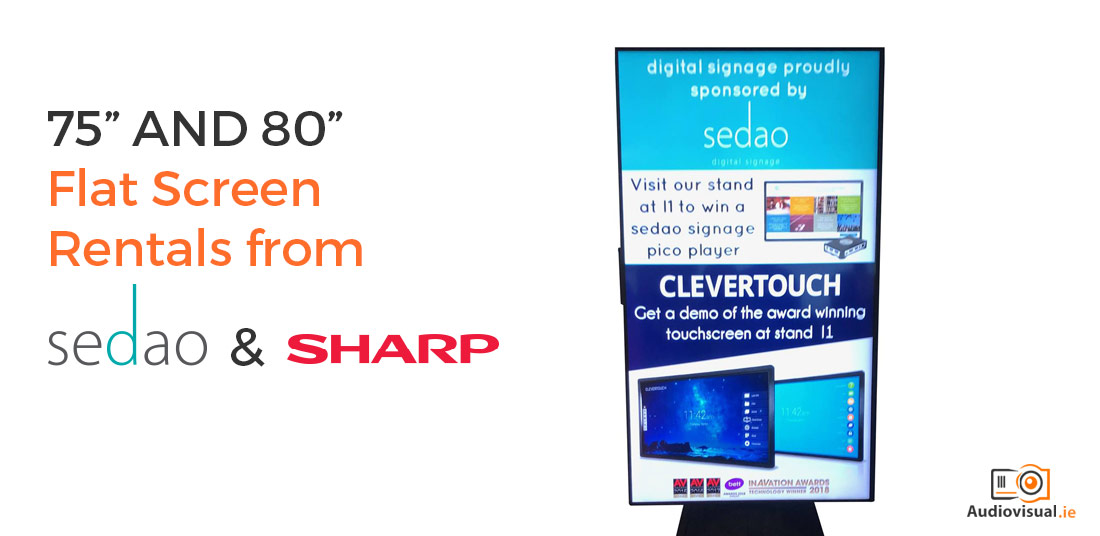 21 May

75" and 80" Flat Screen Rentals from Sedao and Sharp

Here at AV.ie, we are excited about our superb large screen display and digital signage solutions from Sedao and Sharp. These sleek, slim and stylish professional displays have stunning visual impact. If you are looking for a display that has power and beauty, then look no further. You can play and display with ease using these powerful pieces of technology.
Sedao and Sharp – Synonymous with Quality
Both Sedao and Sharp are synonymous with quality and reliability. The only trouble you will experience is having to decide which model to go for! Whichever you choose, you can be certain that the player will deliver and then some. Nothing can prepare you for the astonishing clarity and resolution of these displays.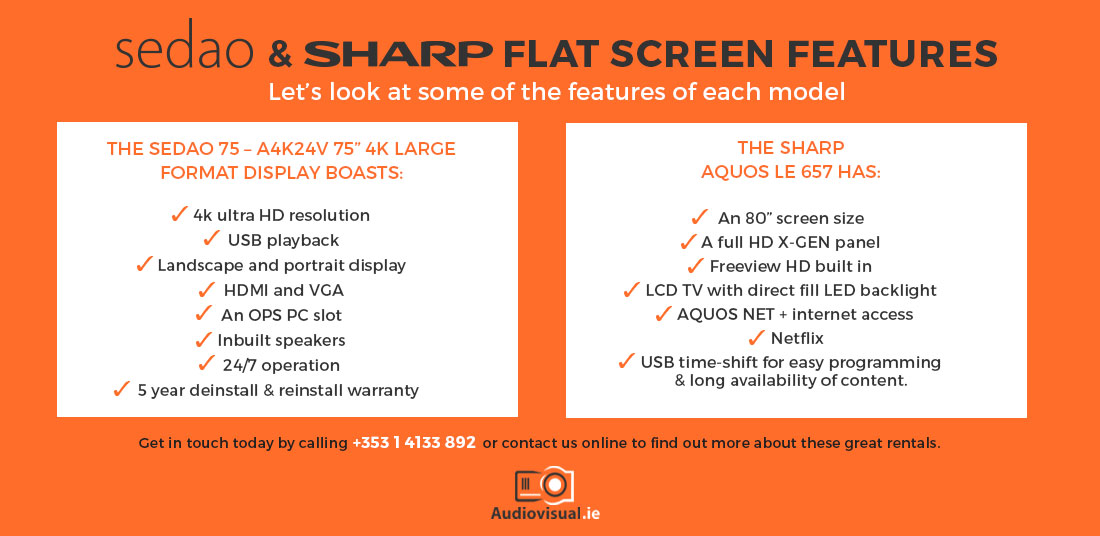 Sedao & Sharp Flat Screen Features
Before we go any further, let's look at some of the features of each model.
The Sedao 75 – A4K24V 75" 4k large format display boasts
4k ultra HD resolution
USB playback
Landscape and portrait display
HDMI and VGA
An OPS PC slot
Inbuilt speakers
24/7 operation
Five-year deinstall and reinstall warranty
The Sharp AQUOS LE 657 has
an 80" screen size
a full HD X-GEN panel
Freeview HD built in
LCD TV with direct fill LED backlight
AQUOS NET + internet access
Netflix
USB time-shift for easy programming and long availability of content.
We Know Which Screens Will Deliver
Okay, the above features might have been a bit of a mouthful – especially if you're not tech savvy but all you really all you really need to know is that if you hire one of these machines you can expect them to perform to a very high degree. As AV experts, we know which models will deliver on their promises and which don't, so you can trust us when we recommend a player and these players we would certainly recommend.
Incredible Picture & Video Quality
Whether you go for the Sedao or Sharp, you can expect quality and reliability in abundance. These displays do not fail on you – it's that simple. You can trust them to deliver incredible picture quality every time. Whatever your visual display needs these models will meet them.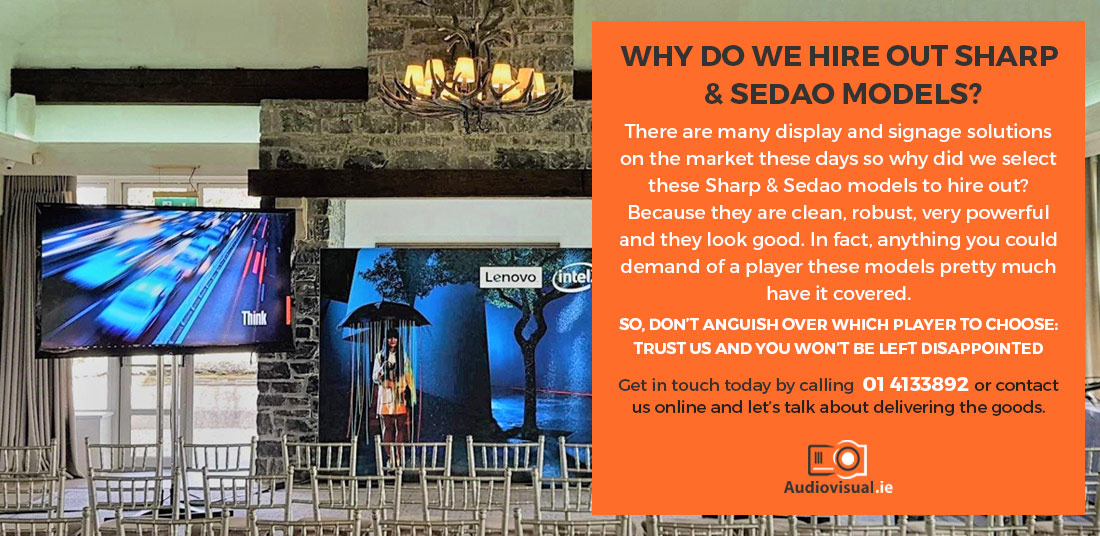 Why Do We Hire Out Sharp & Sedao Models?
There are many display and signage solutions on the market these days so why did we select these Sharp & Sedao models to hire out? Because they are clean, robust, very powerful and they look good. In fact, anything you could demand of a player these models pretty much have it covered. So, don't anguish over which player to choose: trust us and you won't be left disappointed. Get in touch today by calling +353 1 4133 892 or contact us online and let's talk about delivering the goods.
Don't miss out on future blog posts and be in with a chance to win a €100 voucher by joining our mailing list now!