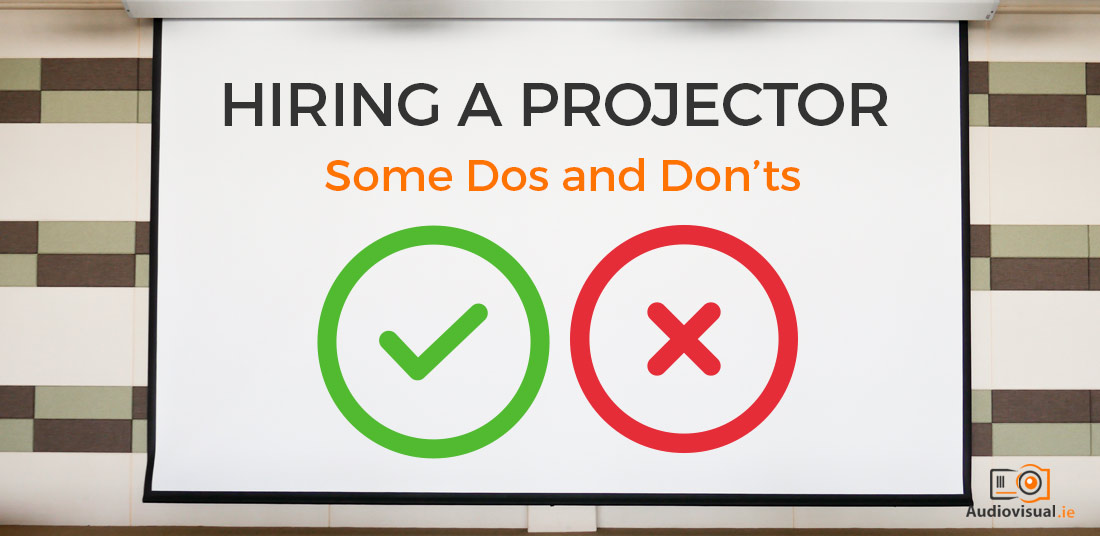 09 May

Hiring A Projector – Some Dos and Don'ts

Hiring a projector is not as simple a task as it might seem. There are many things you need to take into consideration if you want your event to go off without a hitch. Overlooking any of these things could spell disaster.

Here are some essential dos and don'ts for projector hire.
Set Up Your Projector and Screen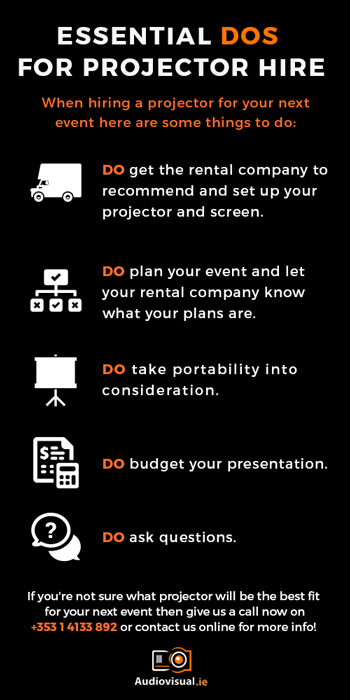 Do get the rental company to recommend and set up your projector and screen. This is especially the case if you have little or no experience using projectors. There are so many things to consider such as the size and aspect ratio of the screen, the throw, the lumens and calibration. The truth is it is a very difficult procedure to get exactly right, so it is best left to the experts.
A Projector with High Lumens
Do plan your event and let your rental company know what your plans are. You must get an idea as to what size your audience will be. Audience size plays a large part in determining which projector and screen to use. The bigger the audience the larger the screen required and the larger the screen, the more powerful a projector is needed. Also, will the audience need light to take notes? This will require a projector with a lot of Lumens.
Need To Move The Projector?
Do take portability into consideration. If you will be moving between rooms with the projector or are having an outdoor event, make sure your gear is lightweight. To overlook this is to invite a potential transportation nightmare.
Work To Budgets
Do budget your presentation. You need to have a good idea as to how much you want to spend on your projector hire. A good AV rental company will have different packages to suit your budget without any hidden charges or fees.
Learn About Projectors
Do ask questions. The above is only a handful of considerations for projector rental. It is important not to be afraid to ask questions so you can be confident that you are getting a good deal and that everything goes according to plan. We like our clients to become knowledgeable in this business as it helps to ensure the complete success of their event.
What Not To Do With Projector Rental
If you do become knowledgeable and you are confident that you can set up the projector and screen yourself, here are some don'ts that you should keep in mind. Ignore at your peril!
Don't Use A Wall – Don't use a wall instead of a screen as the projected image will look washed out and horrible. Also, dirt and texture on the surface of the wall will show up on the projection and distract from the presentation.
Don't Use Stock Settings – Don't use the stock settings on your projector. You need to calibrate the picture settings of the projector in the same lighting you intend to use it. Don't calibrate the picture in a room that is either brighter or darker than what you will use.
Don't Blind People – Don't position the projector in a place where people might have to look at it or have it shining in their eyes. Also, don't put it in a place where people could walk in front of the projection and ruin the picture.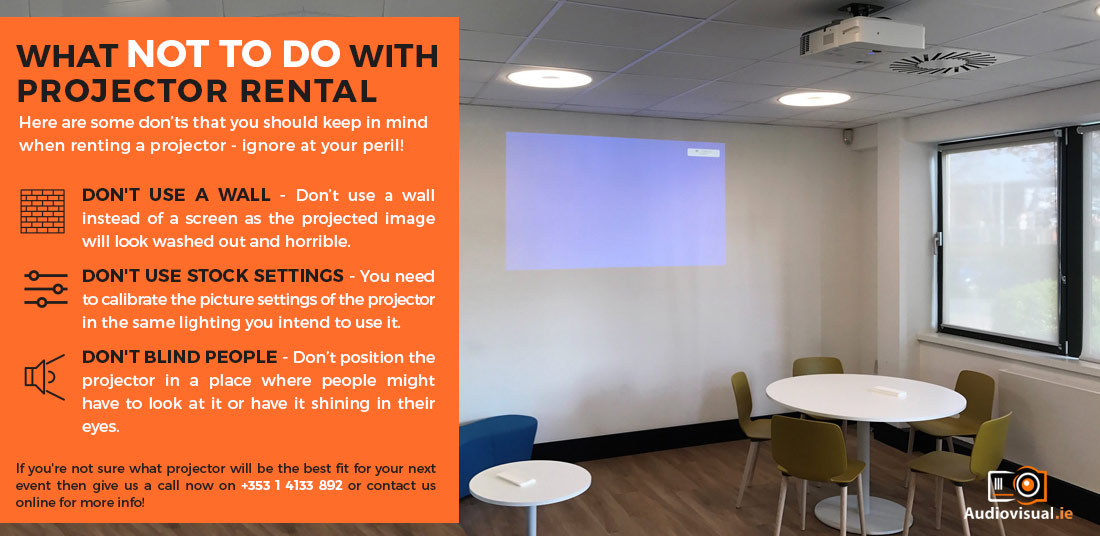 Guidelines for Projector Hire
Follow these guidelines for projector hire and the chances of your event being a total success will increase greatly. If you want to know more, please don't hesitate to contact us by giving us a call on +353 1 4133 892 or contacting us online and we'd be happy to help you plan your next event.