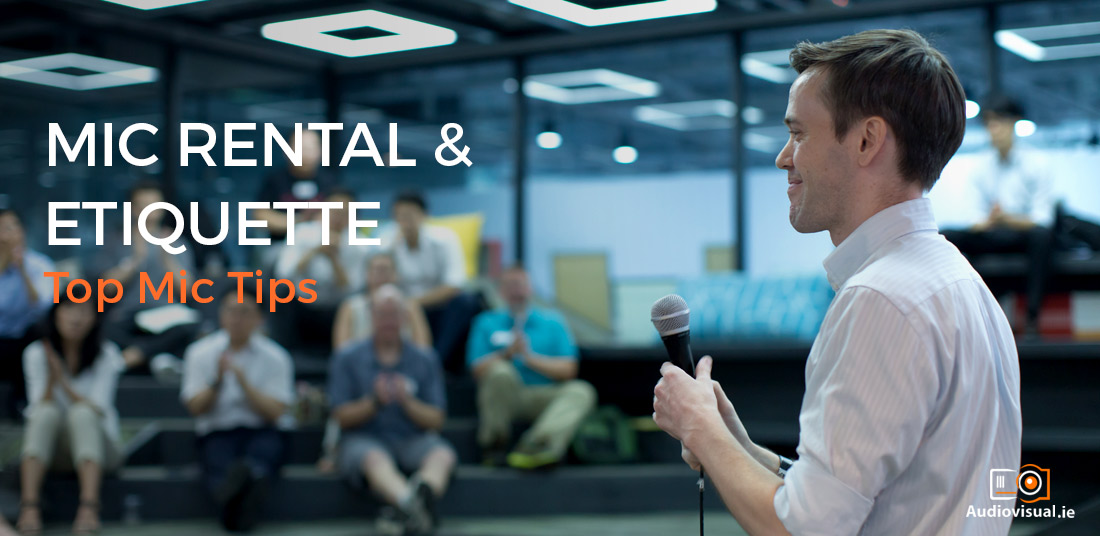 12 Apr

Mic Rental & Etiquette: Top Mic Tips

When it comes to microphones, Audiovisual.ie has pretty much all the bases covered. From condenser mics to wireless headset and lapel mics to gooseneck mics, we offer the latest and finest in microphone technology.
Condenser Mic Rental – Popular with Musicians
As a vital component of any PA system, it is essential that you get the right mic. Condenser mics are popular with musicians as they work well with acoustic instruments and drums. Providing good sensitivity at all frequencies, condensers are active mics, which means a power supply is required when they are in use. This can be either from an internal battery or from the mixing desk, also known as phantom power.
Wireless Mics for Presentations
Wireless mics are ideal for people who move about a lot on stage, which makes them the perfect solution for presentations. Wireless mics require a transmitter which must be set to the same channel as the receiver. If you are using more than one wireless mic, make sure transmitting and receiving channels are set differently for each one.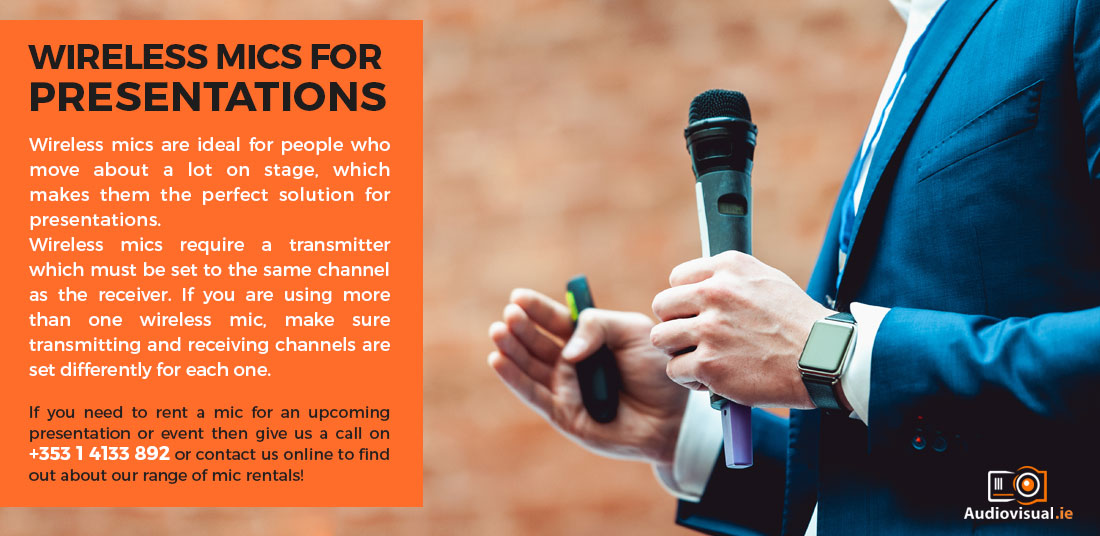 Wireless Headset & Lapel Mics Are Perfect for Demonstrations
Wireless headset and lapel mics are perfect for demonstrations. The headset mic is attached to the head whereas the lapel mic is worn on clothing not far from the mouth, hence 'lapel'. Both leave the hands free and ensure that the mic is the same distance from the mouth, at all times. The headset is particularly good for singer / dancers whereas the lapel mic is often used on TV presenters, but both are excellent for demonstration purposes.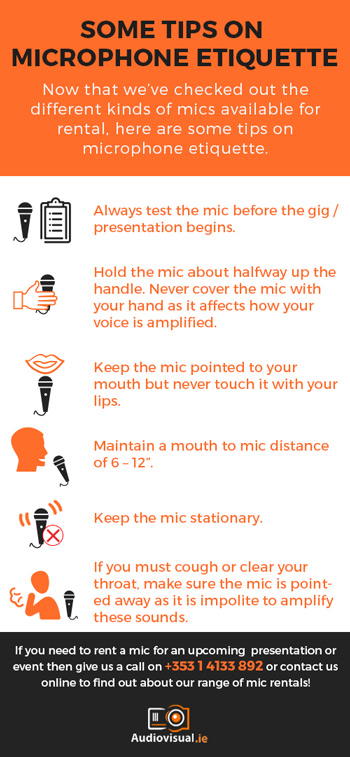 Goosenecks are Sensitive Mics
The gooseneck mic can be attached to the lectern, podium or desk to provide a comfortable solution for those who like to lean forward and back while speaking. Goosenecks are sensitive mics which means your voice can be heard even at some distance from them. They are also condenser mics, so all the advantages of condensers apply to them too.
Some Tips on Microphone Etiquette
Now that we've checked out the different kinds of mics available for rental, here are some tips on microphone etiquette.
Always test the mic before the gig / presentation begins. Never blow into or tap the mic or ask, 'is this thing on?' as it reflects poorly on the sound system team, by suggesting that they are unprepared.
Hold the mic about halfway up the handle. Never cover the mic with your hand as it affects how your voice is amplified.
Keep the mic pointed to your mouth but never touch it with your lips. This is for sanitary reasons.
Maintain a mouth to mic distance of 6 – 12". Being too close to the mic will cause hissing, sighing and breathing to be heard. Being too far away will make your voice inaudible.
Keep the mic stationary. Resist the urge to point it at your audience or presentation as this can cause feedback problems.
If you must cough or clear your throat, make sure the mic is pointed away as it is impolite to amplify these sounds.
Hiring The Right Kind of Mic is Important
So, getting the right kind of mic is important if you want your event to succeed. If you are still worried about this, then why not give us a call today on +353 1 4133 892 or contact us online and we can talk about it? Rest assured, whatever you are planning, it'll be alright on the night with Audiovisual.ie.