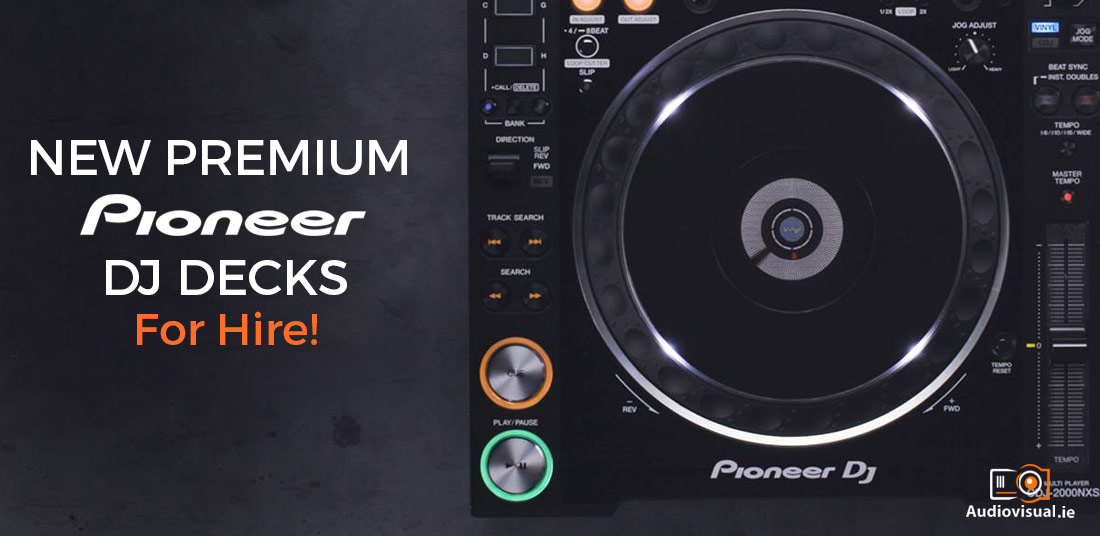 16 Apr

New Premium Pioneer DJ Decks For Hire!

At Audiovisual we're delighted to announce that we now have the best Pioneer Professional DJ equipment available to hire. Pioneer first introduced the CDJ-500 back in 1994, it was one of the first digital based media players on the market. Famous for re-creating a genuine vinyl control experience, the CDJ-1000 became the industry standard in 2003. Pioneer DJ have continued to create innovative technology and are the market leaders in DJ equipment.
Pioneer's Flagship Range of DJ Decks
The CDJ-2000 NXS2 is the flagship in Pioneer's range of deck players. It features a high resolution 7 inch colour touch screen, a 96kHz / 24-bit soundcard, up to 8 hot cues triggers and a variety of ways to connect audio. Pioneer developed their series USB only players with the XDJ. The XDJ-1000MK2 is a premium player which inherits the same screen and jog wheel as the CDJ-2000NXS2.
Pioneer DJ's music management software, rekordbox, analyses and organises music for your DJ sets. When combined with the CDJ-2000MK2 it allows quantized mixing and effects.
Don't compromise on quality. To rent these DJ decks for your next performance call us now on 01 4133892 or contact us online!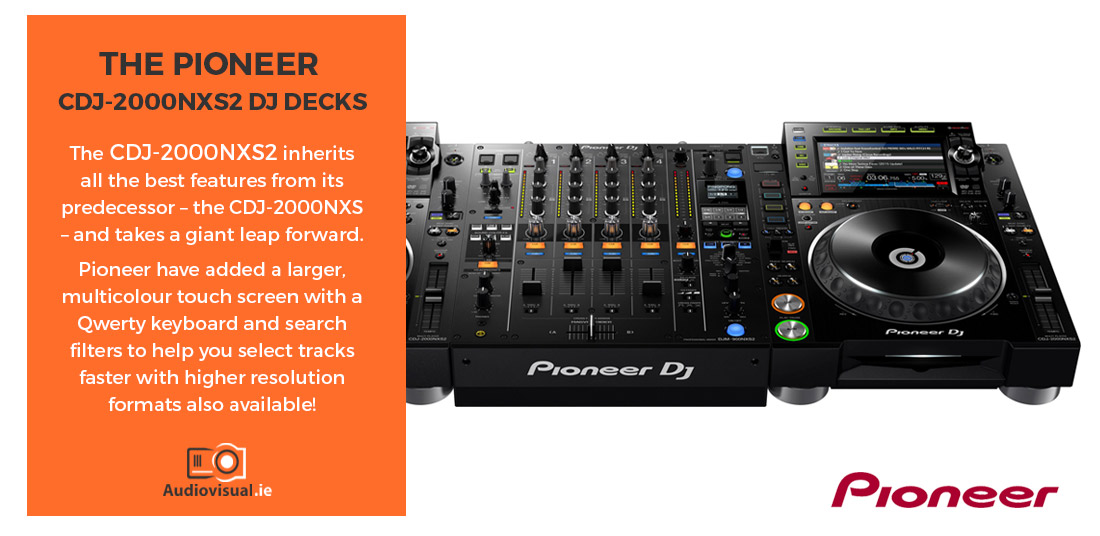 The Pioneer CDJ-2000NXS2 DJ Decks
The CDJ-2000NXS2 inherits all the best features from its predecessor – the CDJ-2000NXS – and takes a giant leap forward. Pioneer have added a larger, multicolour touch screen with a Qwerty keyboard and search filters to help you select tracks faster. 2 banks of 4 Hot Cues give you more creative freedom, while a 96 kHz/24-bit sound card and support for FLAC/Apple Lossless Audio (ALAC) means you can play with higher resolution formats.
Pioneer DJ Decks – Refined, Remastered, Reborn
Take your performance to new heights with the DJM-900NXS2, which features Pioneer's first ever 64-bit mixing processor for a warmer, more nuanced sound. With a fine-tuned EQ and fader curves and enhanced FX controls you get you even more creative choice. Plus the versatile DJM-900NXS2 has an independent Send/Return, 4 phono inputs and 2 USB ports – giving you flexibility to set it up your way.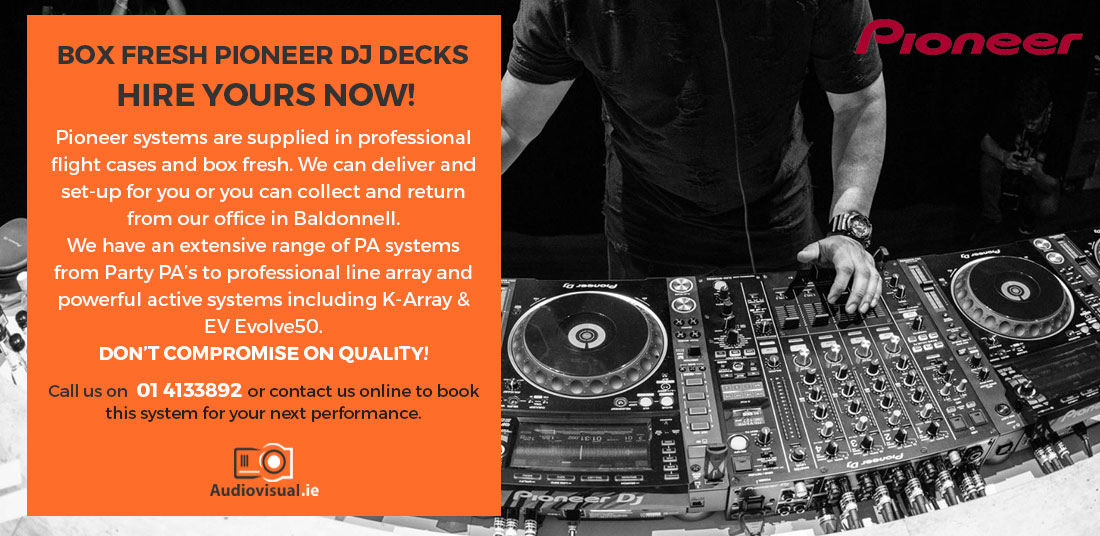 Box Fresh Pioneer DJ Decks – Hire Yours Now!
Pioneer systems are supplied in professional flight cases and box fresh. We can deliver and set-up for you or you can collect and return from our office in Baldonnell. We have an extensive range of sound systems from party PA's to professional line array and powerful active systems including K-Array & EV Evolve50. Don't compromise on quality. Call us on 01 4133892 or contact us online to book this system for your next performance.
Don't miss out on future blog posts and be in with a chance to win a €100 voucher by joining our mailing list now!