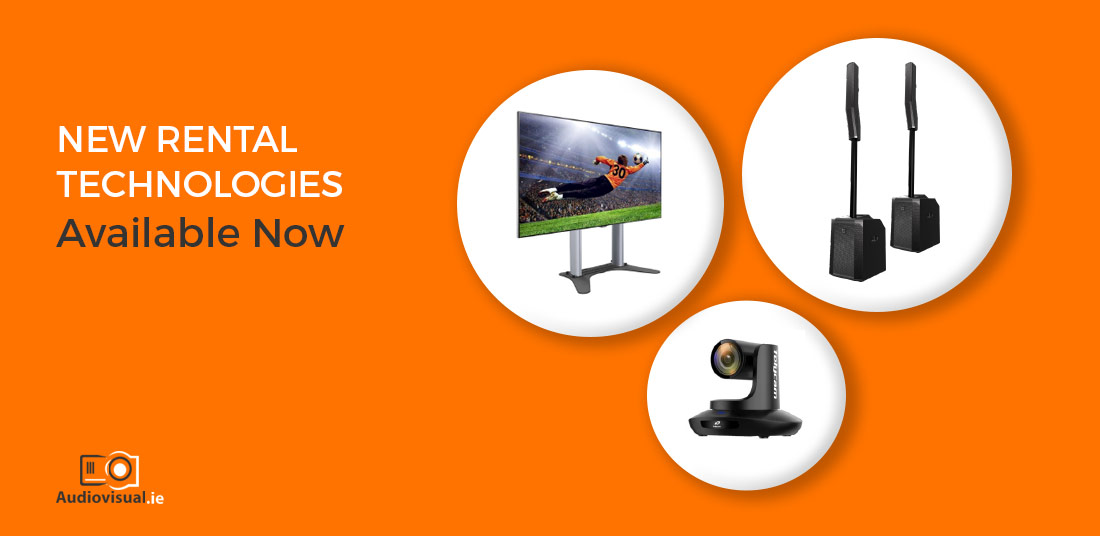 27 Jun

New Rental Technologies Available Now

At Audioviual.ie we are busier than ever and we are constantly investing and adding to our AV rental Inventory. Here is some of the latest products we are providing.
98" 4K Display
We have added our largest 4k display to our flat screen rental fleet. The 98" diagonal unit  is a whopping 224.4cm x 90.5cm. Captivate your audience with the perfect solution for display use. The high-quality commercial IPS LCD screen with a 4K UHD resolution (3840×2160), 500cd/m² and a contrast ratio of 1200:1 provide vibrant, detailed and high-quality images from anywhere in the room. The anti-glare coating drastically reduces ambient reflection in high-brightness environments without compromising the sharpness and clarity of the image. UHD resolution (3840×2160), better known as 4K, offers a gigantic viewable area with 4 times more information and work space than a Full HD screen. Due to the high DPI (dots per inch), it displays an incredibly sharp and crisp image.
PerfectCue
PerfectCue is a wireless audio and visual cueing system that can remotely control presentations on either one or two computers. The communication between the transmitter and cue light is solid at 300 feet. Add professionalism and reliability to your presentation with a Perfect cue. Simple and reliable.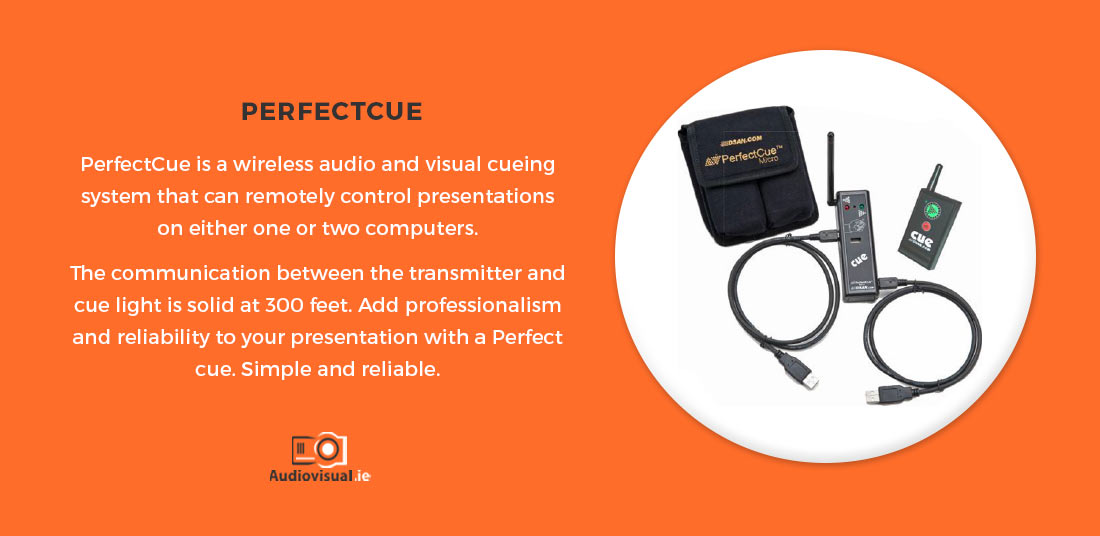 DPA 4466 CORE Omnidirectional Headset Microphones
The 4466 CORE Omnidirectional Headset Microphone combines DPA's renowned 5 mm capsules with CORE by DPA technology and the Red Dot award-winning headset. These are the most advanced headset microphone – secure, durable and flexible – for segments including: Theatre, Broadcast, House of Worship and Conferencing. Stunning hands-free audio everytime with the following features:
One-size-fits-all: head sizes and shapes
Comfortable 3-point Grip: above, below, behind the ear
Easily Adjustable: frame size, boom length, placement
90° Adjustable Cable Guide: keeps cable out of sight
Materials: Non-reflective PVD surface on headset frame, boom, capsule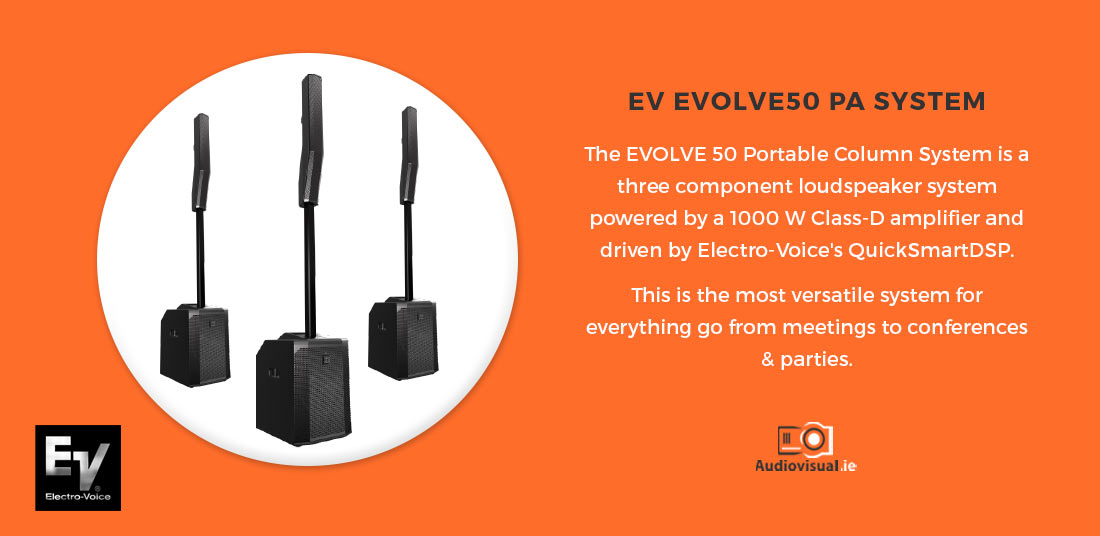 EV Evolve50 PA System
The EVOLVE 50 Portable Column System is a three component sound system powered by a 1000 W Class-D amplifier and driven by Electro-Voice's QuickSmartDSP.
The system consists of a powered subwoofer enclosure that houses a 12" subwoofer capable of a functional frequency output down to 37 Hz. Eight 3.5″ neodymium drivers in the column array coupled with the 12″ subwoofer delivers up to 127 dB SPL. This is the most versatile system for everything go from meetings to conferences & parties. The tone is superb and it will handle anything you throw at it. From conference microphones to a single musician to a DJ and everything in between.
Remote PTZ Cameras
Our Remote PTZ Camera set-up allows one AV conference technician to control multi camera feeds  from a stationary position next to the sound engineer. The cameras are discreet and most importantly stunning 4K image quality. All feeds can be recorded and we can provide full video editing and post production facilities.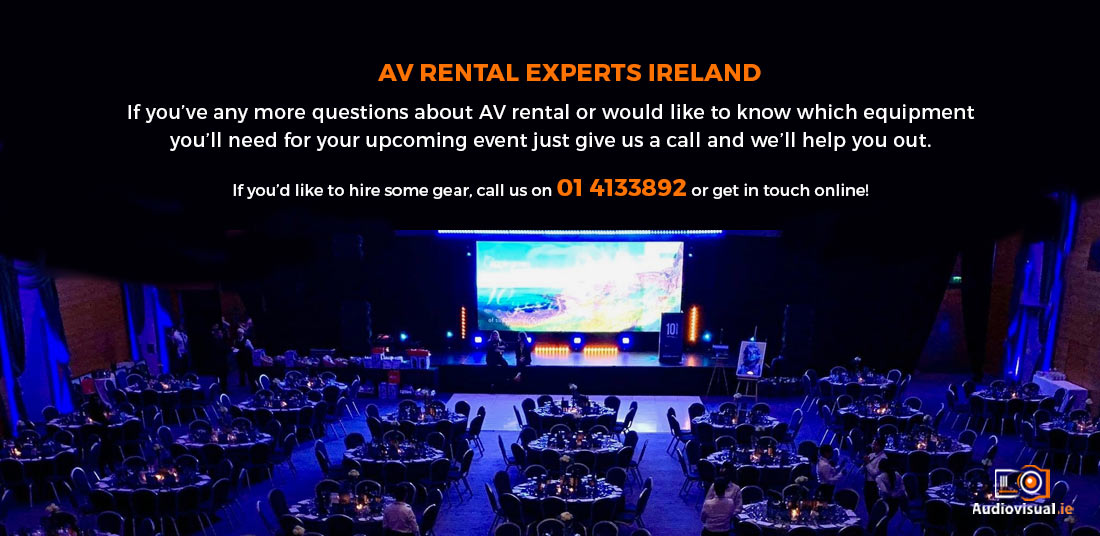 AV Rental Experts Ireland
If you've any more questions about AV rental or would like to know which equipment you'll need for your upcoming event just comment below and we'll help you out.  If you'd like to hire some gear, call us on +353 1 4133892 or get in touch online!