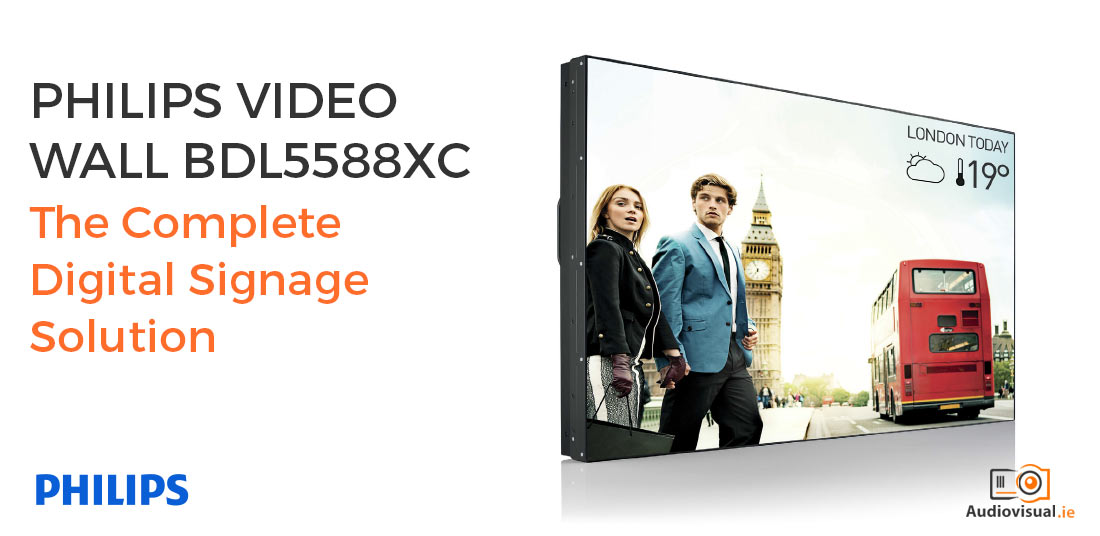 09 Nov

Philips Video Wall BDL5588XC – The Complete Digital Signage Solution

Here at audiovisual.ie we are excited about the new Philips Video Wall BDL5588XC that we have in store for rental. We believe it is a superb digital signage solution. In fact, we know it is! As with all our products, we've really done our homework on this one, so you don't have to. Just have a look at the highlights of this outstanding video wall display.
Video Wall with Powerful White LEDs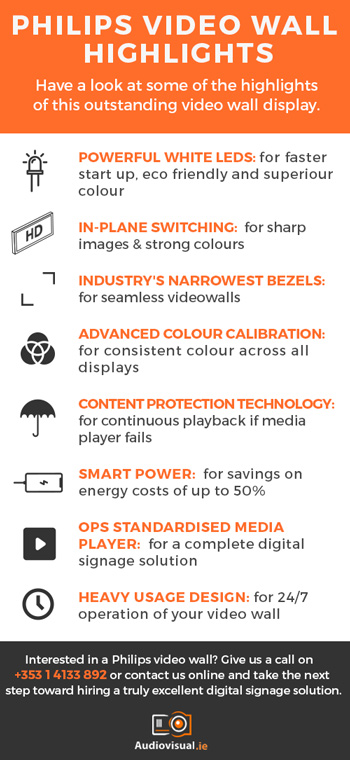 Full HD LED technology means that the powerful white LEDs light up faster, saving start up time and are mercury free which enables eco-friendly recycling and disposal. They also have a high contrast ratio and provide superior colour reproductions due to consistent brightness across the screen.
Sharp Images & Strong Colours
The IPS (In-Plane Switching panel) provides sharp images and strong colours as well as extra wide viewing angles of 178/178 degrees. This makes the video wall particularly suitable for professional and menu board applications.
The Industry's Narrowest Bezels
The Philips video wall boasts the industry's narrowest bezels and most advanced alignment solutions. Make sure your message doesn't get obscured by thick bezels. Build seamless video wall configurations of any size.
Advanced Colour Calibration
The optional colour calibration kit will guarantee consistent colour performance across all your displays. It's quite technical. All you really need to know is that your displays can be adjusted to suit the colour values of whatever you are using them for, be it a catchy mosaic layout, a menu board installation or control room.
Content Protection Technology
FailOver is a content protection technology that kicks in if your media player fails. By playing back up content on screen it will ensure that your message continues to be displayed without a hitch.
Philips Video Wall – Smart Power
Controlling the backlight intensity of the Philips video wall reduces power consumption by up to 50%, which saves on energy costs.
An OPS Standardised Media Player
The OPS (Open Pluggable Specification) insert on the BDL5588XC video wall allows you to add an OPS standardised media player which will turn your display in a complete digital signage solution and create an intelligent and secure display network.
Designed for 24/7 Operation
These video walls are designed for heavy usage. They will run around the clock without any risk of damage or failure.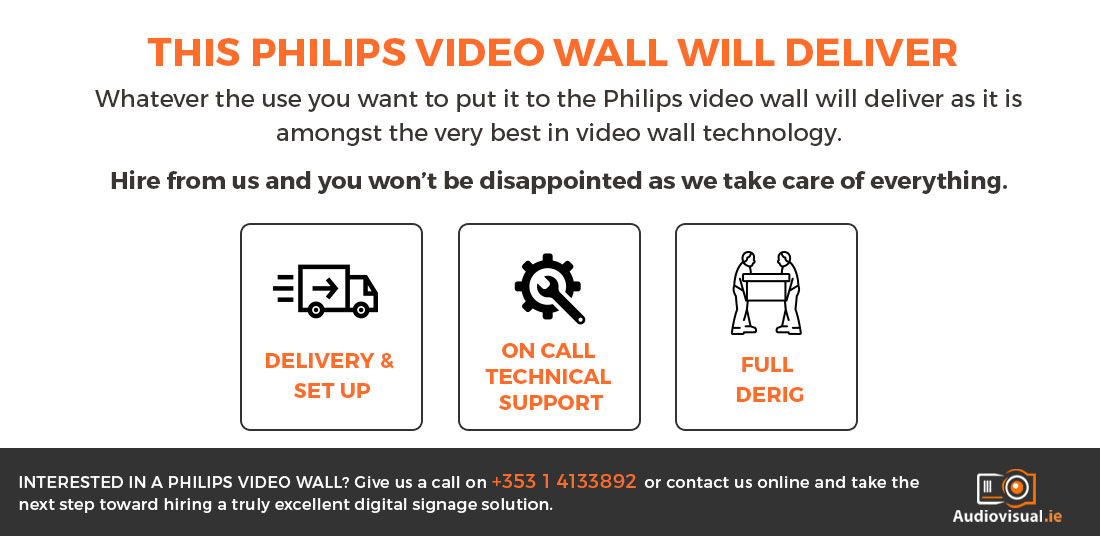 This Philips Video Wall Will Deliver
Whatever the use you want to put it to, we are confident that the Philips video wall will deliver, as it is amongst the very best in video wall technology. Hire from us and you won't be disappointed as we take care of everything. We will ensure the machine is set up the day before and is 'plug in' ready. We provide on call AV technical support from a qualified AV technician as well as full derig during out of hours.
Interested? Why not give us a call on +353 1 4133 892 or contact us online today and take the next step toward hiring a truly excellent digital signage solution.
Don't miss out on future blog posts and be in with a chance to win a €100 voucher by joining our mailing list now!