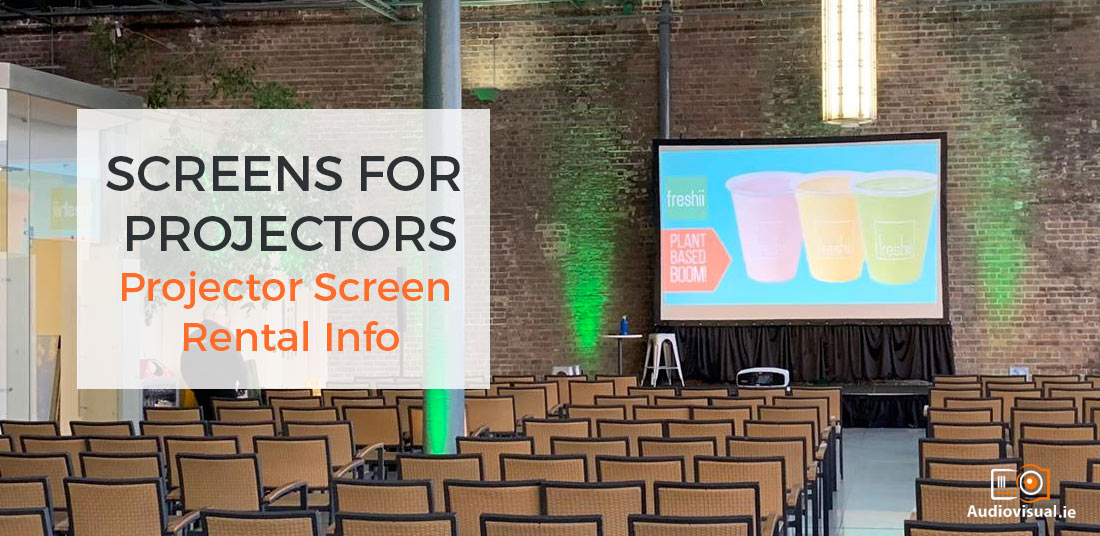 11 Jul

Screens for Projectors

You'd be forgiven for thinking that screens for projectors are just an afterthought but it would be a mistake to do so. There is a wide variety of different types of screens for projectors like: desktop screens, manual projector screens, electric projector screens, floor projector screens, tripod projector screens, wall projector screens, fastfold projector screens, front & rear projection surfaces and tab tensioned projection screens. If that list of types of projector screens wasn't enough for you then factor in custom projector screens and the number of options increases exponentially. Making sure you choose the right projector screen for the job is crucial to getting the best results and in this post we'll outline some things to consider when choosing a projector screen.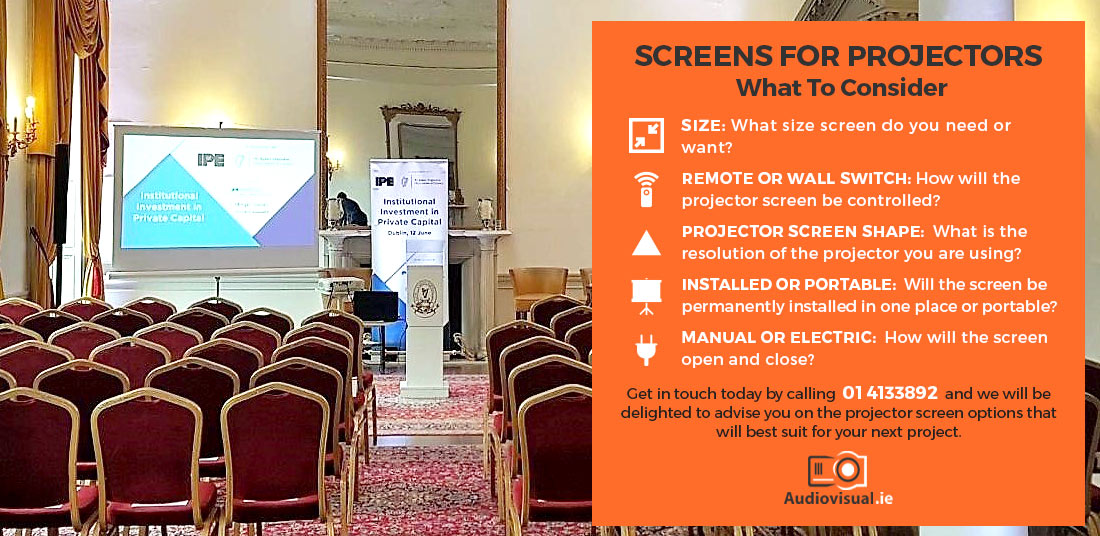 Screens For Projectors – What To Consider
Size: The singular most important factor to consider firstly is size, secondly, the shape of the screen. What size screen do you need or want want? Ultra-short throw projectors will fill a 1.8M wide or possibly a 2 Mtr. wide but to kit out a school hall you will probably need a 3.5 Mtr. wide screen or larger.
Remote or Wall Switch: How will the projector screen be controlled? With a fixed wall switch or with a remote?
Projector Screen Shape What is the resolution of the projector you are using? Is it XGA, WXGA or Full HD? This will determine the Aspect ratio of the screen you require, either 4:3, 16:10 or 16:9 respectively.
Installed or Portable: Maybe you require a free-standing tripod or Fast-fold screen? Will the screen be permanently installed in one place or portable? If portable, how will it be transported?
Manual or Electric: If you choose the electric option will you go for a wall switch or a remote control? The remote control looks great but a wall switch will never be misplaced!
Projector Screen Types
Now that we've had a look at what you should consider when renting (or buying) a projector screen the next thing to think about is what type of projector you need. There are a few categories of projector with the main ones outlined below.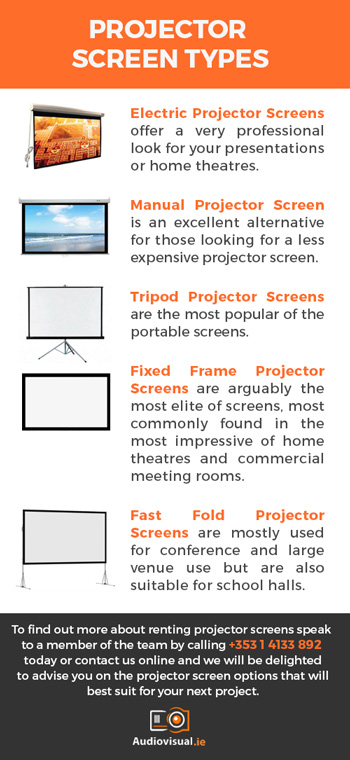 Electric Projector Screens
Electric projector screens offer a very professional look for your presentations or home theatres. Operated by remote control they have a sleek, elegant design and the single location provides the most convenience for storage. An electric projector screen is a popular choice for those who want the convenience of a large projector screen and have a large, semi-permanent area to dedicate to the screen. Electric projector screens can be wall or ceiling mounted.
Manual Projector Screens
A Manual Projector Screen is an excellent alternative for those looking for a less expensive projector screen. These versatile projection screens have a pulley at the bottom of the screen, which allows the operator to manually pull the screen up and down. Most of these screens now have a controlled return feature so that the screens can't be rolled up to quickly, which could cause damage to the screen. Similar to electric projector screens, these can be wall-mounted or ceiling-mounted however, these screens are much lighter than electric screens, since there are no motors attached. Also, since there is no risk of the motor breaking, failing or wearing over time these screens require less upkeep.
Tripod Projector Screens
A portable projector screen is one of the most popular types of projector screens, as they don't limit the operator to one location. Of these portable projector screens, a tripod projector screen is by far the most popular.
Fixed Frame Projector Screens
Fixed Frame Projector Screens are arguably the most elite of all projector screens. Although they can be used for commercial purposes, these screens are most commonly found in the most impressive of home theatres and commercial meeting rooms.
Fast Fold Projector Screens
Fast fold projector screens are tensioned screens that feature a foldable aluminum frame and a screen surface which attaches via push studs, tensioning the surface for an extremely flat projection screen. Mostly used for conference and large venue use, they are also suitable for school halls.
Projector Screen Rental for All Occasions
We supply a comprehensive range of projection screens from basic 1.5 Mtr. Tripod or Wall screens to 6 Mtr. wide large format electric screens for big halls. We provide and install the correct screen to match and you have the makings of a multi use multimedia presentation system. We provide projection screen installation services nationwide, and we have really do have a screen to suit every application. Projection screens provide a better projection surface than a whiteboard or white wall, so they should be considered for every AV system.
Speak to a member of the team by calling +353 1 4660515 today or contact us online and we will be delighted to advise you on the projector screen options that will best suit for your next project.
Don't miss out on future blog posts and be in with a chance to win a €100 voucher by joining our mailing list now!