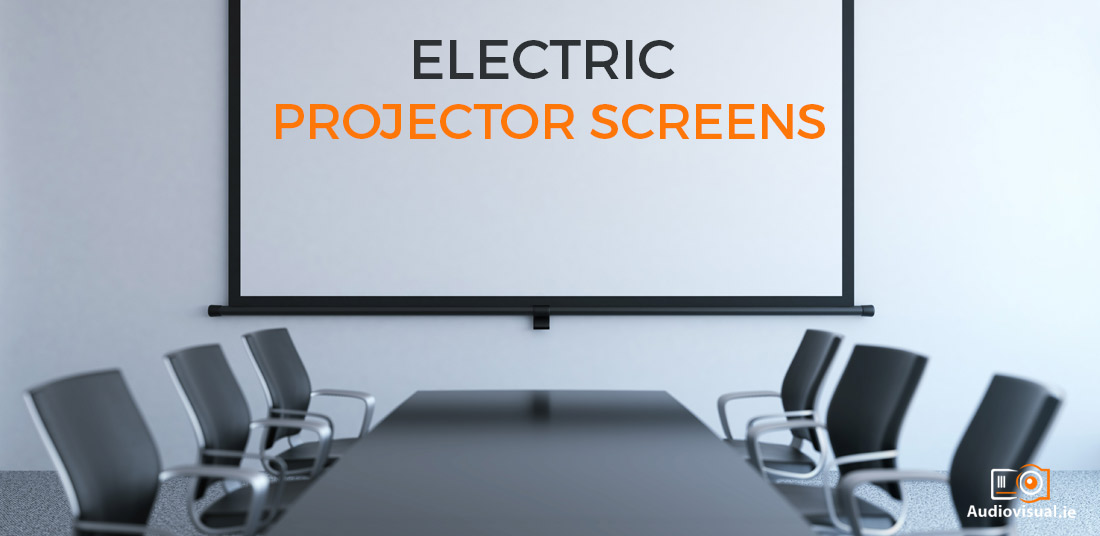 02 Sep

Electric Projector Screens

This is the first in a series of blog articles specifically looking into projector screens. We have touched on this before when looking at screens for projectors in general but over the next few posts we'll examine each projector type in more detail.
Rental Projector Screens
There are many different types of projector screens out there but usually, when renting, people go for either a tripod screen or a fastfold screen. Tripod screens are your typical roll up screen with built in legs. They have the advantages of being highly portable and convenient. Fast-fold screens are tensioned screens that have a foldable aluminium frame and an extremely flat surface. They can be used for both front and rear projection. Rear projection has the advantage of being a neater and cleaner setup. Rear projection flat-fold screens can be incorporated into stage sets for conferences and events. They can be very large, but they are always lightweight. Fastfold screen have a corporate conference style about them.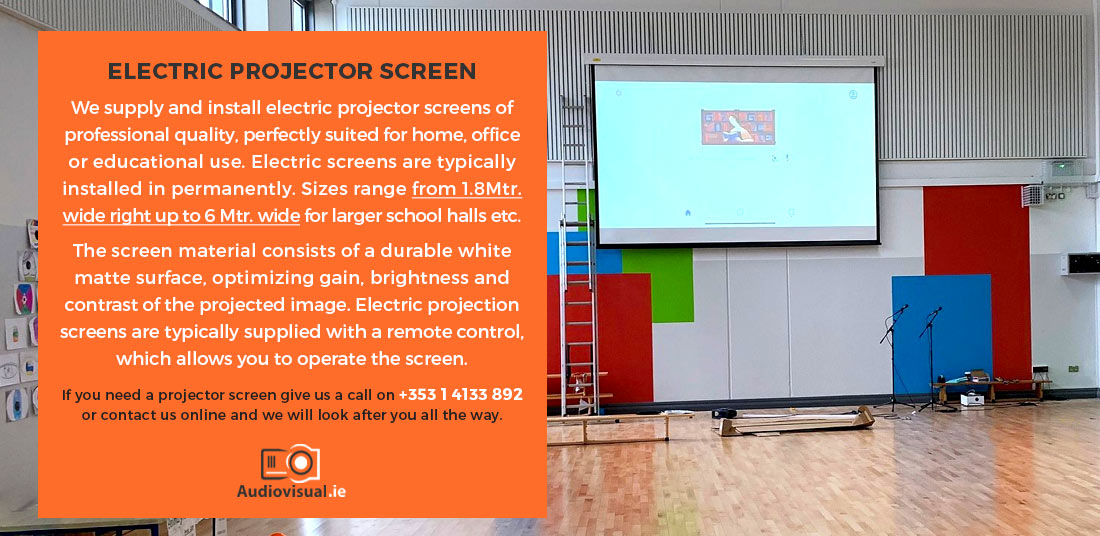 Electric Projector Screen
We supply and install electric projector screens of professional quality, perfectly suited for home, office or educational use. Electric screens are typically installed in permanently. Sizes range from 1.8Mtr. wide right up to 6 Mtr. wide for larger school halls etc. The screen material consists of a durable white matte surface, optimizing gain, brightness and contrast of the projected image. When rolled up, the screen is protected by a metal case that can easily be fixed on the wall or ceiling. It is equipped with a tubular electric motor that rolls the screen up and down silently. Electric projection screens are typically supplied with a remote control, which allows you to operate the screen. Electric screens allow you install screen surfaces very subtly in environments where discretion is essential, and equipment must not be seen when not in use.
Size and Aspect Ratio of Electric Projector Screens
You must take into consideration are size, and aspect ratio of the projection screen. Until a few years ago, most laptops and sources used a 4:3 aspect running a 1024 x 768 resolution. More recently, we see 16:9 screens becoming popular due to the arrival of full HD, 4k UHD and 8k UHD resolutions. Many projectors will run WUXGA resolution (1920 x 1200) which project a 16:10 aspect. If this all sounds too technical, don't worry, Audiovisual.ie will always advise you as to which aspect ratio you require. As far as size goes, it's simple: the bigger the crowd, the larger the screen required.
Key Tip for Electric Projection Screens
Avoid cheap online suppliers of electric screens. The key part of the screen is the motor. Reliability is essential and, in our experience, cheap low-cost online screens will not last the rigorous demands of daily use over time.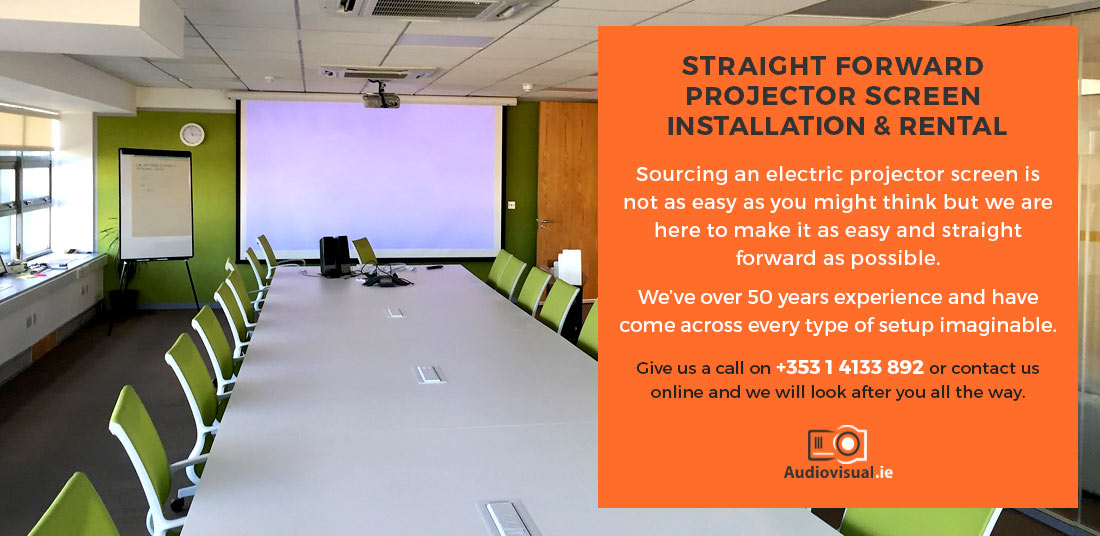 Straight Forward Projector Screen Installation & Rental
So, there you have it. Sourcing an electric projector screen is not as easy as you might think but we are here to make it as easy and straight forward as possible. We've over 50 years experience and have come across every type of setup imaginable. Give us a call on +353 1 4133 892 or contact us online and we will look after you all the way.
Don't miss out on future blog posts and be in with a chance to win a €100 voucher by joining our mailing list now!