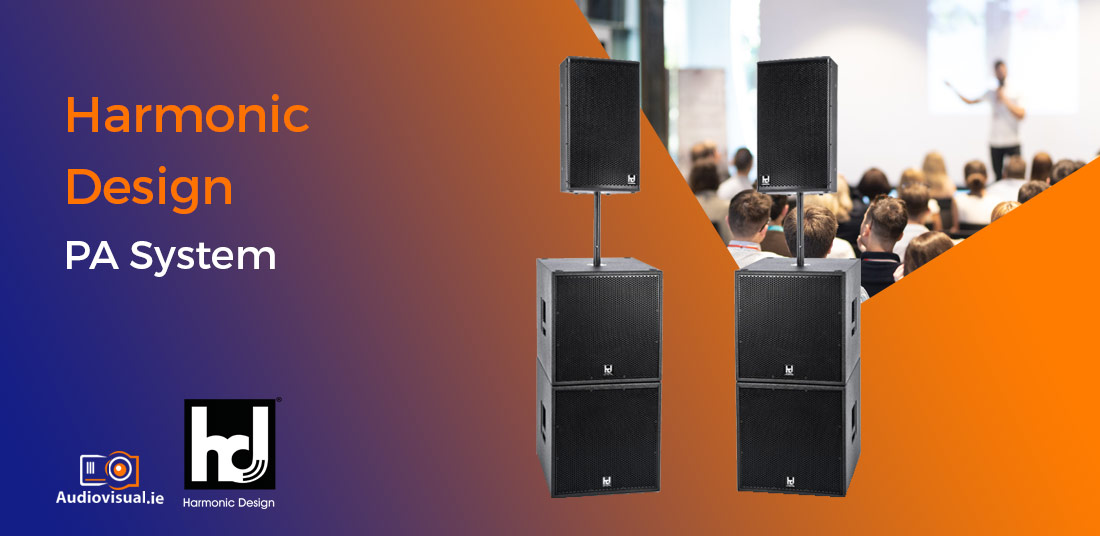 01 Sep

Harmonic Design PA System

At Audiovisual.ie we are delighted to offer a new standard in live PA system rental. The Harmonic Design PA2 System is ideal for a range of high quality mobile applications such as live music, DJ, touring, public buildings, conference and media technology set-ups.
Harmonic Design PA Rental Options
We provide this rig with:
Monitors
Midas Digital Mixing Console
Live Engineer
Optional Lighting Rigs Available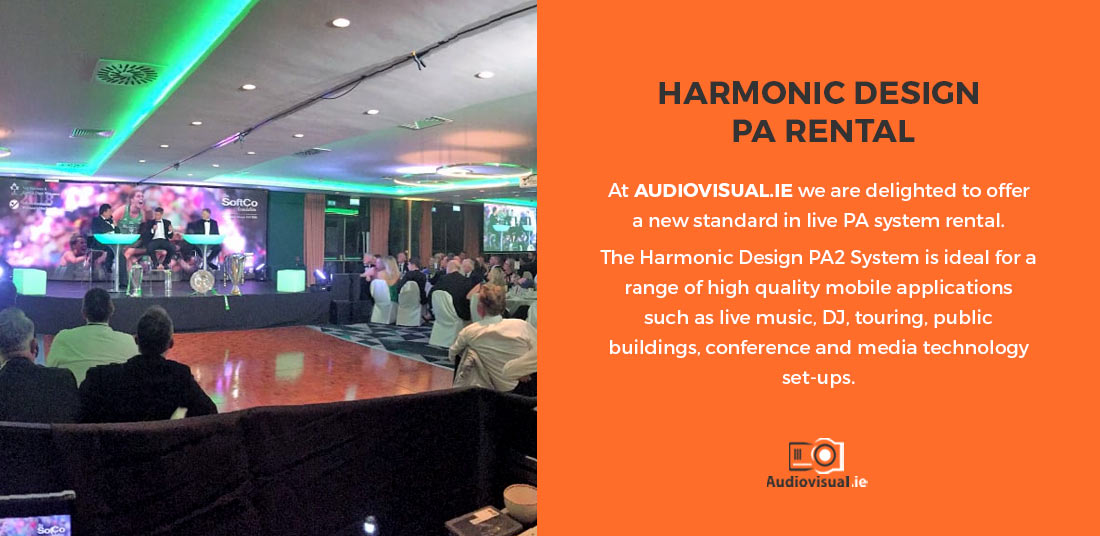 Multi-Purpose PA-System
The Harmonic Design PA System is a great all rounder and can be used for a wide variety of events:
2x HD MP12N Multi-Purpose Loudspeaker + 2x hd P18 Active System Subwoofer + 2x hd Sub18 Subwoofer
Perfect for live music, DJ and speeches for up to 500 people
Ultra-compact dimensions with enormous performance
Pre-set sound characteristics
Plug & Play: minimal cabling effort
Two DSP-controlled power amp channels for monitor/delay line
Software hd LevelZ
System power: 5.800 Wrms
PA2 Systems
The Harmonic Design PA2 systems consist of two top speakers, two HD DSP controlled active system subwoofers of the HD P-Series and two passive slave subwoofers of the hd Sub-Series.
The active, modular system subwoofers of the hd P-Series are equipped with high-efficiency Class-D amplifiers. Developed by Harmonic Design, the built-in hd MultiDSP with FIR/IIR filter technology allows phase-coherent adjustments between tops and subwoofers, and thanks to its numerous features, guarantees a well-balanced and homogenous sound at any volume. Harmonic Designs uncompromising pre-sets use FIR filters and Group Delay Correction to ensure linear playback in even the most diverse applications. The user can use the built-in signal processing tools (EQ, delay, etc.) to make individual settings and save as a pre-set. The Harmonic Design Systems are in rough, everyday use perfect and reliable tools for sound engineers, DJs, musicians, and artists alike.
HD MP12N/P18-PA2 Multifunction PA System
The mobile hd MP12N/P18-PA2 multifunction PA system combines first-class sound quality with compact design, smallest dimensions and weight. The hd MP12N tops in the roadworthy housing are painted with a scratch-resistant polyurethane coating. With a weight of just 18 kg, the box can be easily transported thanks to the ergonomically shaped handles. Two M8 inlet threads on each side, as well as top and a 35 mm pole flange offer options for all applications. The specially developed loudspeaker components with ferrite magnet systems guarantee optimum heat dissipation with minimal power compression. In conjunction with a careful tuning that leads to a high power handling capacity and exceptional longevity of the speaker.
The natural, unadulterated sound is particularly noticeable in natural instruments and vocals, and with four 18″ subwoofers, drums and e-bass also thrill the listener. The high-frequency driver of the hd MP12N works on a large, rotatable horn with a particularly low crossover frequency for high directivity and controlled dispersion in the speech domain. At close distance, it makes itself felt through the "in-your-face" sound.
Acoustic and Mechanical Design
The acoustic and mechanical design provides a coherent and interference-free, balanced reproduction of different music styles and sounds on every standard power amplifier, without the need for additional DSP corrections. The reproduction of transients and the depiction of an extreme spatial depth of effects is extraordinary. The special SuperVentedDesign in combination with an extended voice coil and the latest neodym magnet geometry enable a dynamic and broadband playback as a full-range speaker in an extremely compact size. For applications requiring additional subwoofer support, the hd MP-Series integrates seamlessly with the Harmonic Design system idea. The rounded, asymmetrical enclosure is made of high-strength multiplex wood and provided with a polyurethane coating that protects against weather influences. The integrated 35 mm flange allows use on a tripod as a front system, and two field-tested monitor angles of 32 ° and 45 ° enable discreet and loud monitor applications. Three Speakon sockets ensure unobtrusive and kink-free cable routing. On the top there is an ergonomic carrying handle. An extensive range of accessories enables a wide variety of cost and time-saving applications and offers the greatest possible flexibility for daily changing public address tasks.
Ideal for Voice & Music Broadcasts
The MP12N/P18-PA2 is ideal for voice and music broadcast in halls, tents and clubs. The system includes the DSP-controlled active system bass hd P18, which drives the hd MP12N mid-high speakers and the hd Sub18 and thus acts as a basic building block. The powerful 18″ long-excursion loudspeaker in bass reflex tuning ensures controlled, punchy bass. An additional DSP AUX output channel can be used for active monitors or delay lines. Factory-programmed sound presets make it easier for you to work in a wide variety of rooms and applications. The easy handling and the compact dimensions save setup time, weight and load space. In addition, the Plug & Play system minimizes cabling and thus potential sources of error.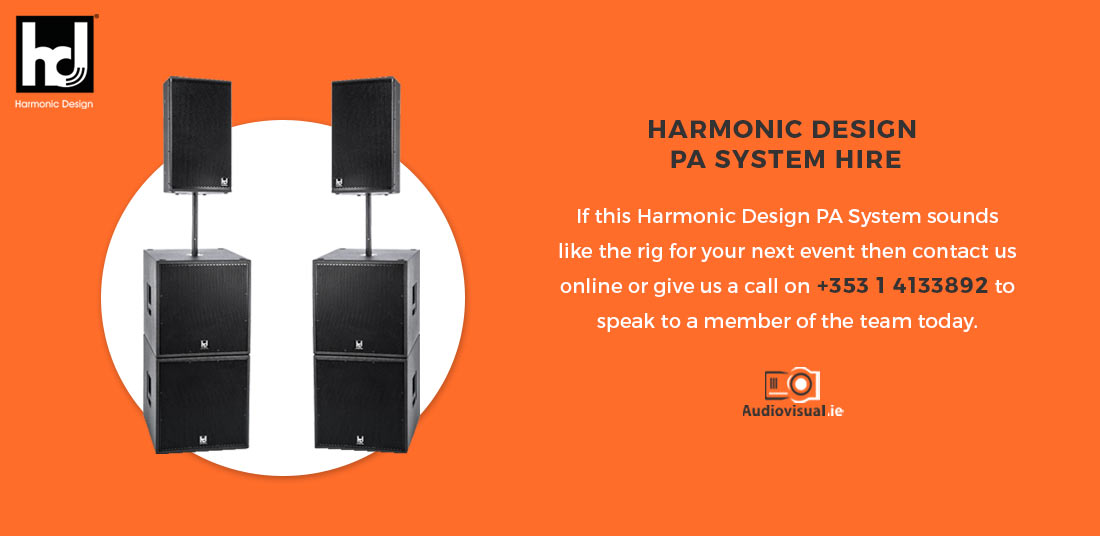 Harmonic Design PA System Hire
If this Harmonic Design PA System sounds like the rig for your next event then contact us online or give us a call on 01 4133892 to speak to a member of the team today.