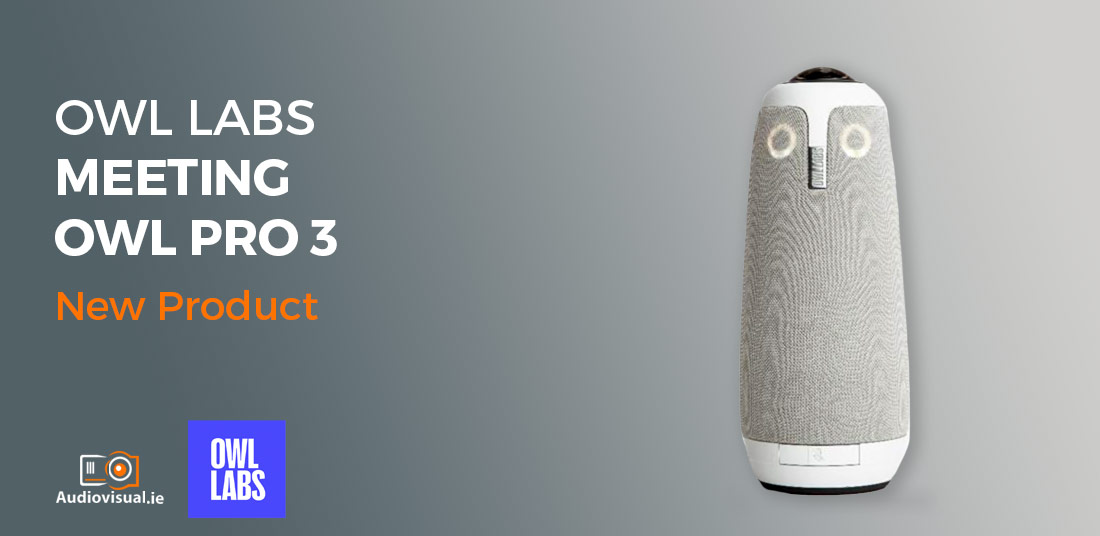 10 Nov

Owl Labs Meeting Owl Pro 3 – New Product

We are now offering a fantastic new product to our AV rental fleet. Featuring a 1080p 360-degree camera, 8 microphones and 3 speakers, The Owl presenter is ideal for meetings on tables or V shaped set ups. The camera placed in the centre provides a filmstrip view of all participants as well as a close up of the last speaker, the last 2 speakers or even 3 speakers which you decide via the simple to use app. This is a camera like no other.
Immersive Hybrid Meeting Experience with Owl Labs
The tracking is fast and accurate. The audio is excellent quality. Participants see a 360-degree panoramic view of the Meeting Owl-equipped room, plus up to three panels that dynamically zoom
in on attendees who are speaking or moving. USC-C connectivity means it connects to the latest devices. The Meeting Owl Pro 3 from Owl Labs allows you to create an immersive hybrid meeting experience in any space with this intelligent 360° camera, mic and speaker solution.
Meeting Room Setup Made Simple
With Owl Labs meeting setup is made simple and can be completed in 4 easy steps: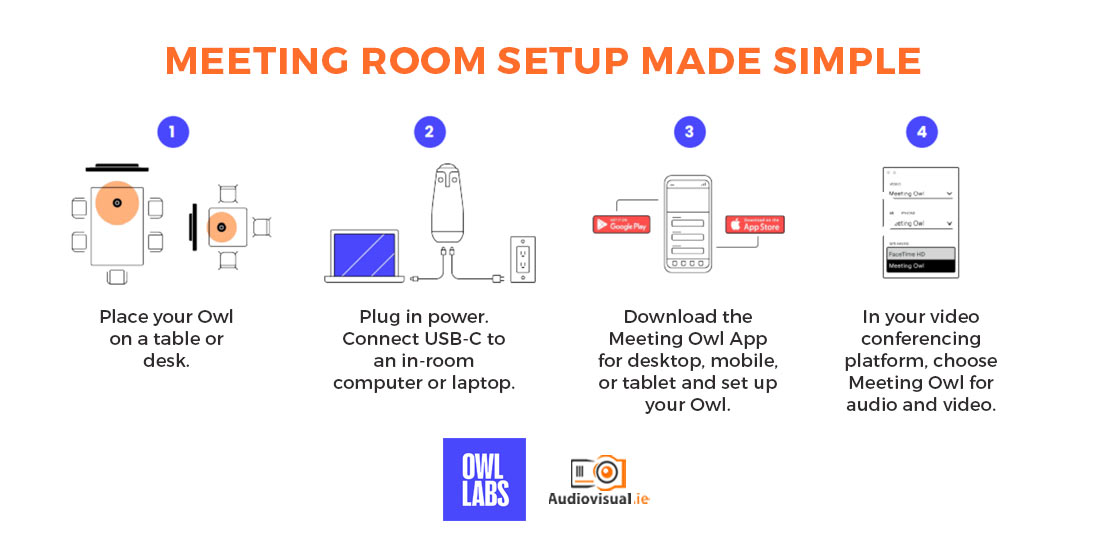 Benefits of Owl Labs Meeting Pro
The Owl Labs Meeting Owl Pro 3 is a 360 degree video conference camera with automatic speaker focus. Check out some of the benefits of it below.
See and hear everything with 360° in-room video and audio and the upgraded Owl Intelligence System (OIS™) that uses computer vision to automatically focus on whoever is speaking
Eliminates friction with a plug and play meeting setup and start to support most video conferencing platforms including, including Zoom, Microsoft Teams and Google Meet
WiFi-enabled to get smarter over time through continuous software innovations and feature launches to the Owl Intelligence System
Connect to a second Meeting Owl through Owl Connect or to an Expansion Mic to support meetings in larger spaces
Simple Plug 'n Play USB connectivity for easy set-up
Floor stand available
Meeting Owl 3 Specs
The Meeting Owl 3 boasts impressive specs across the board. Check out some of the highlights below.
Camera:
– Single custom-design 360 degree panoramic fisheye camera to eliminate image distortion.
– Camera view shows optional 360 degree of the room and fact to face view that auto-focuses on whoever is speaking
– Output resolution is 1080p HD, video pickup radius is 10′ (3m) and field of view is 360 degrees.
Mic:
– 8 omni-directional beamforming smart mics
– Smart mics equalise speaker volume to amplify quiet voices
– Audio pickup radius of 18′ (5.5m)
– Ability to pair two Meeting Owls with Owl Connect to expand video and audio range by 8′ (2.5m) in any direction
Speaker:
– Three built-in speakers for 360 degree coverage and clear in-room sound.
– Speaker output level of 80db SPL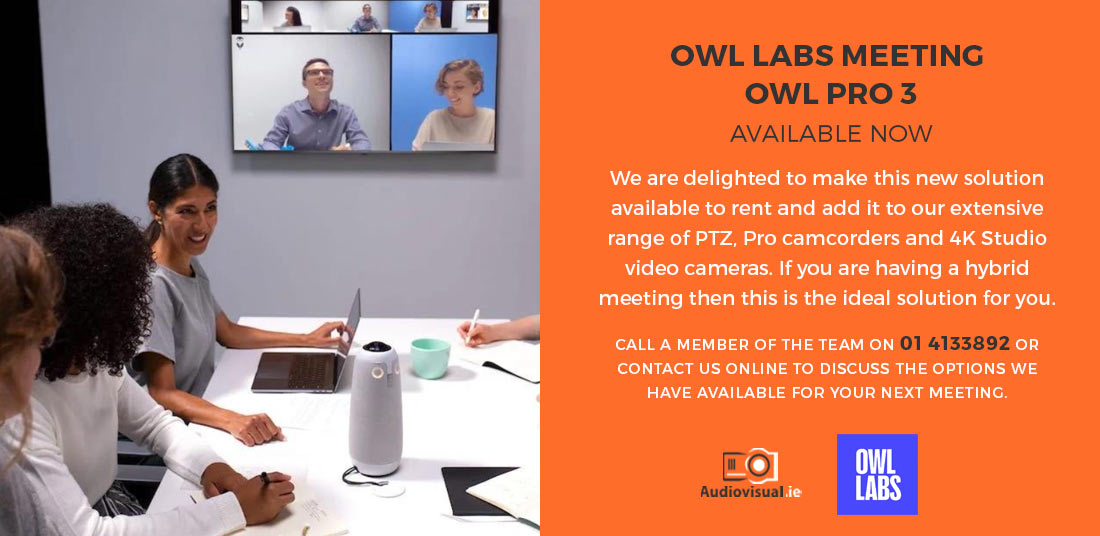 Owl Labs Meeting Owl Pro 3 – Available Now
We are delighted to make this new solution available to rent and add it to our extensive range of PTZ, Pro camcorders and 4K Studio video cameras. If you are having a hybrid meeting at a table or in a V shaped table set-up, this is the ideal solution for you. Call a member of the team on 01 4133892 or contact us online to discuss the options we have available for your next meeting.