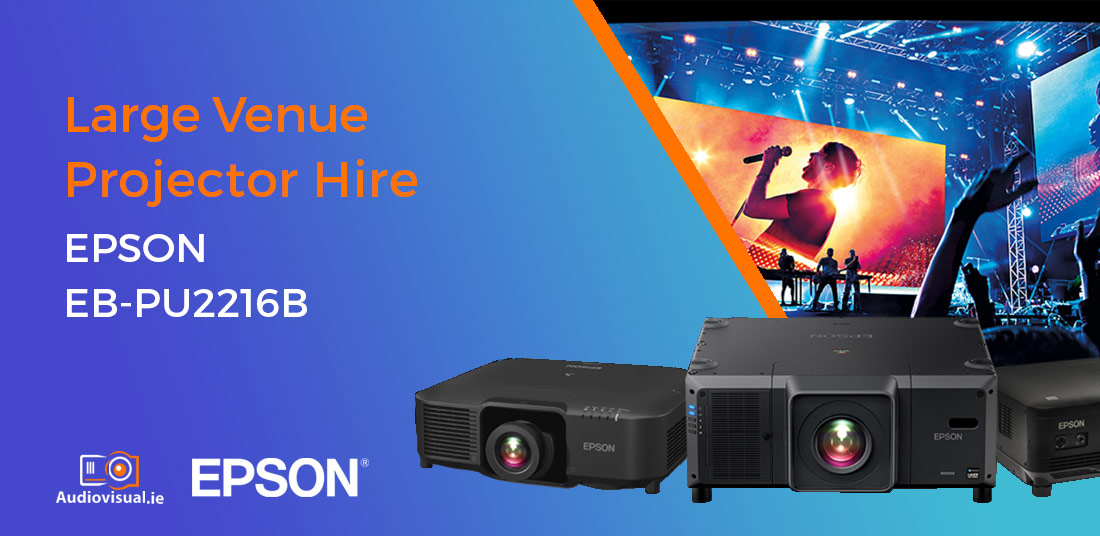 07 Jun

Large Venue Projector Hire – Epson EB-PU2216B

We are delighted to announce the latest exciting offering to our AV Rental fleet. Our Epson EB-PU2216B Premium large venue laser projectors with 4K enhancement pack a punchy 16,000 lumens each. These units are 64% smaller and 50% lighter than their predecessors and the must have in large venue projector hire.
Large Venue Projector Hire – Epson EB-PU2216B
The EPSON EB-PU2216B is ideal for Large screen display, movies, digital signage, and presentation application, in fact events of every size. With their reduced size and weight and advanced toolset that simplifies installation and maintenance, the new Epson EB-PU2216B offers significant advantages for the live events and large venue markets, including more efficient set-up, much lower power consumption, and potential savings in labor, storage, and shipping.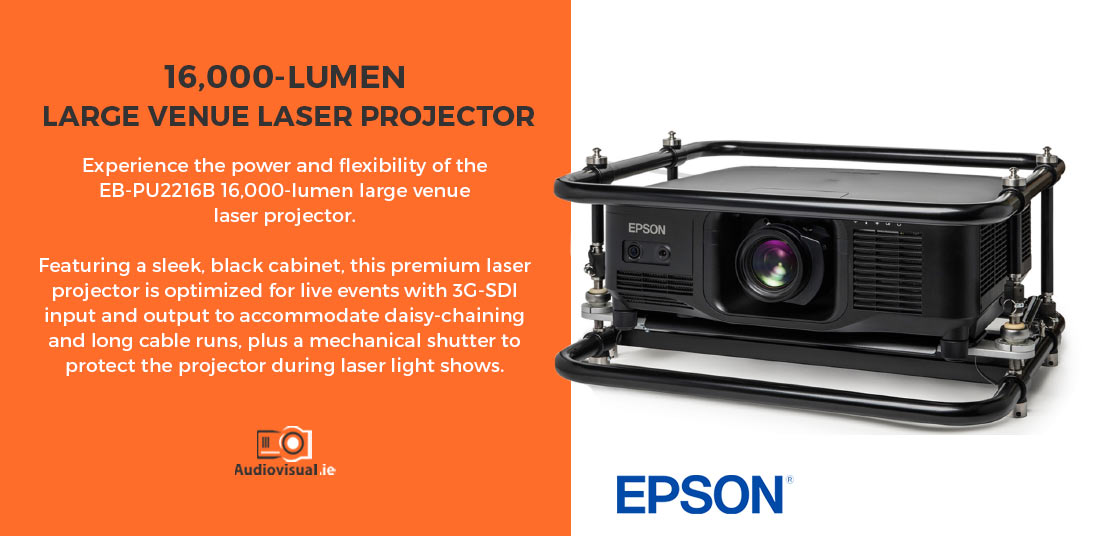 16,000-lumen Large Venue Laser Projector
Experience the power and flexibility of the EB-PU2216B 16,000-lumen large venue laser projector. Featuring a sleek, black cabinet, this premium laser projector is optimized for live events with 3G-SDI input and output to accommodate daisy-chaining and long cable runs, plus a mechanical shutter to protect the projector during laser light shows.
The EB-PU2216B produces ultra bright, 16,000-lumen images from a standard 120 V power source and uses a 20,000-hour virtually maintenance-free laser light source. It also features a hermetically sealed optical engine for high dust resistance and a filterless cabinet for low-maintenance operation.
Epson EB-PU2216B Features
Incredible Colour
WUXGA with 4k Enhancement: accepts 4K content and delivers up to 4.6 million pixels on-screen for an incredibly crisp and vibrant image.
Long-lasting Laser Light Source: 20,000 hour virtually maintenance-free laser light source.
Simplified Installation: 9 optional powered lenses (sold separately), including an ultra short throw .35 lens with unique zero offset design, provide enhanced flexibility and convenience during installation.
Engineered for Reliability: hermetically sealed optical engine offers high dust resistance while filterless cabinet and liquid cooling system support easy, low maintenance operation.
Ideal for Live Event Applications: 3G-SDI input and output easily accommodate daisy-chaining and long cable runs; mechanical shutter helps protect projector during laser light shows.
Projector Stacking Rigs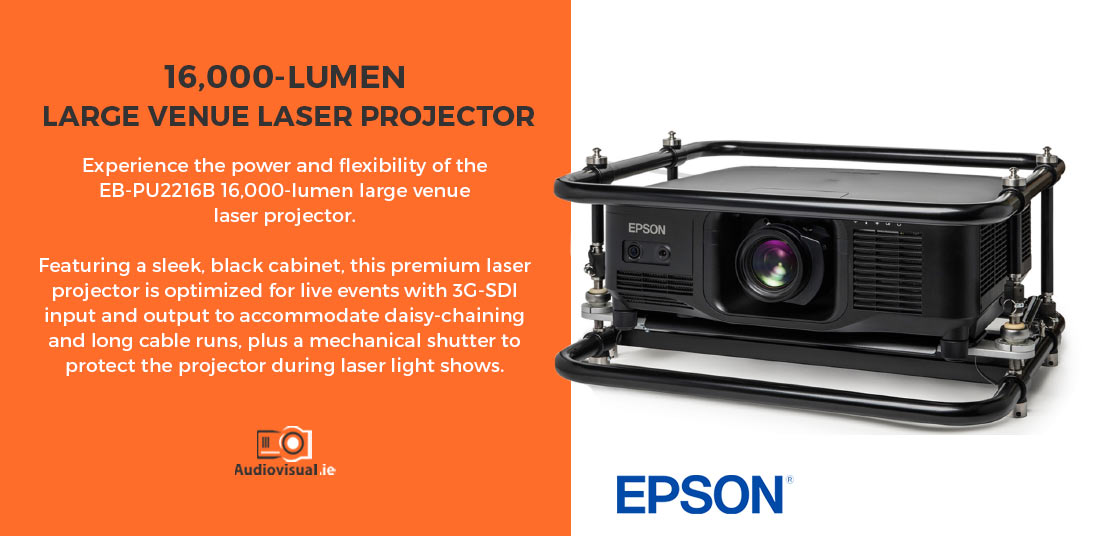 Our new stacking rigs available from mid-June 2022, stack 2 x 16,000 Lumen units on top of each other for an eye watering 32,000 Lumens of stunning imagery. Don't worry, our fully EPSON trained AV technicians will set it all up for you. Our flying rigs allow us to mount the projectors from bars, trusses or stage sets. Whatever you need. Of course, we have trolleys, mounts and projection tables available also.
We offer Standard throw and Short Throw lenses available which will cover most applications.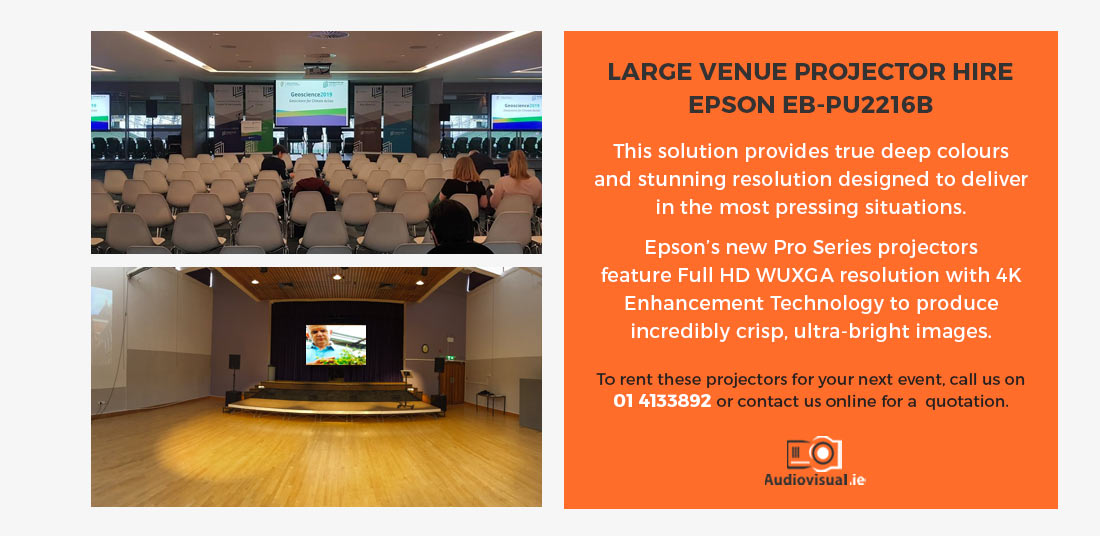 Large Venue Projector Hire – Epson EB-PU2216B
This solution provides true deep colours and stunning resolution designed to deliver in the most pressing situations. Epson's new Pro Series projectors feature full HD WUXGA resolution with 4K Enhancement Technology to produce incredibly crisp, ultra-bright images. To rent these projectors for your next event, call us on 01 4133892 or contact us online for a quotation.