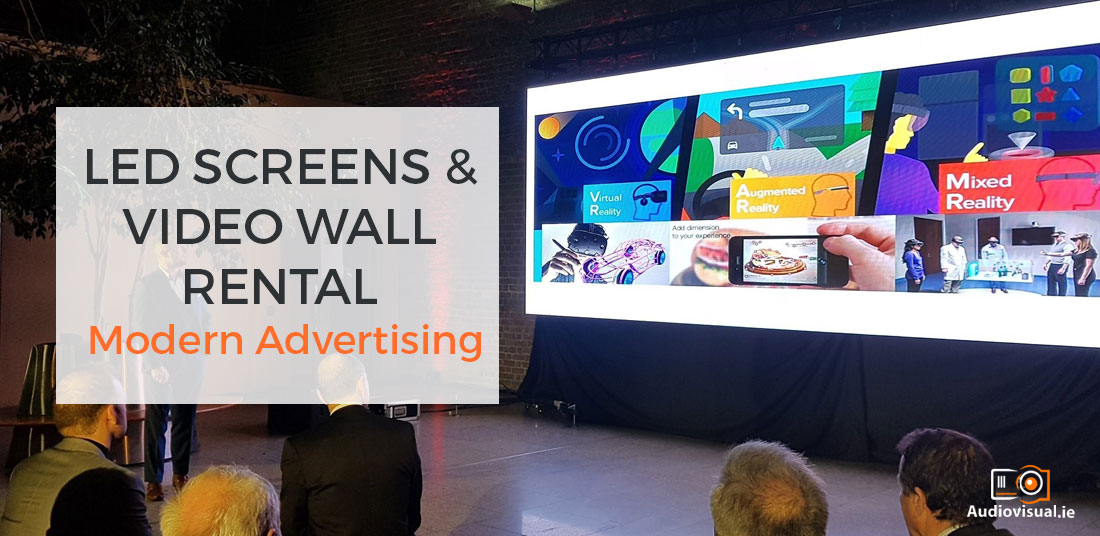 28 Nov

LED Screens & Video Wall Rental – Modern Advertising

We're sure you don't need us to tell you that LED screens and video walls are becoming ubiquitous. These days it seems that everywhere you look there is an LED screen advertising or announcing something. As visual communicators they are remarkably effective, far more effective than the traditional poster that they are replacing and they are ushering in the next era of modern adverting.
Modern Advertising Is Always Changing With the LED Screen
The beauty of the LED screen is its changeability. Whereas the poster was static, the LED screen or wall can change its content, which means it is a far more effective communicator. In other words, it can tell a story, and when the story is finished you can start another one by simply uploading the fresh content – no need for physically replacing posters or signs, saving time and money. The ease of changing the content on a LED screen also opens up the opportunity of more dynamic and time sensitive campaigns like never before.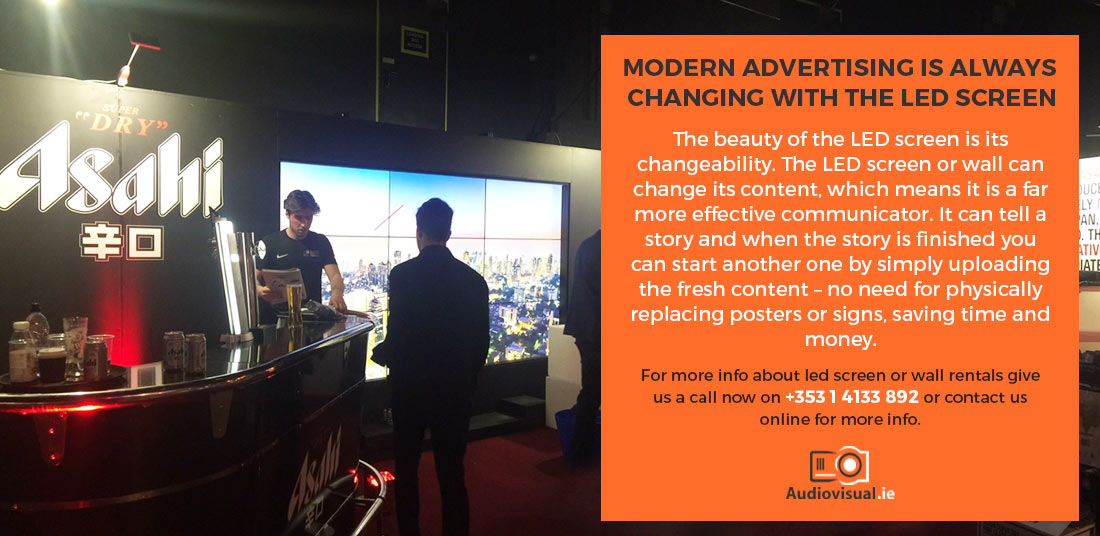 LED Screens for Award Ceremonies & Fundraising Events
Two occasions where the LED wall has proved to be most effective are the award ceremony and the fundraising event. The award ceremony needs impressive visuals in order to lend weight to the occasion. The signage needs to be big and bold but also sophisticated. The LED wall delivers on all these accounts. It will take your event to the next level as far as legitimacy and credibility go. You want your audience to feel like they are a part of something big and significant – the LED wall makes a huge difference in creating this ambience.
The LED Screen Is The Solution
The fundraising event needs something impressive to deliver the message. If you really want to add class to the occasion, an LED screen or wall will go a long way toward making it so. If you want people to feel like they are donating to a legitimate and worthy cause, the LED screen is the solution to convey your message. For both award ceremonies and fundraisers, people need to know what is going on, and the LED screen will act in harmony with presenter or announcer in keeping people informed. The LED screen is so easy to operate and its transitions so smooth that it is very effective in bringing a professional feel to the occasion and making it memorable.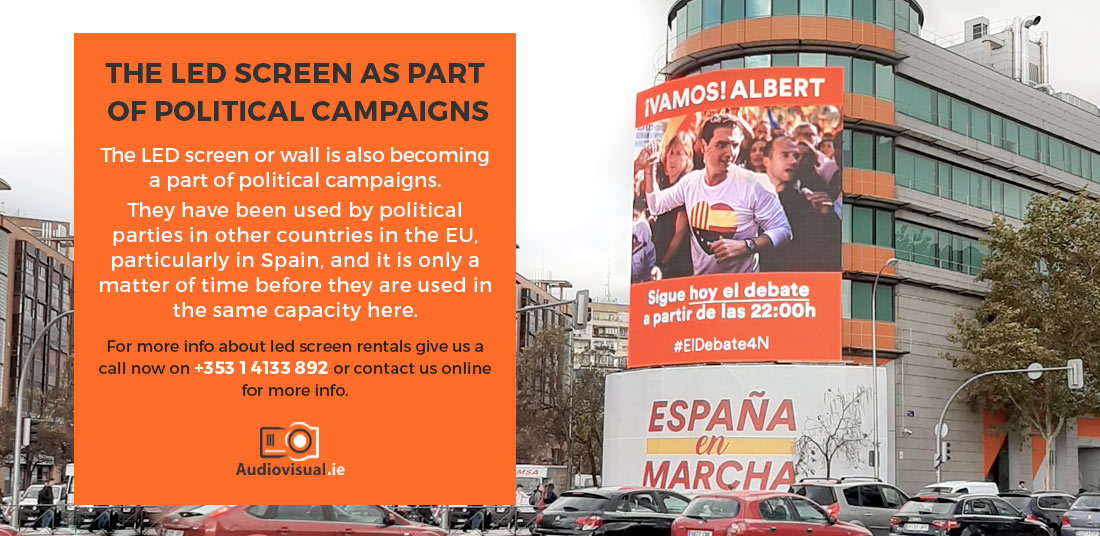 The LED Screen As Part of Political Campaigns
The LED screen or wall is also becoming a part of political campaigns. They have been used by political parties in other countries in the EU, particularly in Spain, and it is only a matter of time before they are used in the same capacity here. A political campaign or election manifesto cannot be encapsulated in a single poster. People need to know the full story of what the party or candidate are promising, and this is best done through multiple and sequential signs.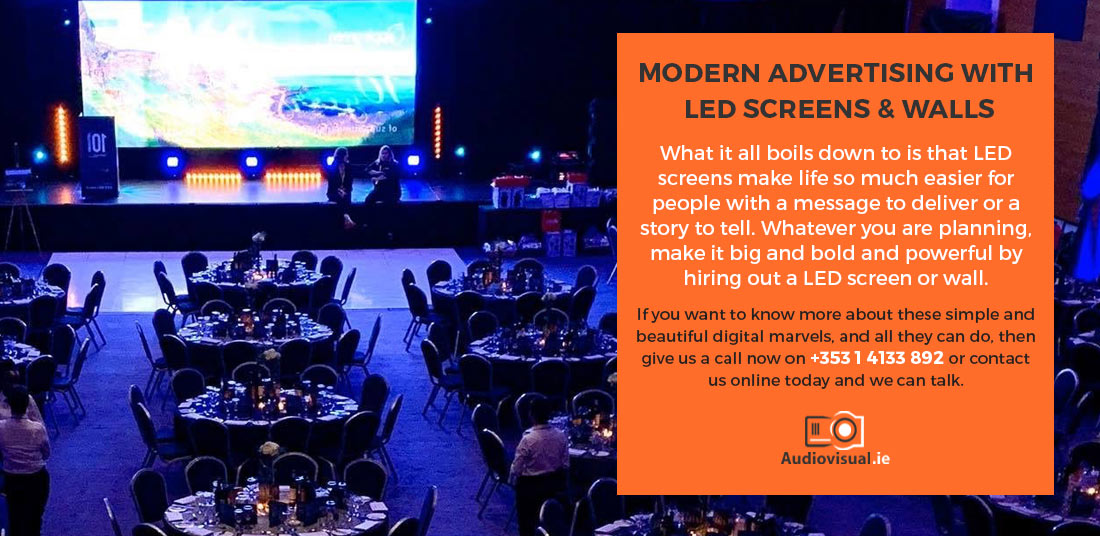 Modern Advertising with LED Screens and Walls
What it all boils down to is that LED screens make life so much easier for people with a message to deliver or a story to tell. Whatever you are planning, make it big and bold and powerful by hiring out a LED screen or wall.
If you want to know more about these simple and beautiful digital marvels, and all they can do, then give us a call now on +353 1 4133 892 or contact us online today and we can talk. No obligations. No fees. Just get in touch and we'll be happy to inform and advise.
Don't miss out on future blog posts and be in with a chance to win a €100 voucher by joining our mailing list now!