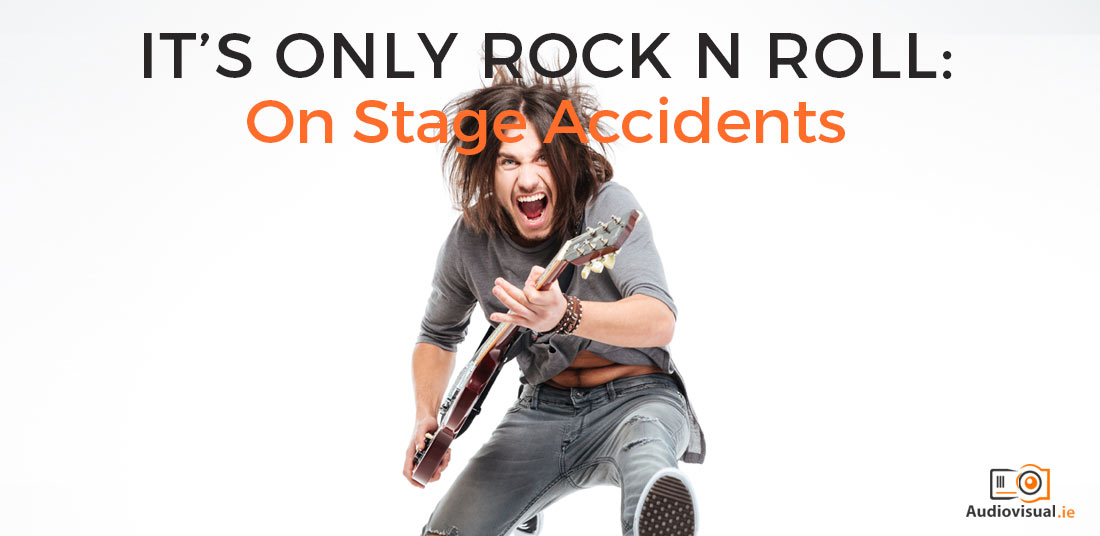 03 May

It's Only Rock N Roll: On Stage Accidents

Rock N Roll is supposed to be dangerous but not to the people who are playing it. Since its birth in the 1950s there have been many mishaps on the stage, some humorous and others not so humorous. As we provide a lot of AV rental gear and sound systems to bands out there thought we'd give you a listing of some of the most dangerous on stage moments in Rock N Roll.
The Art of Microphone Swinging
In the 60s, Roger Daltrey of The Who perfected the art of microphone swinging. He would swing the mic above his head like a helicopter blade before deftly catching it and resuming singing. In 2007, the rocker announced an end to his mic swinging days due to failing eyesight. Looking back on it, it's amazing that Daltrey never injured one of his bandmates with this high-risk piece of showmanship. Ironically, it is Daltrey himself who was nearly blinded by a swinging stand in 1996. The Who were reforming for a once off production of their classic Quadrophenia album in Hyde Park. Later to be disgraced glam rocker Gary Glitter was a part of the show. During rehearsals Glitter was swinging a fifteen pound mic stand over his head when he accidentally slammed it into Daltrey's left eye, nearly shattering his eye socket. If you need to hire a mic for a show we can help you with that but the mic swinging skills will take time to perfect!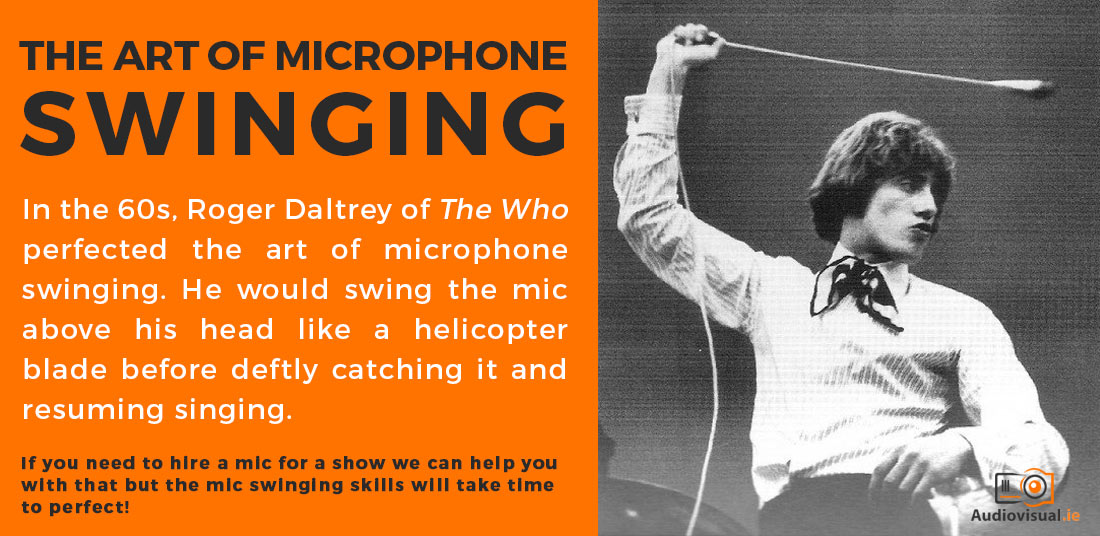 Krist Novoselic Nearly Knocks Himself Out
At the MTV Video Music Awards in 1992, Nirvana bass player Krist Novoselic nearly knocked himself out with his bass guitar in front of a TV audience of around 300 million. Toward the end of the band's performance of Lithium, Novoselic tossed his instrument a few metres into the air and it came down directly on his noggin, causing him to stagger about the stage. Years later, Novoselic revealed that he was not in the right frame of mind for the performance due to an incident back stage with Guns N Roses frontman Axl Rose, as well as his sound being not right. However, the story has a happy ending, as Queen guitarist Brian May gave the bass player some medicinal champagne after he was seen to by paramedics.
James Hetfield Visits The Burn Ward
On August 8th, 1992, Metallica and Guns N Roses played Montreal. It was an infamous concert with the crowd rioting and James Hetfield having to visit the burn ward after mistakenly walking into a pyrotechnic. It happened during the third song of Metallica's set. Hetfield later explained that he had been confused about where to stand so he ended up stepping into a 12 foot torch of fire of around 3200 degrees. The band were forced to end their set with their singer sustaining second and third degree burns and needing hospital treatment. Guns N Roses refused to go on stage early and when they did, about two hours later, Axl Rose was in a bad mood. The crowd decided they had had enough and started to riot, eventually causing about $400,000 in damage to property.
Rob Halford Falls From His Harley
Any Judas Priest fans out there will know that as part of their stage show singer Rob Halford enters the stage on a Harley Davidson for the song, Hell Bent for Leather. What they may not know is that he has fallen off his steel horse not once but twice. In September 2011 at a show in Brazil, Halford lost his balance on the machine and fell on his side. Luckily, he was uninjured. However, he was not so lucky back in 1990 when he suffered concussion and a broken nose after falling from his Harley when he failed to avoid a stage prop. The band were forced to end the show early. It was the last show of the last tour with Halford for ten years, which made it even more painful and embarrassing.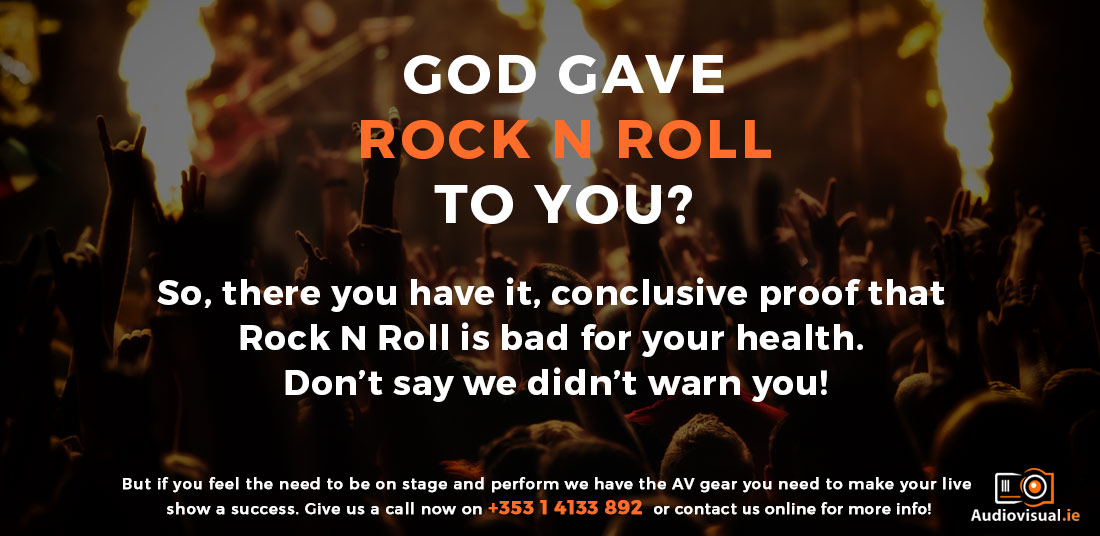 God Gave Rock N Roll To You?
So, there you have it. Conclusive proof that Rock N Roll is bad for your health. Don't say we didn't warn you! But if you feel the need to be on stage and perform we have the AV gear you need to make your live show a success. Give us a call now on +353 1 4133 892 or contact us online for more info!