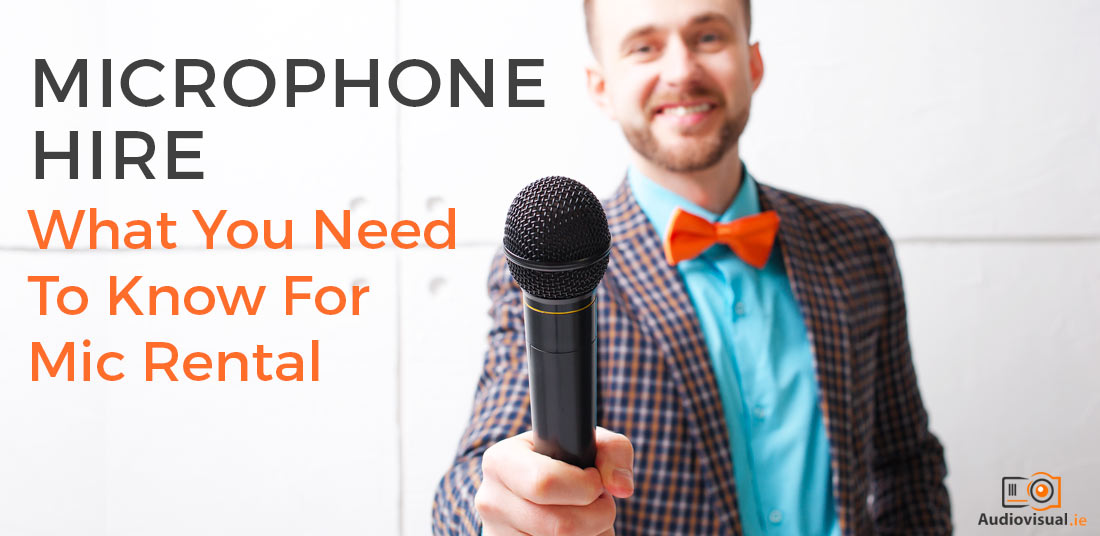 26 Jan

Microphone Hire | What You Need To Know For Mic Rental

There is a different microphone for every application. Tell your audio visual rental company exactly what you are hoping to do and make sure you get the right mic for the job. Here's a brief overview of microphones so you know what to look for when renting a mic.
What You Need To Know For Mic Rental
So, without further ado, it's time to go through the 7 main types of microphone that you might want to hire and to outline the uses that these mics are best suited to.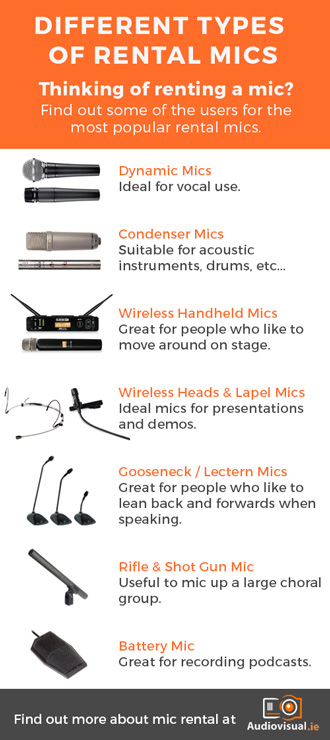 Dynamic Microphones
These are the most common mics supplied with PA system rentals for general vocal use. The microphone is held up to the mouth when used. Construction is simple and comparatively sturdy. No power supply is required and dynamic microphones are relatively inexpensive.
Condenser Microphones
Condenser mics provide good sensitivity at all frequencies. As they are active mics, a power supply is required when in use. This can be an internal battery or +48V phantom power supplied down the mic cable from the mixing desk. Condenser mics can be vulnerable to structural vibration and humidity and are very suitable for acoustic instruments / drums etc making them a popular rental mic for musicians.
Wireless Handheld Microphones
Wireless microphones can be moved around freely, without the cables getting in the way. These microphones require a transmitter and a receiver in order to broadcast sound. In general, handheld wireless microphones contain a built-in transmitter, whereas headset and clip-on microphones include a cable that attaches to the belt-pack transmitter.
The transmitters for both types are powered by batteries (either dry-cell or rechargeable), so always make sure that ample battery power is available.
It's also necessary to set the transmitter of the broadcasting microphone and the receiver to the same channel. Make sure that when you are using more than one wireless microphone, the transmitting and receiving channels are set differently for each microphone. Ideal for people who like to move around the stage a bit whilst speaking making it a popular rental mic for presentations.
Wireless Headsets and Lapel Microphones
Microphones worn on one's head are called headsets, while microphones worn on clothing not far from one's mouth are called lapel (or lavalier) microphones. Either can be used so that both hands are free. Headsets are often used while singing or dancing, while lapel microphones are often used by presenters on television. There is no limit to the amount of wireless kits that can be used at one time, however, it goes to say the more wireless kits in use the more preparation and expertise required to ensure a smooth event. Headsets offer the advantages of keeping the 'hands free' at all times and also keeping the microphone location the same distance from the mouth whatever way speaker moves. This makes wireless headsets and lapel mic rental ideal for demonstration applications.
Gooseneck / Lectern Microphones
The gooseneck is a sensitive condenser mic which is typically used on a lectern/podium/pulpit or desk. One of the big advantages of a good gooseneck is that a speaker can be a small distance away from the mic and still be heard. Gooseneck / lectern mic rental is ideal for speakers who like to lean forward and back whilst speaking.
Rifle & Shot Gun Microphones
These are very sensitive condenser microphones which are highly directional. They are most commonly used in stage & choir applications and a number rifle or shot gun mic across the front of a stage is an ideal way to mic up a large choral group for example.
Battery Microphones
A boundary microphone is a small omnidirectional condenser mic capsule positioned near or flush with a boundary (surface). Typically placed on a table and suitable for 3 or 4 people. Battery mic rental is popular amongst those who record podcasts for example.
Mic Rental Tip
If the microphone is covered, feedback will occur more easily: don't cover the grille with your hand. When a squealing or howling kind of feedback occurs some people cover the microphone instinctively. However, this actually has the opposite effect and will worsen the feedback.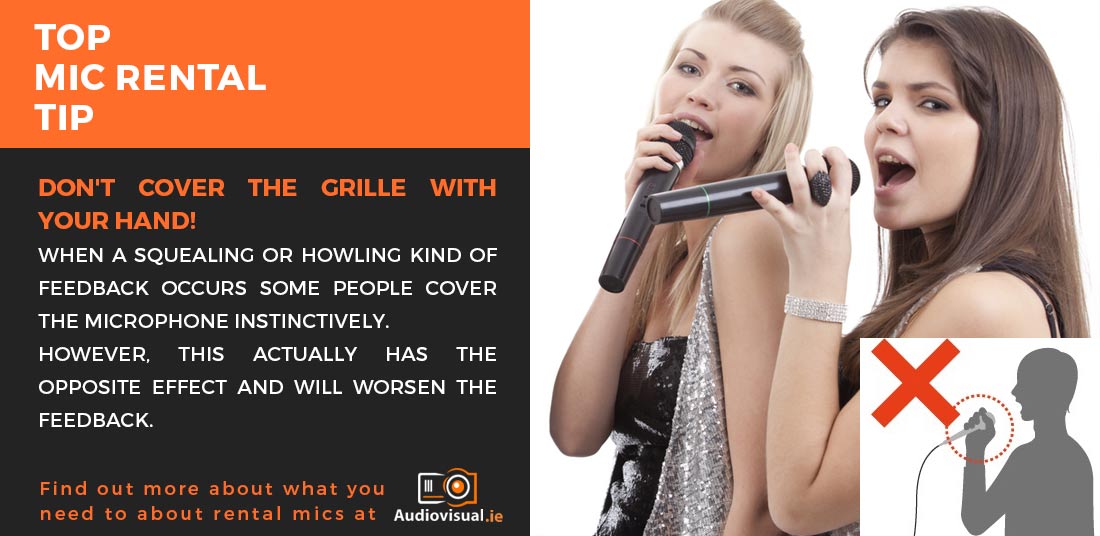 Microphone Rental
If you've any more questions about microphone rental or would like to know which mic you'll need for your upcoming event just comment below and we'll help you out. Also stay tuned for more in depth articles about each of the mics outlined in the future. If you'd like to hire some mics call me on +353 1 4133892, email me directly at ivan@audiovisual.ie or get in touch online!