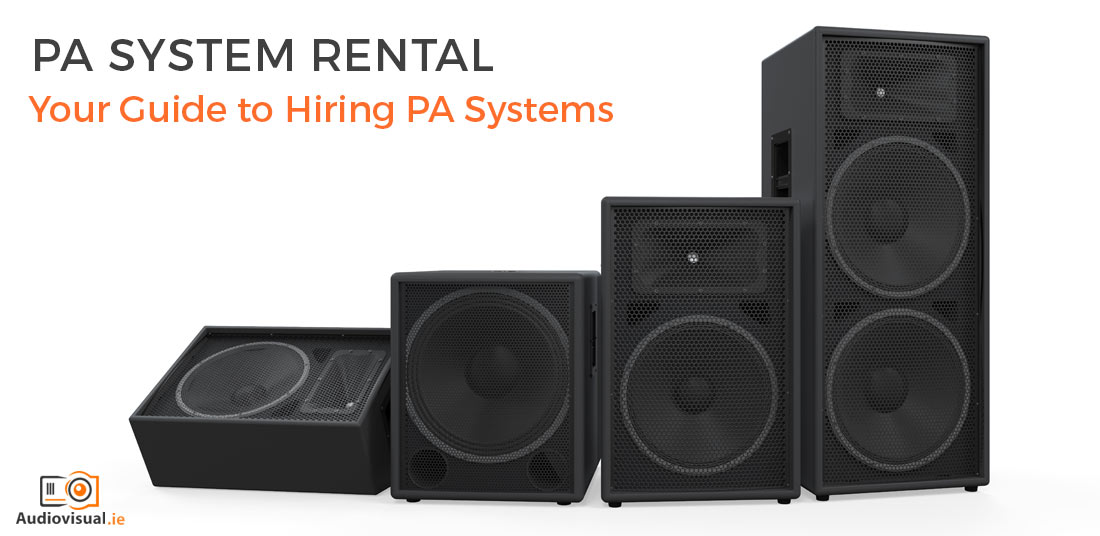 08 Dec

PA System Rental – Your Guide to Hiring PA Systems

Have you ever been told to hire a PA system, book some sound, organise a Tannoy, arrange some mics, get a sound system, record a podcast….what does this all mean???

I get questions from customers all the time regarding PA systems – what equipment do I need?, how many loudspeakers do I require?, how much power do I need?, etc? For some people, setting up a Public Address or P.A. system for the first time can be a little daunting so in this guide to hiring PA systems I'll try give you a better understanding of the ins and outs of PA system rental.

I like to divide sound systems into the following categories.
Portable All-in-one type PA System Rental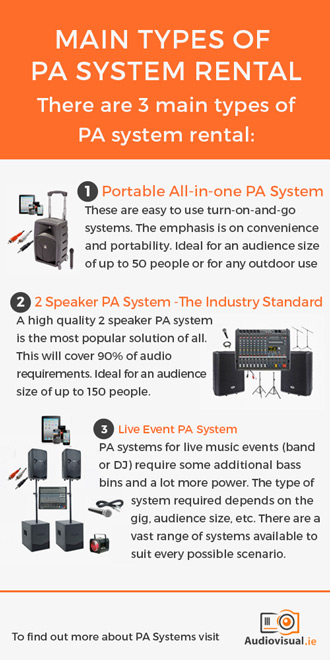 These are easy to use turn-on-and-go systems. The emphasis is on convenience and portability. A typical system will output approx 100watts and will generally run on battery or mains, provide a wireless handheld microphone and some music playback options CD/Bluetooth etc. Ideal for an audience size of up to 50 people or for any outdoor use.
2 Speaker PA System Rental – The Industry Standard
A high quality 2 speaker PA system is the most popular solution of all. This will cover 90% of audio requirements. The right system will accommodate numerous microphones, background music, laptop audio, wireless mics and podium mics. It will provide high quality sound for every type of event from assemblies & meeting to launches, town halls and small gigs. Ideal for an audience size of up to 150 people. These systems can be increased to 4,6,8,10 speaker systems as audience size increases or to accommodate non standard room shapes etc. Available as both 'passive' and 'active' systems. Active means that the power amplifier is inbuilt in the speaker. Passive means that a separate amplifier is required. An appropriate mixing desk is provided to accommodate the amount of audio channels required.
Live Event PA System Hire
PA systems for live music events (band or DJ) generally (in fact always) require some additional bass bins and a lot more power. The type of system required depends on the gig, audience size, etc. There are a vast range of systems available to suit every possible scenario.
Other PA System Rental Stuff
Wireless Mics – Available as a Handheld, Lapel & Head Set. Ideal for presenters who like to ramble!
Podium Mics – Do what they say on the tin
Music Playback – Can be from CD, MP3 player, Laptop
Monitors – On stage speakers for Musicians / Performers / Speakers
Audio Distribution Amplifier / Splitter – Used for Press events it provides an audio feed of an event for media
We'll take a much more in-depth look at the various components in later blogs.
PA System Rental – Top Tip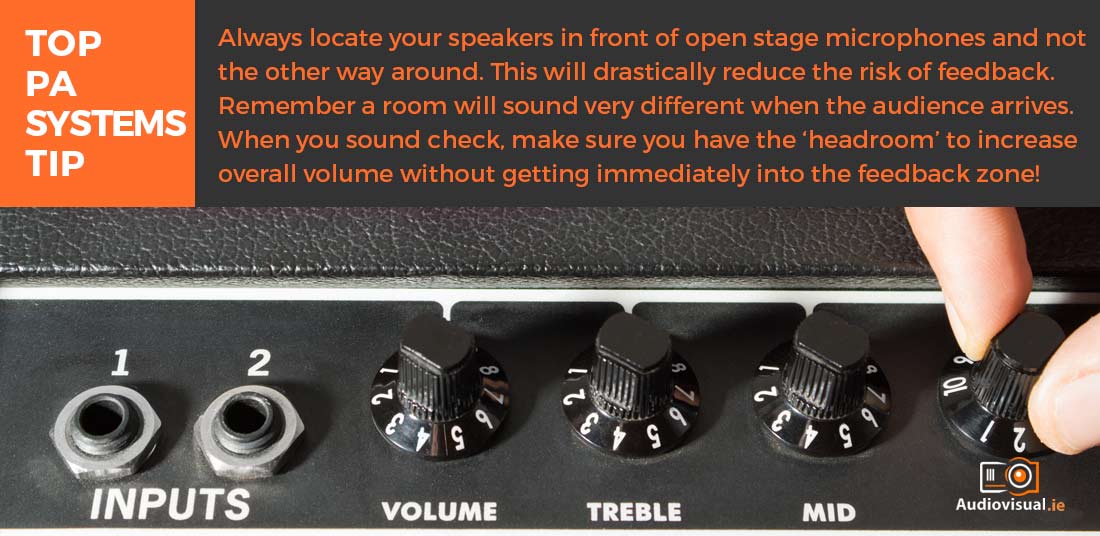 Top Tips: Always locate your speakers in front of open stage microphones and not the other way around. This will drastically reduce the risk of feedback. Remember a room will sound very different when the audience arrives. When you sound check, make sure you have the 'headroom' to increase overall volume without getting immediately into the feedback zone!
PA System Rental – Any Questions?
Do you struggle understanding how all the parts fit together in a PA system? Have any questions? If so then give us a call on +353 1 4133892 or email me directly ivan@audiovisual.ie and I'll be happy to help. And, if you're looking to hire a PA system, well, we can help with that too!