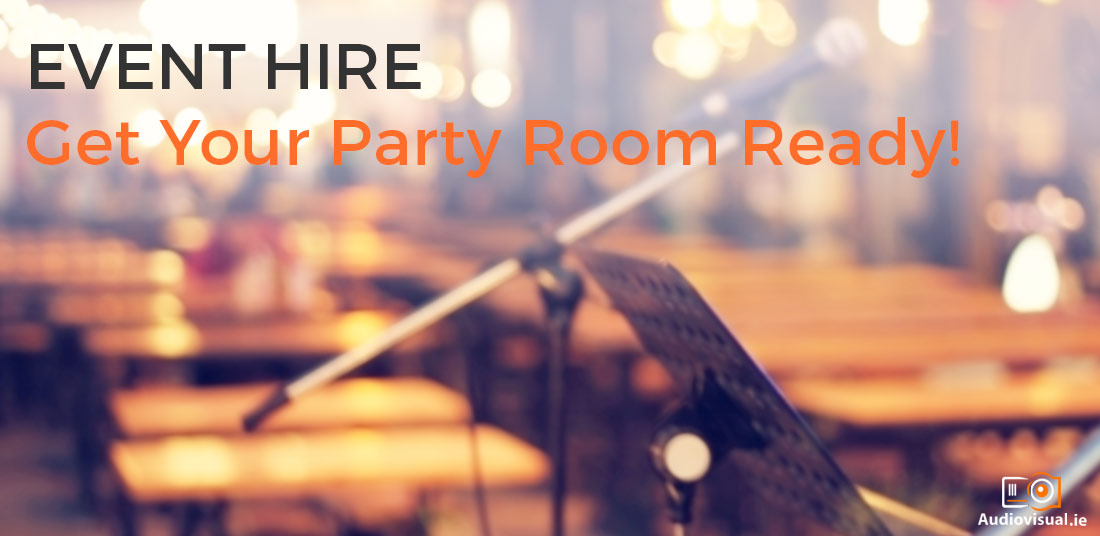 05 May

Event Hire – Get Your Party Room Ready!

You book the room and we'll get it PARTY ready!

So you're all set for your big event. You've picked the date, you've sent out the invites and everything is falling into place. The only problem is that the room at your venue looks a bit boring. The room is big enough to host all your guests, the facilities are great but a function room viewed in the cold light of day is not how you would like it to look for your party. When your guests arrive you want to impress, right? Quality sound and lighting throughout will go a long way towards creating an instant party atmosphere.

Here are a few great event hire things we can do for your party:
Event Hire Room Uplighting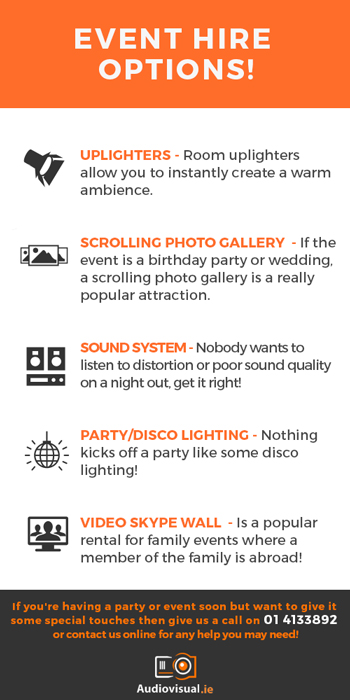 Room uplighters allow you to instantly create a warm ambience. You can light up a room in any colour and create a sense of event as people arrive and party the night away. You can also change the colour of a room at different stages of the night i.e. one colour for the meal, a change of colour for the speeches, and colour changing for the band or DJ.
Event Hire: Scrolling Photo Gallery
If the event is a Birthday party or wedding, a scrolling photo gallery is a really popular attraction. This is a great conversation maker as guests enjoy some photos old and new. Typically we will create the content for you. You supply all the photos weeks in advance and we scan them, and arrange the slide show for you. You can display it on any number of screens around the room. We can look after it all for you. See some screen options here!
Party Sound System
There are many different types of sound systems for many different applications. It is worth considering size of venue, band or DJ, speeches, connecting an ipod, etc. Make sure you check our guide to booking PA Systems. The most important thing is that the sound quality is excellent. Nobody wants to listen distortion or poor sound quality on a night out. GET IT RIGHT!
Party / Disco Lighting
Nothing kicks off a party like some disco lighting. Moving Heads, REVO4,s Uplighters, scanners, LED, hazer machines, sunstrips… They all go to create a memorable night and great party atmosphere.
Event Hire: Video Skype Wall
Video wall hire is a popular rental for family events where a member of the family is abroad but cannot be excluded from the event. Why not have a large screen Skype call live from your party. Make sure reliable broadband is available.
Other Event Hire Ideas For Your Party!
If you're having an event and want to make it really memorable then here are some other useful considerations & great Dublin companies to check out:

Props Hire from Prop Me Up
Room Drapes from Gorilla Design.
Soft furnishings from Total Event
Party Gear from Party Shop
Beer Taps from Party Kegs

If you would like any further help or assistance planning the Audio or Visual aspects of your party, please do not hesitate to contact me on +353 1 4133892, email me directly at ivan@audiovisual.ie or contact us online – let's get the party started!