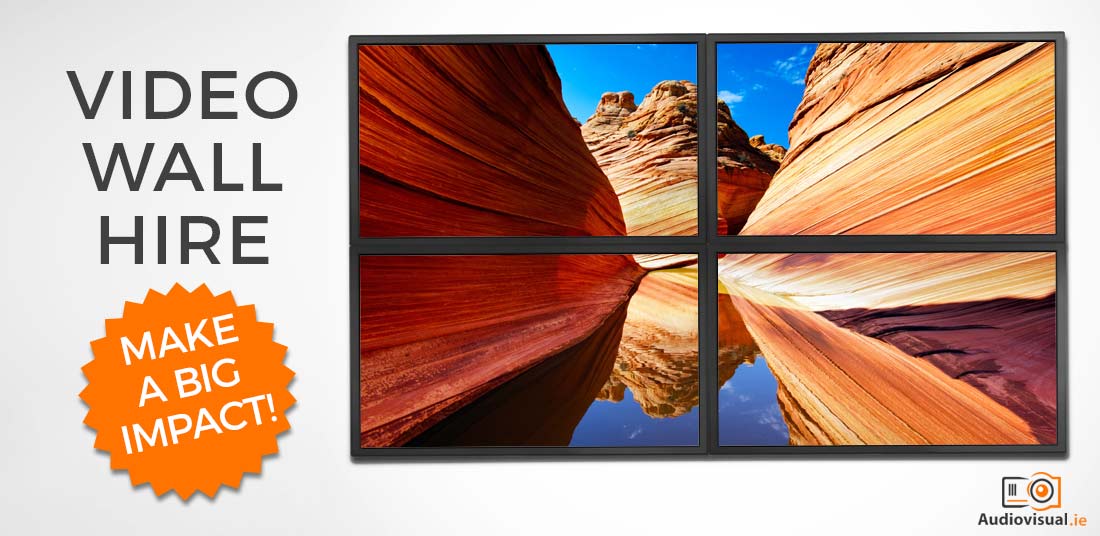 12 Jan

Video Wall Hire – Make A Big Impact!

Do you need to make a big impact at your next trade show, convention or exhibition? Then rent a video wall to maximize engagement for your audience!

Going to trade shows or events with the same bland booth back drop is boring and the same as every other booth vendor. Broadcast your company message, liven up your booth or event and get noticed by renting a video wall. With our video walls you will get noticed from a distance away due to the large size of our video walls. Image quality is pixel perfect and you are differentiated from the crowd. Video walls can connect via HDMI, VGA and a host of other audio visual connectors. Your image can be up-scaled and calibrated to display perfection.
NEC Commercial Video Wall Rental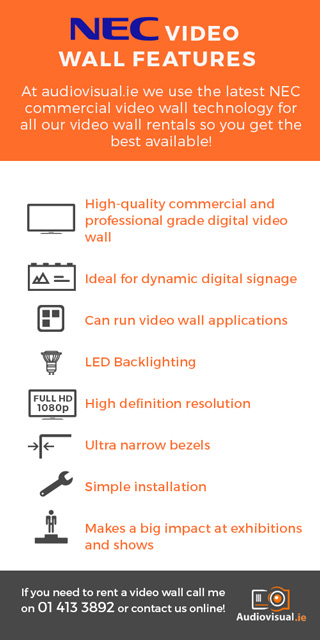 At audiovisual.ie we use the latest NEC commercial video wall technology on the market and can display 1080p or even 4K images. Our standard 2X2 screen size is 92 inches in diagonal viewing. We also offer 3X3 (138 inch) for larger applications. These are typically supplied on a free-standing floor stand.
About NEC Video Wall Screen
NEC's portfolio of high-quality commercial and professional grade digital video wall screens are ideal for dynamic digital signage and informational video wall applications. NEC's exclusive TileMatrix™ and TileComp™ technologies, combined with LED backlighting, high definition resolution and the ultra-narrow bezels, allow for simple installation and bright, astonishing video walls.
We have found the Video wall is a great tool for attracting large groups of people to an exhibition booth. When you have this kind of crowd in your trade show booth or indoor/outdoor event you get noticed and even more people come to view your booth – a video wall can make a big difference.
Video wall Top Tips
Know your space – Before selecting a monitor for video wall deployment, understand your environment.
Know your content – The hardware required is directly related to the content to be presented.
AV System Integrator – Work with a knowledgeable AV system integrator as they can suggest the best mounting solutions, align and calibrate the screens, and test the content as well as making sure that all of the audio visual checklist for exhibitions has been completed successfully.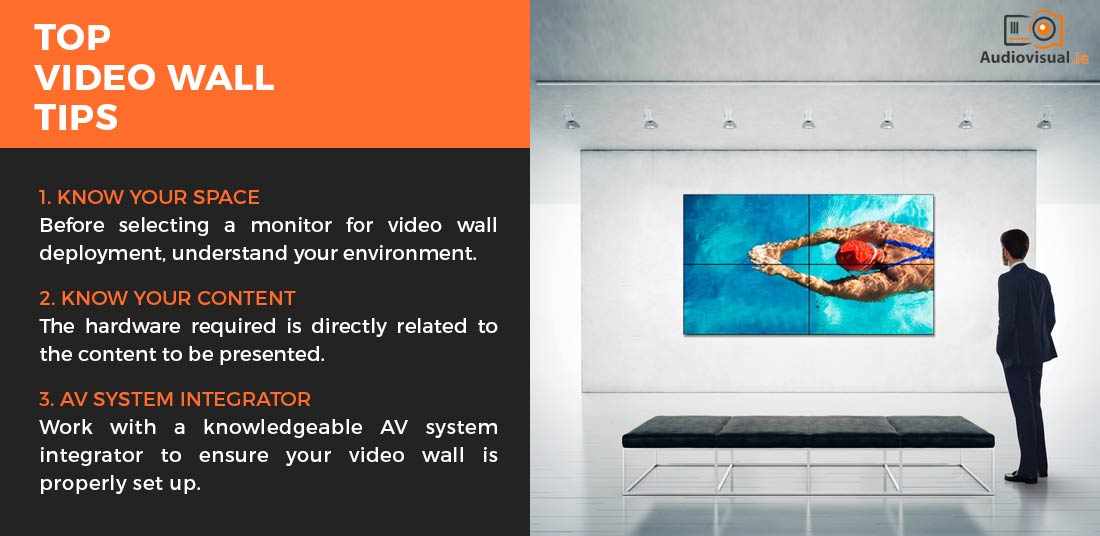 Video Wall Rental
Do you need to rent a video wall? Want to speak to a video wall rental expert? Call me on +353 1 4133892, email me directly at ivan@audiovisual.ie or get in touch online and I'll be happy to help.