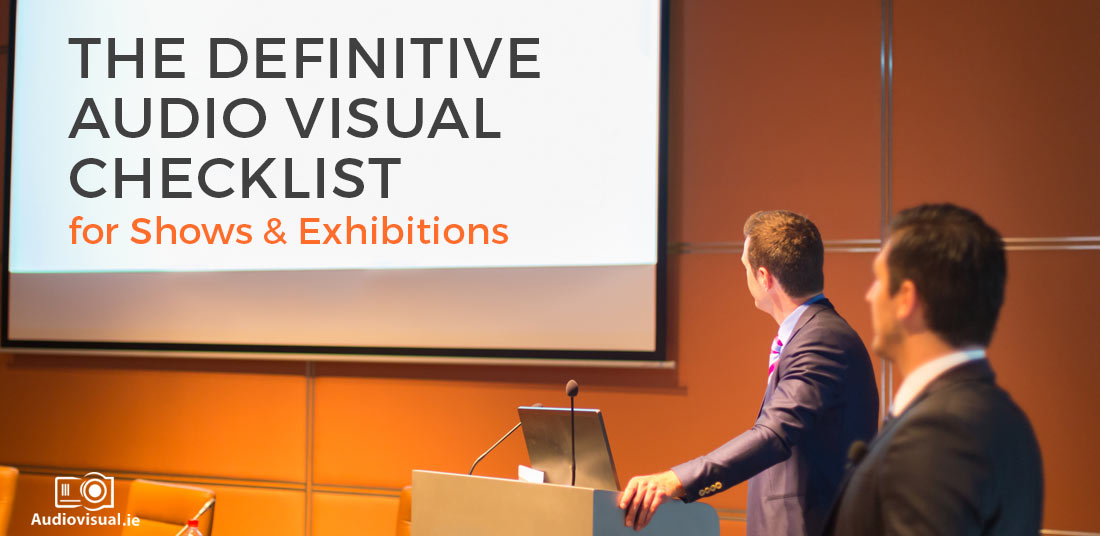 05 Jan

The Definitive Audio Visual Checklist

Do you have an exhibition coming up soon and unsure of what you should bring or do before it for your AV setup? Well, help is at hand. The following is the definitive audio visual checklist of what you should consider to make sure your audio visual set up is on point for your exhibition or show. A good audio visual show is all about the planning and the preparation – and a checklist like this that makes it easier to bring it all together.
The Definitive Audio Visual Checklist
The below is the definitive audio visual checklist to help you plan your next AV show. The first point, which goes without saying, is to book your audio visual rental early so that you can secure the equipment and resources you need to put on the exhibition. After that, make sure you consider all of the following.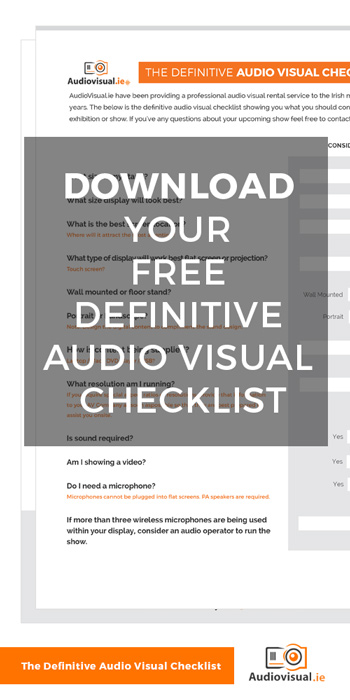 What size is my stand?
What size display will look best?
What is the best screen location? Where will it attract the most attention?
What type of display will work best flat screen or projection? Touch screen?
Wall mounted or floor stand?
Portrait or Landscape? Note: Design the digital content to compliment the stand design.
How is content being supplied? Laptop / Mac / DVD Player / USB?
What resolution am I running? If you require special aspect ratios or resolutions, provide that information to your AV company as soon as possible so that they are best prepared to assist you onsite.
Is sound required?
Am I showing a video?
Do I need a microphone? Microphones cannot be plugged into flat screens. PA speakers are required.
If more than three wireless microphones are being used within your display, consider an audio visual operator to run the show.
Check what frequencies wireless microphones are running on. Make sure you have scope to change frequency if there are any issues onsite.
Is lighting required? Lighting can compliment company colours adding great impact.
Is a stage required?
Is some presenting or making a speech?
Are there additional power requirements?
Am I using multiple displays? Will two or three screens work better than one?
What AV cables or connections are needed?
How will the AV cabling be run around the stand?
Has the equipment been factored into the stand design?
Who is delivering & setting up the equipment?
When should the equipment be delivered, set-up & tested?
Who is on call during the rental if something goes wrong? Get an AV Technician phone number especially if rental is over the weekend.
Get a free
downloadable PDF version of this audio visual checklist here!
Audio Visual Shows – What Not To Forget
To compliment the above list this shorter list outlines the bits and pieces that are often overlooked when audio visual shows are being put on but shouldn't be.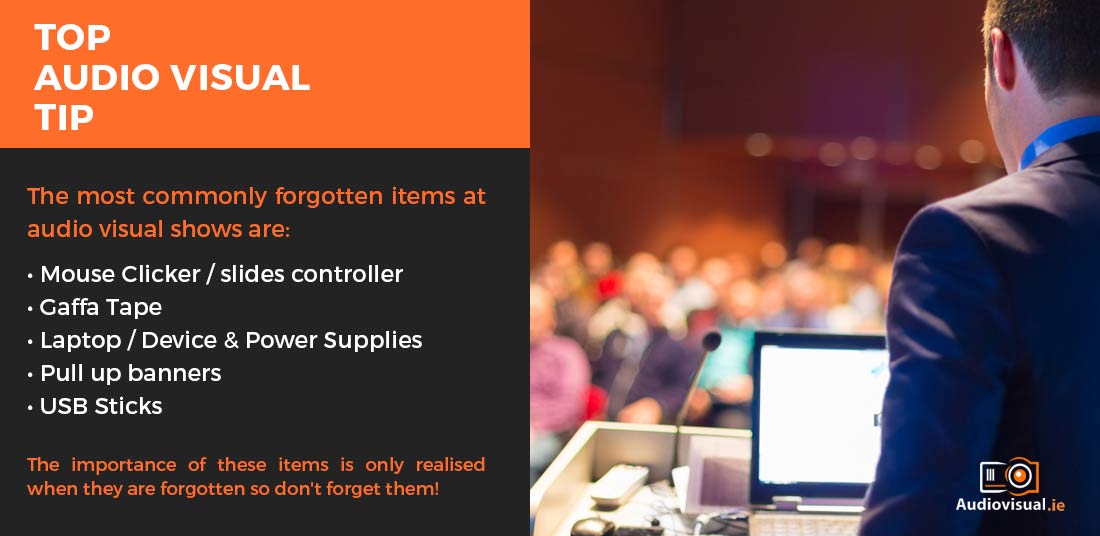 Mouse Clicker / slides controller
Gaffa Tape
Laptop / Device & Power Supplies
Pull up banners
USB Sticks
Audio Visual Exhibition Questions?
I hope the checklist above will serve to be useful to you whenever you're running your next audio visual exhibition or show but if you have any questions then comment below and I'll be happy to help. You can also call us on +353 1 4133892, contact us online or email me directly ivan@audiovisual.ie.