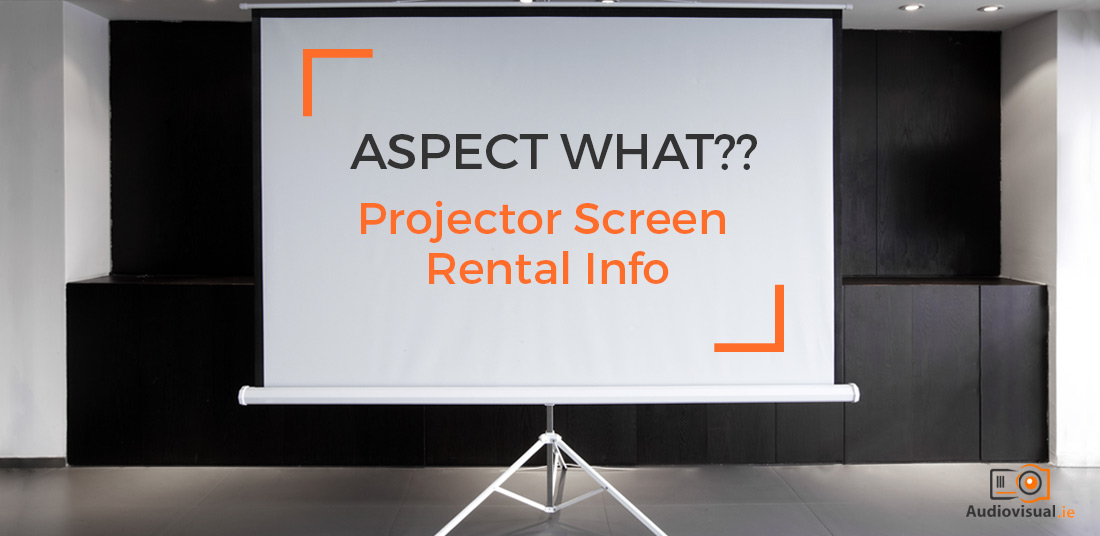 31 Jan

Aspect What?? Projector Screen Rental Info

If you are renting a projector, don't make the mistake of overlooking the screen requirements. The success of your event could depend on it. This article looks at the various rental options you should consider and follows on from our post about projector rentals for 2019 – read it and make a more informed choice!
Many Different Types of Projector Screen
There are many different types of projector screens out there but usually, when renting, people go for either a tripod screen or a fast folding screen. Tripod screens are your typical roll up screen with built in legs. They have the advantages of being portable and able to fit many aspect ratios (shapes). Width is commonly 150cm, 180cm and 240cm. 180cm is the most popular. Fast-fold screens are tensioned screens that have a foldable aluminium frame and an extremely flat surface. They can be used for both front and rear projection. Rear projection has the advantage of being a neater and cleaner setup. Rear projection flat-fold screens can be incorporated into stage sets for conferences and events. They can get large, but they are always lightweight.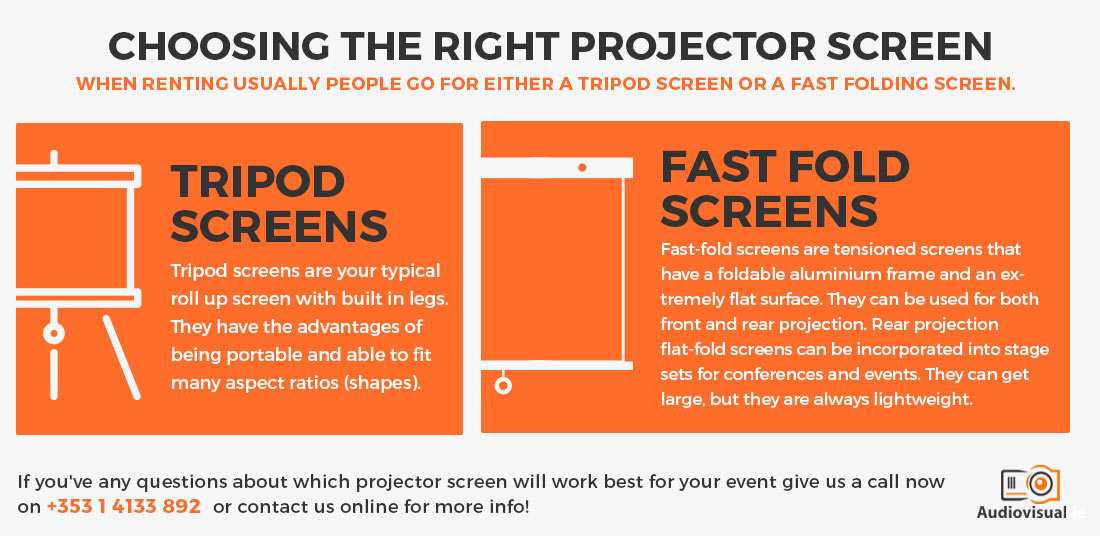 Size and Aspect Ratio of Projector Screens
Further things you must take into consideration are size, and aspect ratio of the screen. Until a few years ago, most laptops and sources used a 4:3 aspect running a 1024 x 768 resolution. More recently, we see 16:9 screens becoming popular due to the arrival of Full HD, 4k UHD and 8k UHD resolutions. Many projectors will run WUXGA resolution (1920 x 1200) which project a 16:10 aspect. If this all sounds too technical, don't worry. Audiovisual.ie will always advise you as to which aspect ratio you require. As far as size goes, it's simple: the bigger the crowd, the larger the screen required.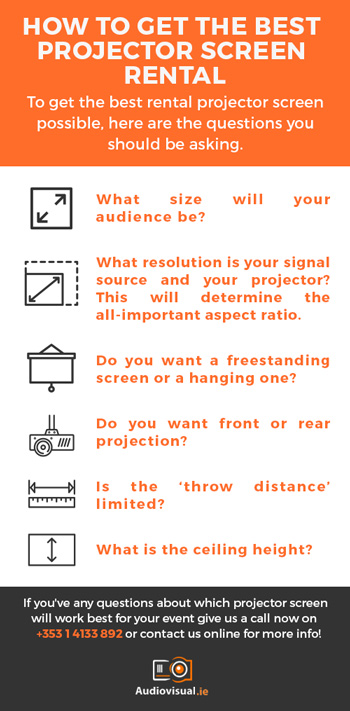 How To Get The Best Projector Screen Rental
To get the best rental projector screen possible, here are the questions you should be asking.
What size will your audience be? Again, the bigger the crowd, the larger the screen.
What resolution is your signal source and your projector? This will determine the all-important aspect ratio.
Do you want a freestanding screen or a hanging one? A free-standing screen will require a tripod or fast-fold, a hanging one will require a fast-fold only.
Do you want front or rear projection? Again, rear projection makes for a much cleaner and tidier set up, but it is only available with the fast-fold option.
Is the 'throw distance' limited? If you are using a large format display you need to make sure you have the right distance between projector and screen (the throw distance) to fill up the screen.
What is the ceiling height? A large screen requires a high ceiling if you don't want the bottom of the screen too close to the ground, which will cause viewing problems for the audience.
Straight Forward Projector Screen Rental
So, there you have it. Renting a projector screen is not as easy as you might think but we are here to make it as easy and straight forward as possible. We've over 50 years experience and have come across every type of setup imaginable. Give us a call on +353 1 4133 892 or contact us online and we will look after you all the way.
Don't miss out on future blog posts and be in with a chance to win a €100 voucher by joining our mailing list now!