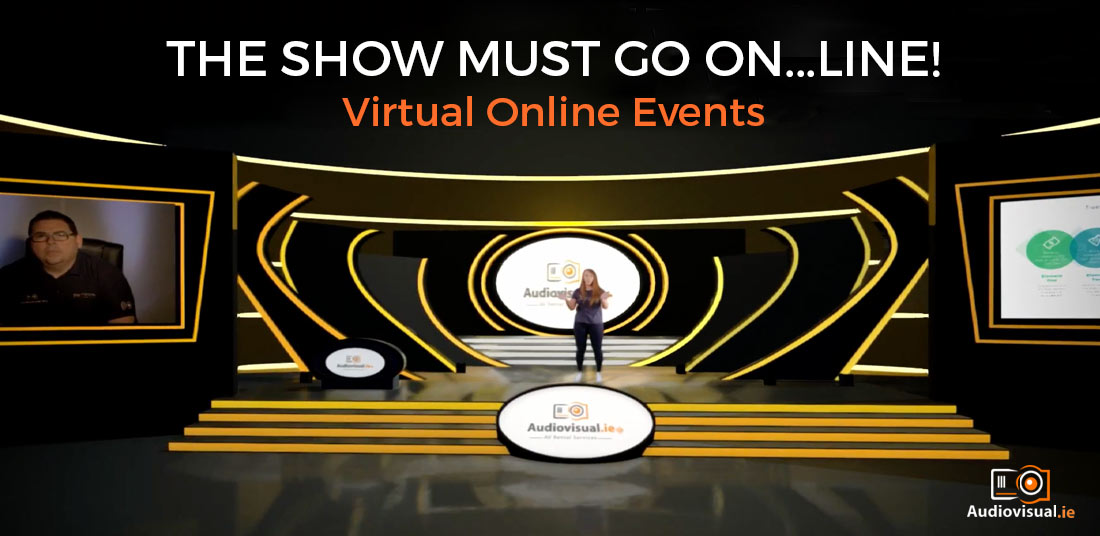 11 Jun

The Show Must Go On…Line! – Virtual Online Events
Virtual Online Events
Since COVID-19, there has been a huge growth in the offering of online, virtual event services and webcasting tools that are available. The old saying that the show must go on has now transitioned to the show must go online but what does it all mean? In this post we'll outline to you the types of virtual online events that are becoming commonplace and the info you need to organise your own.
What Is A Virtual Event?
Virtual events are operated and produced completely remotely, allowing all participants to contribute from their own location. Think of your average ZOOM call. This allows attendees, panelists, and virtual visitors from anywhere around the world so long as they have an internet connection. Audiovisual.ie can take your virtual event to the next level. Think of your event custom branded with someone else looking after all the technology.  Hybrid Events Combine the traditional event setting with an online broadcast element. Virtual events are not a replacement for other types of events, but in the world in which we find ourselves today, they are a perfect solution for delivering your message effectively. Below are the main types of online virtual events becoming popular in the COVID-19 era.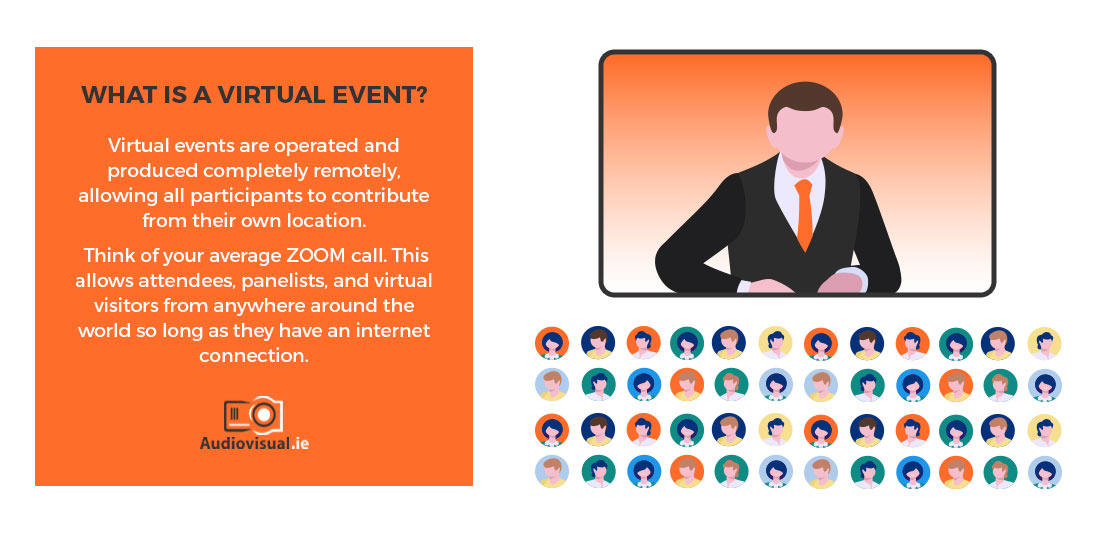 Webinars
Webinars typically last somewhere from 40 to 90 minutes. Holding webinars virtually allows attendees from around the world to join in and listen as one or more speakers present the content. Our green screen offering provides some great branding opportunities as well as a professional looking event. Companies have the option to charge attendees to join webinars using online payment wall services or they can be offered for free. Webinars typically allow Q&A session, the ability to present live or a pre-recorded video, and to be offered as on-demand after the fact. All content can be recorded and reused for online promotional activities.
Internal Hybrid Events
These are town halls, sales kick-offs, company wide events, training days, department meetings, quarterly reports and more. For organisations that span countries, even continents, internal hybrid events are used to share a message to the entire company when employees are not all gathered in the same place. While it would be great to fly every employee to your organisation's headquarters, it would be incredibly costly, and the scheduling required would be time-consuming. At Audiovisual.ie, using green screen and augmented reality technology, we can take your host and place them in a fitting presentation environment be it in a company atrium, a conference stage or a exhibition hall. We can custom brand and create the event setting exactly as you visualise it.
External Hybrid Events
These events are held for those outside of your organisation. They can be user conferences or industry conferences. These events require higher levels of video production so that virtual attendees are provided a similar quality to in-person attendees. These events allow attendees who are unable to travel to the event to participate and learn. Again, the sky is the limit here. You visualise it and we can create it.
Virtual Conferences & Exhibitions
Virtual conferences are built around a live, complex agenda that includes keynotes, sessions, breakouts, and more. Virtual conferences include multi-session content and can involve community engagement tools. Virtual conferences allow attendees to view keynotes in real-time, build their own agenda from relevant, on-demand content, and interact with other attendees.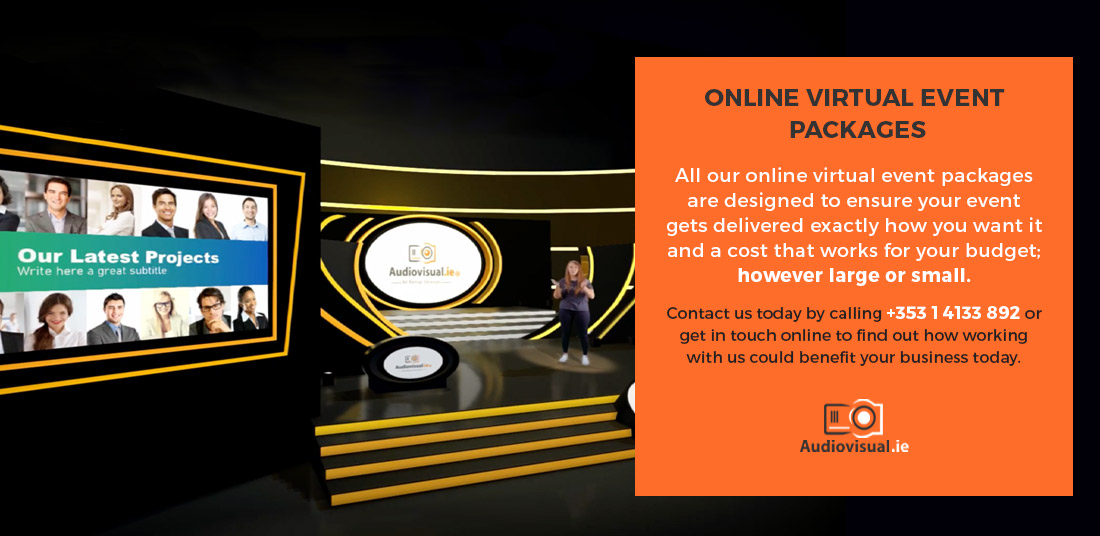 Online Virtual Event Packages
All our online virtual event packages are designed to ensure your event gets delivered exactly how you want it and a cost that works for your budget; however large or small. Contact us today by calling +353 1 4133 892 or get in touch online to find out how working with us could benefit your business today.