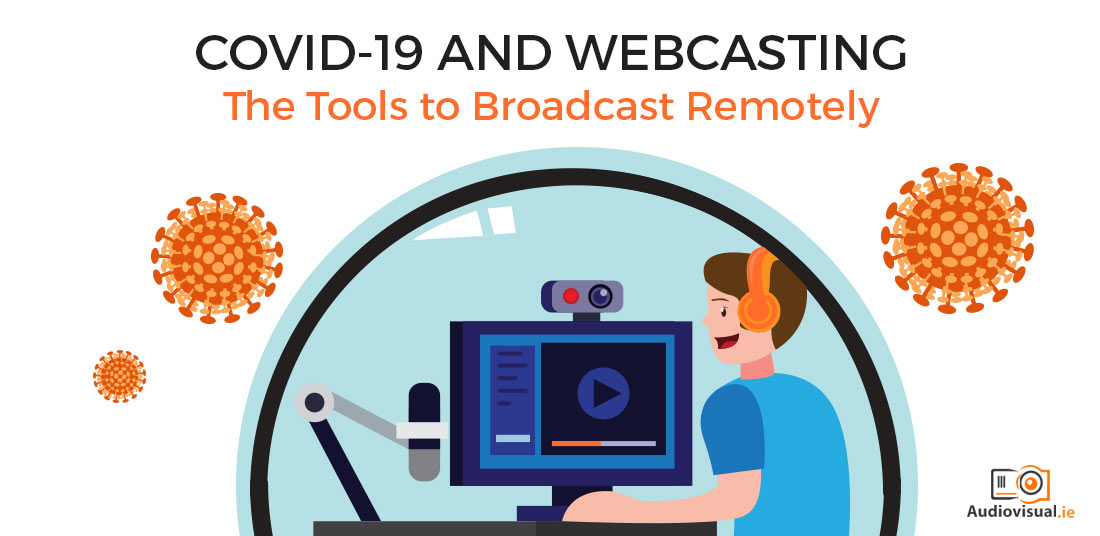 16 Mar

Covid-19 And Webcasting – The Tools to Broadcast Remotely

Are the current COVID-19 restrictions hindering your plans? With more places closing and a full on lockdown imminent now is a good time for you consider using webcasting to allow you to stream your conference, event or presentation. We've been providing webcasting tools for a while now but with Covid-19 and the impact it is having on the traditional workplace we've had a huge uptick in interest. Read on!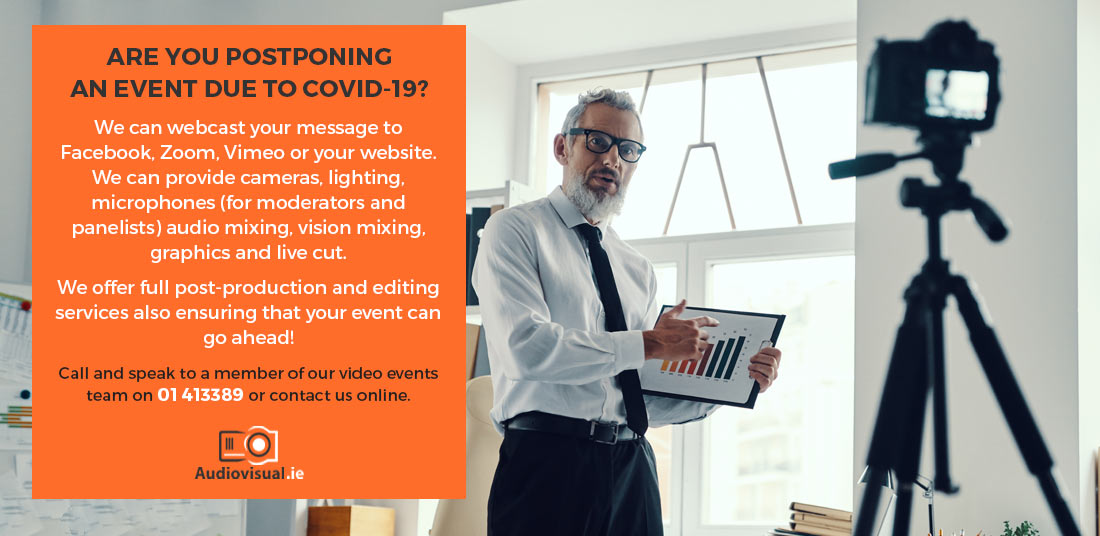 Are You Postponing An Event Due to Covid-19?
Are you postponing an event or conference? We can webcast your message to Facebook, Zoom, Vimeo or your website. We can provide cameras, lighting, microphones (for moderators & panelists) audio mixing, vision mixing, graphics & live cut. We offer full post-production and editing services also.
Not everyone can attend your event, but it's important that everyone is kept in the loop. We have various options for those who can't attend in person. You can watch the event take place from a device with high definition web streaming systems or engage with event attendees through live chat. Furthermore, your event can be put online for future participants to view at their leisure.
Comprehensive Webcasting Packages for Webinars
A webcast or webinar is a video broadcast of an event transmitted across the Internet. We provide some comprehensive packages which allow you to professionally webcast your meeting, conference, event or message. Webcasting is ideal for AGMs, meetings, town halls and all hands meetings. Commonly used for financial reports, shareholder & investor briefings, sales presentations and training applications. Webcasting is used by everyone from accountancy firms and medical companies to any professional service providers across all industries. Webcasts can be branded and edited and reused as effective video marketing material. Webcasting can be a standalone service or if you are having a conference, why not plug our webcast service into your live event and open it up to 100's of participants?
High Quality Video Production Services
We provide the highest quality professional video & production services available. We can customise a package to suit your exact requirements. We can provide local screens and sound systems for inhouse audience as well as high quality audio for streaming. We can cater for larger online audiences and streams can be embedded into your website or we can provide a hosting environment where participants can simply 'click the link' to join. Participants can chat and it all can be moderated live and with ease.
All content is recorded and can be repurposed to make effective marketing materials such as video teasers, highlight reels and viral video content.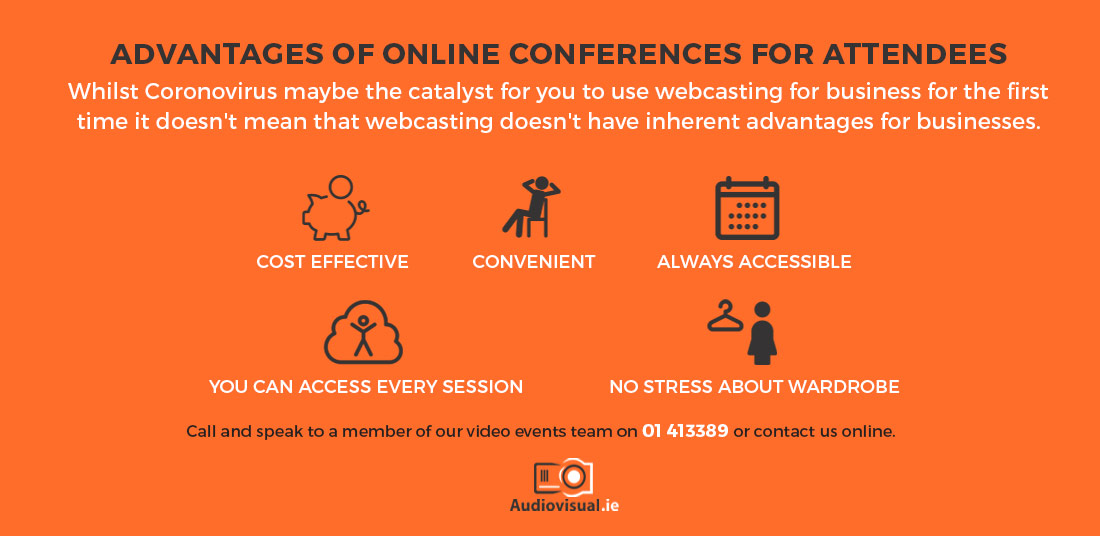 Advantages of Online Conferences for attendees:
Whilst Coronovirus maybe the catalyst for you to use webcasting for business for the first time it doesn't mean that webcasting doesn't have inherent advantages for businesses.
Cost Effective: In-person events usually require travel, hotel accommodations, and food expenses, all of which can add up to hundreds or thousands of Euros.
Convenient: Conferences can be a lot of fun, but they're not always convenient when compared to accessing a webcast from your home.
Always Accessible: Anytime anywhere and based online so it fits in around your schedule.
You Can Access Every Session: There is noting worse than missing part of a conference or maybe two breakout sessions are on at the same time and so one will have to be missed. With online conferences you can watch them all online at your leisure.
No Stress About Wardrobe: No one sees you when you attend an online conference, so you don't have to think twice about throwing on jeans and a sweatshirt but can kick back in your pyjamas.
Disadvantages Online Conference for Attendees
We have to give you the rough with the smooth with regards to webcasting. Whilst it does have a lot of advantages there are a few drawbacks to be aware of:
No Face-to-Face Networking: One of the biggest draws of in-person conferences is the chance to network with other professionals in your industry and socialise with peers. This could be especially challenging for any extroverts.
Limited Social Opportunities: Networking is possible during online events, as long as the conference organisers have made it a priority – but not all do.
Requires Personal Motivation to Attend: If you pay for and travel to an event, chances are you're going to try to attend the conference sessions.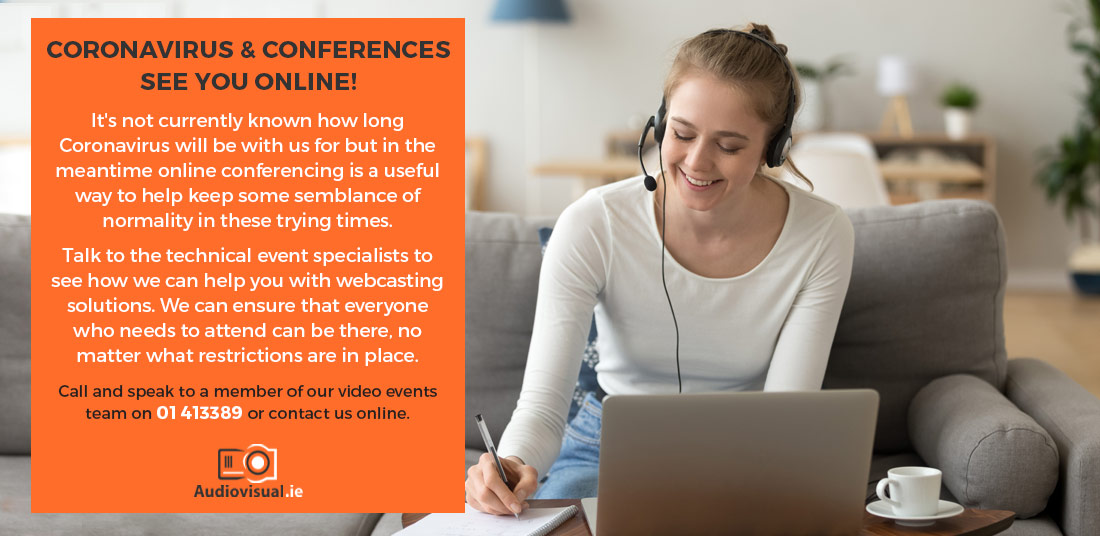 Coronavirus and Conferences – See You Online!
It's not currently known how long Coronavirus will be with us for but in the meantime online conferencing is a useful way to help keep some semblance of normality in these trying times. Talk to the technical event specialists to see how we can help you with webcasting solutions. We can ensure that everyone who needs to attend can be there, no matter what restrictions are in place. Call and speak to a member of our video events team on 01 4133892 or contact us online.
And, most importantly, look after yourselves.