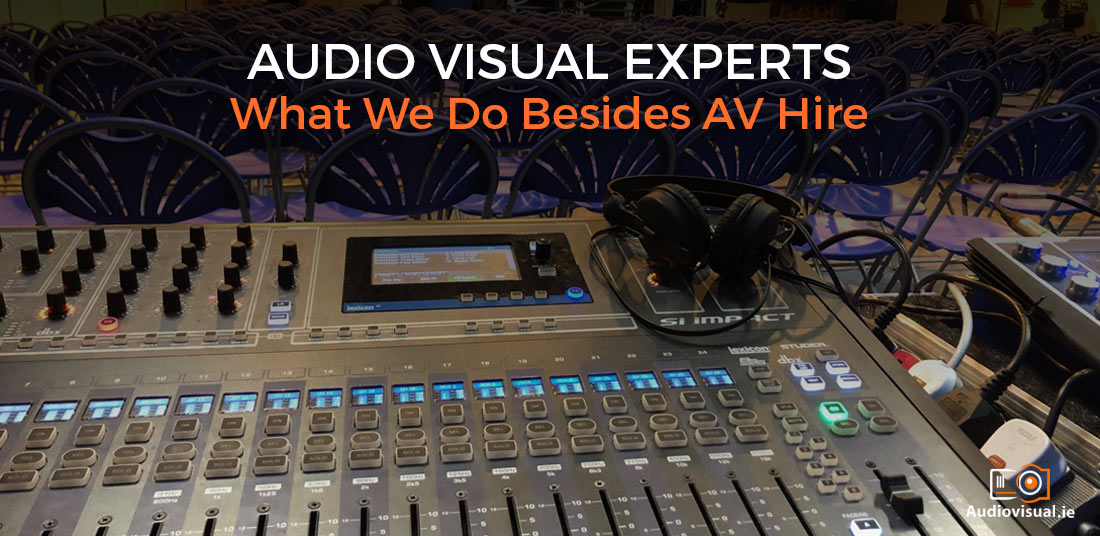 18 Feb

Audio Visual Experts – What We Do Besides AV Hire

Here at audiovisual.ie we don't just hire out equipment. We deliver, set up and collect the gear, as well as providing expert advice and the option of a qualified and experienced AV operator. We also offer telephone support: if you experience any problems, we are just a phone call away. We do everything in our power to ensure that your event goes smoothly, without a hitch.
To Ensure the Equipment Performs At Its Best
We genuinely feel a responsibility to ensure the equipment performs at its best throughout the occasion. What it all boils down to is that we don't want to leave you in the dark. From initial phone call to collection of the equipment, we will look after you. Let's take a closer look at everything we do besides hiring out audio-visual gear.
Advice on Hiring Out Multi Media Technology
From the outset we will advise you, so you get the solution that perfectly suits your event be it for a sound system rental, projector rental, video wall hire or anything else. Even if you have experience with the technology, it is likely that you don't have as much as we do, which is why we offer it to you. There are so many things to consider before hiring out multi-media technology. Is the event indoor or outdoor? What size will the audience be? What kind of venue will it take place in? What is your budget? We are also keen and happy to address any issues or queries you might have.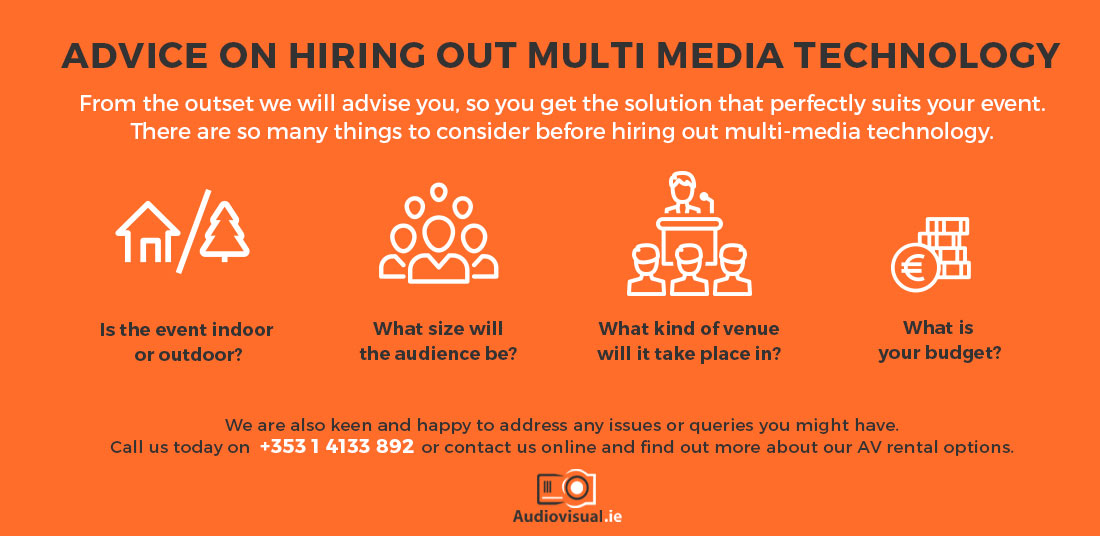 A Swift And Sound Set Up
We provide delivery, set up and collection. Let us take care of the hard work so you can get on with preparing for your event. We've been doing this for so long that we can guarantee a swift and sound set up (if you pardon the pun). We'll be in and out of there in no time. You'll be primed and ready to go once we are finished. We are also neat and tidy. The equipment is set up so that it is clean and easy on the eye. And we will leave the venue exactly as we found it.
The Option of an AV Operator
You can have all the audio-visual technology in the world, but it is useless to you if you don't know how to operate it. We provide the option of an AV operator, if you need one. Again, even if you have experience using the gear, it is often best to leave it in the hands of an expert if you want to concentrate on your own performance at the event. Let us take some of the stress and worry out of the occasion by taking care of AV operations. Our operators are qualified and experienced experts, so you won't have to worry about the technology going down on you half way through the event.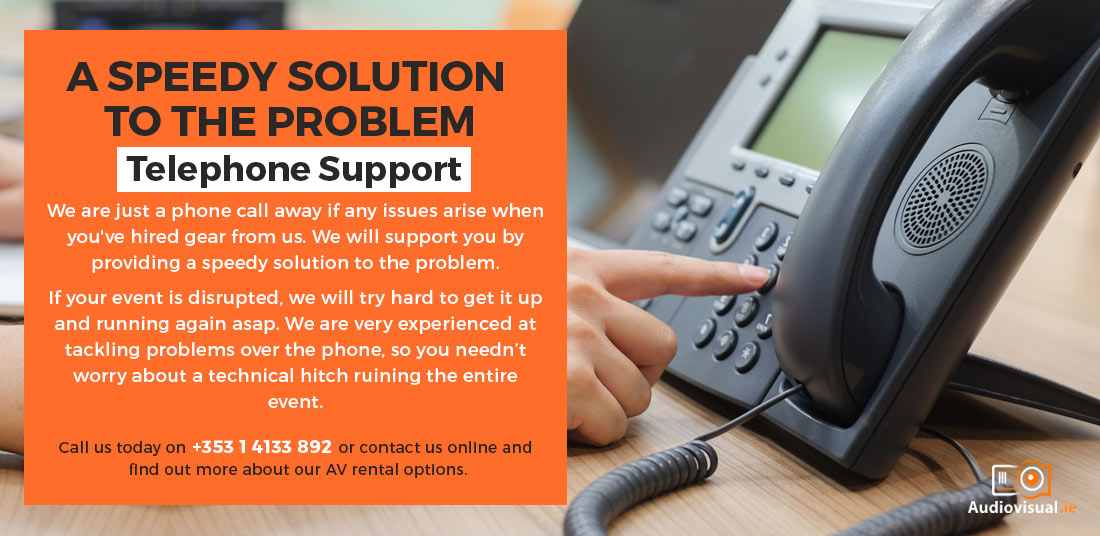 A Speed Solution to the Problem – Telephone Support
If you decide against hiring out an operator, you will not be left on your own. We are just a phone call away if any issues arise. We will support you by providing a speedy solution to the problem. If your event is disrupted, we will try hard to get it up and running again asap. We are very experienced at tackling problems over the phone, so you needn't worry about a technical hitch ruining the entire event.
More Than Just Hiring Audio Visual Gear
These are just some of the ways we supplement the hiring out of audio-visual gear. We've been providing AV rental to the Irish market for over 50 years and we want your event to be a success as much as you do, which is why we do everything in our power to ensure that it goes smoothly. We've been doing this for so long that 'smooth' is our middle name. So, call us today on +353 1 4133 892 or contact us online an let us prove it to you!
Don't miss out on future blog posts and be in with a chance to win a €100 voucher by joining our mailing list now!