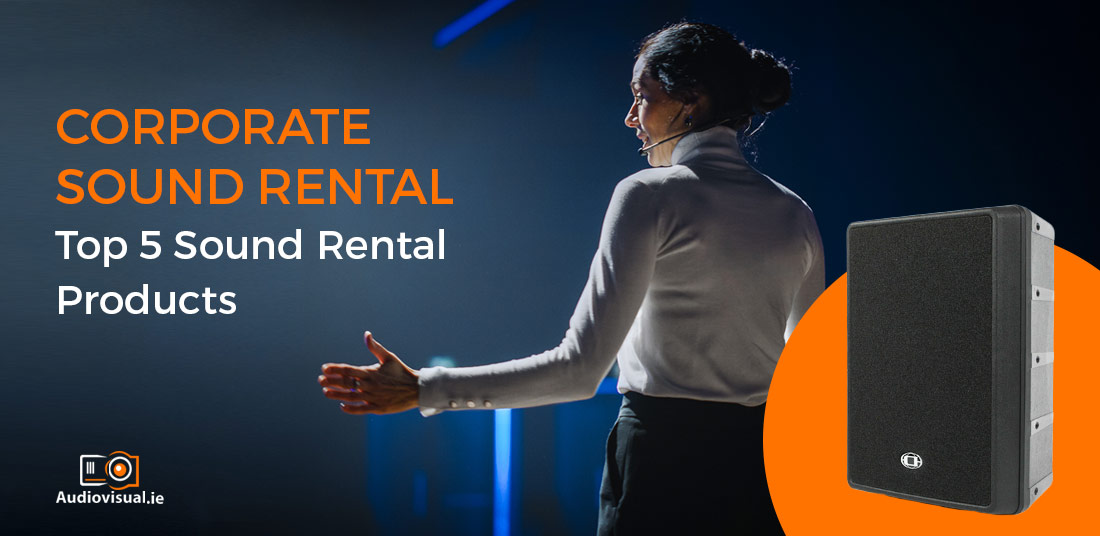 13 Apr

Corporate Sound Rental – Top 5 Sound Rental Products

So, you have been given the task of organising a sound system and now need a corporate sound rental for your event but what do you do or where do you start? Well here's our top 5 must haves right now in the corporate sound rental speace, sound systems that look sharp and sound even sharper, perfect for the corporate environment.
Sennheiser LSP500 All-In-One PA System Rental
Scenario: 50 people / need to play some background music and say a few words with a wireless handheld microphone, high quality Audio
These are easy to use turn-on-and-go systems. The emphasis is on convenience and audio quality. A typical sound system rental will output approx 100watts and will generally run on battery or mains, provide a wireless handheld microphone and some music playback options CD/Bluetooth etc. Ideal for an audience size of up to 50 people or for outdoor use.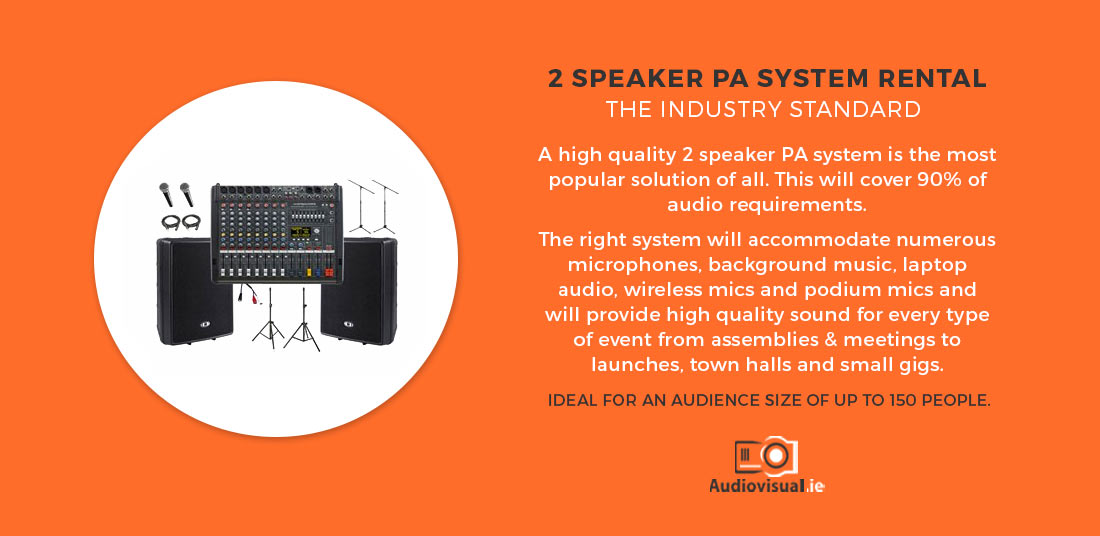 2 Speaker PA System Rental – The Industry Standard
Scenario: Up to 150 people / need to play some background music and use multiple microphones in a larger indoor space with the option to crank up the sound later in the evening.
A high quality 2 speaker PA system hire is the most popular solution of all. This will cover 90% of audio requirements. The right system will accommodate numerous microphones, background music, laptop audio, wireless mics and podium mics. It will provide high quality sound for every type of event from assemblies & meetings to launches, town halls and small gigs. Ideal for an audience size of up to 150 people. These systems can be increased to 4,6,8,10 speaker systems as audience size increases or to accommodate non standard room shapes etc.
Pioneer DJ CDJ-2000NXS2 Pro Digital DJ Deck
Scenario: Large gathering with dedicated live DJ performance
You have planned your event down to the finest detail and you are bringing in a high-performance DJ to get the party going. They require Professional DJ decks to be onsite. We can provide Pioneer, the industry standard for DJ equipment. Our Pioneer DJ Decks rental includes delivery, set-up and de-rigging for you. For DJ parties we recommend:
2 x Pioneer DJ CDJ-2000NXS2 Pro Digital DJ Deck
1 x Pioneer DJ DJM900NXS2 4 Channel Professional Digital Mixer
Corporate Sound Rental for Recording
Scenario:Video and audio recording
If you are recording some video in the office or outdoors and need to capture high quality Digital Audio for editing later then we can provide the equipment you need. This will allow you to capture the perfect audio and visual recordings which can be used as needed in the future.
Sennheiser Team Connect
Scenario: You are having a Teams or Zoom call with 8 people around the meeting room table
If you are having an important team meeting or meeting with an external client it is vital to ensure that everyone is heard during the Zoom meeting. The Sennheiser Team connect is perfect for this and one of our top corporate sound rental packages for this reason. You can wirelessly connect up to 4 Mic/speaker pods for seamless unified communications.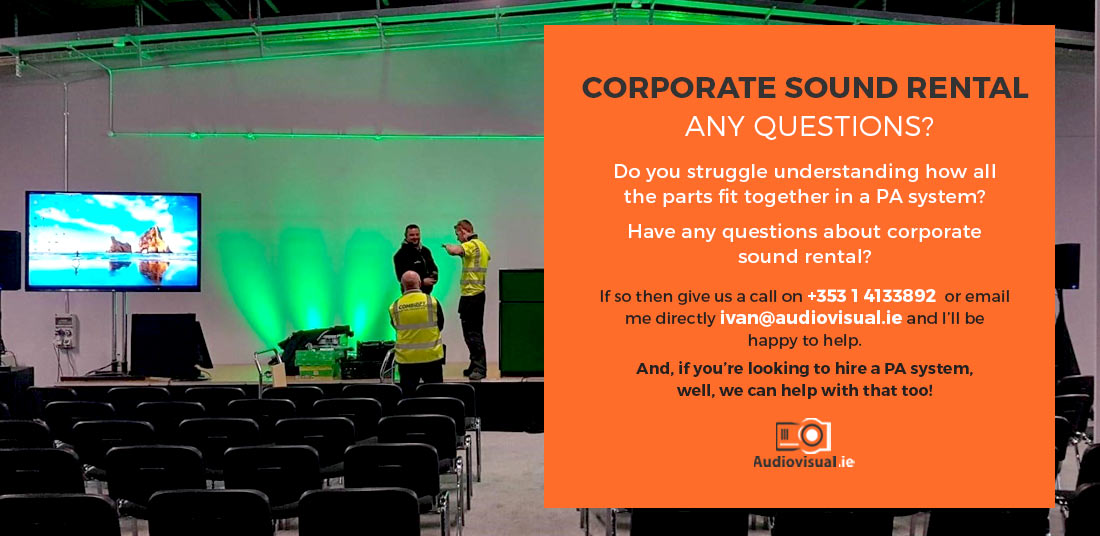 Corporate Sound Rental – Any Questions?
Do you struggle understanding how all the parts fit together in a PA system? Have any questions about corporate sound rental? If so then give us a call on +353 1 4133892, email me directly ivan@audiovisual.ie or contact us online and I'll be happy to help. And, if you're looking to hire a PA system, well, we can help with that too!