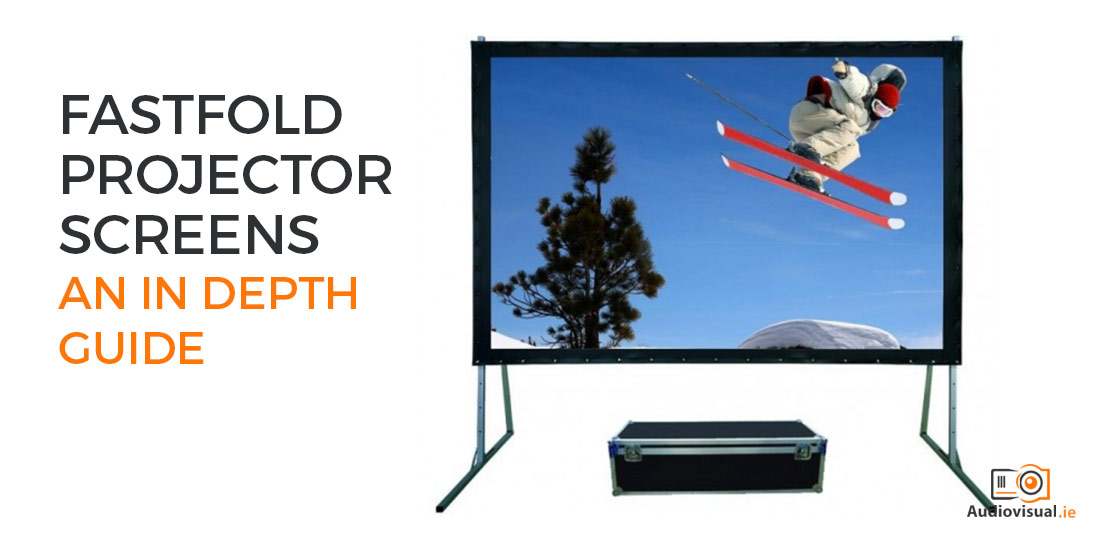 25 Sep

Fastfold Projector Screens – An In Depth Guide

This blog article follows on from our initial post detailing screens for projectors and the more in depth post looking at electric projector screens and so today we'll specifically look at fastfold projection screens. Fastfold Projection screens are highly versatile, easy to operate and suitable for almost any application including classroom and meeting rooms, large halls and auditoriums and home cinema use.
Fastfold Projector Screens – Quick and Easy Set Up
There is a full range of formats & sizes of fastfold screens available. The beauty of a fastfold screen is that they are easily assembled in less than 10 minutes, and are large projector screens suitable for exhibitions and large venues. Fastfold screens give you the option of having front or rear projection material.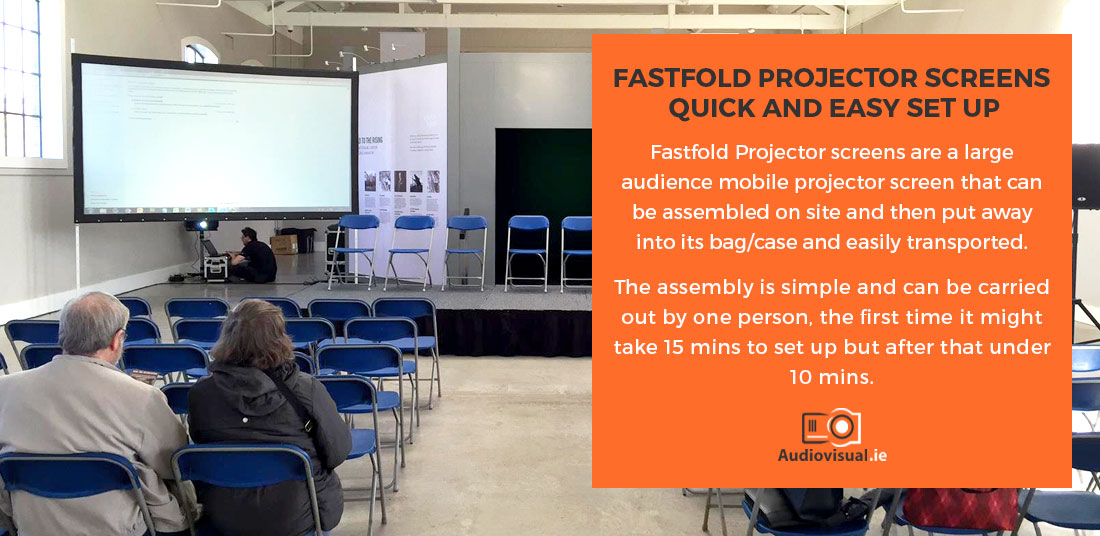 Fastfold Projector screens are a large audience mobile projector screen that can be assembled on site and then put away into its bag/case and easily transported. The assembly is simple and can be carried out by one person, the first time it might take 15 mins to set up but after that under 10 mins. The basic idea is that you have an aluminium fold up frame that is connected together and hinged. You simply click a tensioned front or rear projection screen surface on to the frame. When finished do the opposite and off you go. Other types of mobile screens just cannot be transported so easily as they have rigid casings the full width of the screen.
Front or Rear Projection?
Fastfold screens can be set up for front or rear projection. Front projection screen surfaces are white and rear projection surfaces (or skins) are opaque in colour. Rear projection requires a little more projector brightness than front, however the big advantage with rear is that the projector is hidden behind the screen and allows for a very 'clean' looking set-up. Rear projection requires space behind the screen and depending on your projector, this could be as much as 4 Mtrs. Which will eat into your room space. So, rear projection is not always an option.
Size & Aspect Ratio of Fastfold Projector Screens
You must take into consideration the size and aspect ratio of the projector screen. Until a few years ago, most laptops and sources used a 4:3 aspect running a 1024 x 768 resolution. More recently, we see 16:9 screens becoming popular due to the arrival of Full HD, 4k UHD and 8k UHD resolutions. Many projectors will run WUXGA resolution (1920 x 1200) which project a 16:10 aspect. If this all sounds too technical, don't worry. We will always advise you as to which aspect ratio you require. As far as size goes, it's simple: the bigger the crowd, the larger the screen required.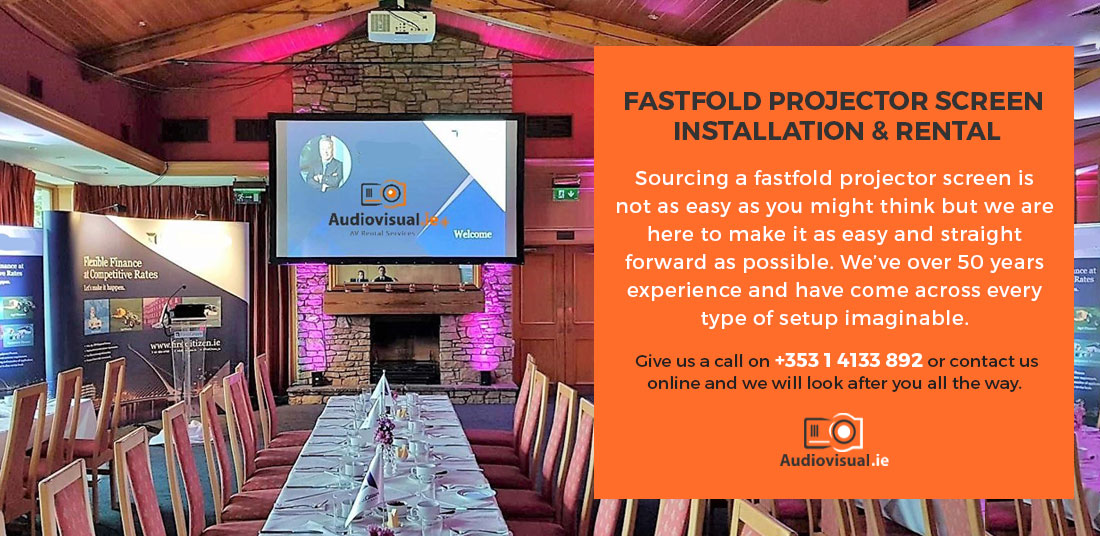 Fastfold Projector Screen Installation & Rental
So, there you have it. Sourcing a fastfold projector screen is not as easy as you might think but we are here to make it as easy and straight forward as possible. We've over 50 years experience and have come across every type of setup imaginable. Give us a call on +353 1 4133 892 or contact us online and we will look after you all the way.
Don't miss out on future blog posts and be in with a chance to win a €100 voucher by joining our mailing list now!