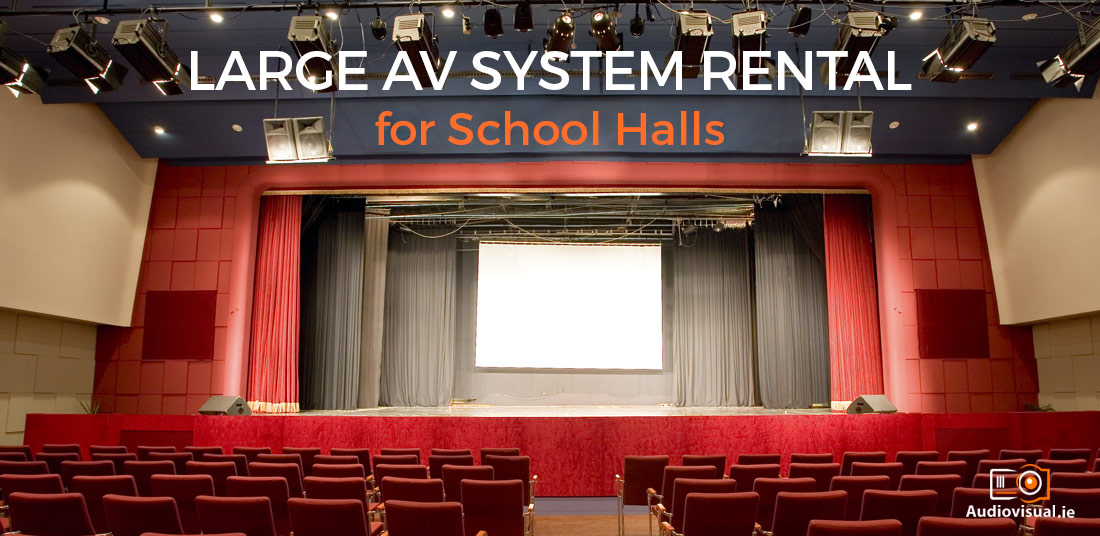 10 Oct

Large AV System Rental for School Halls

Sometimes a big occasion comes along and it's time to push the boat out, make a splash and roll out the red carpet. At www.audiovisual.ie we can provide sound systems and large displays ideal for communicating to large groups of people in a school hall. School halls can be very tricky environments. Large spaces with hard surfaces, lots of reverberation and impractical lighting.
AV System Rental for School Halls
Recently we provided sound and AV services for a Bishops Mass in a large school hall. The audience was 600 people, and the event involved a choir, 3 live musicians, a piano player, 2 live camera feeds, seamless video switching, 8 speaker sound system, CD playback, 4M x 4M stage, 4M high backdrop drapes and stage lighting.
The trick is to think of the hall as a large black canvas. As all rental equipment is temporary and free-standing by nature, you can design the room layout to suit your requirements.
Renting AV Equipment for School Halls
To help you make sure you rent the right equipment for your next school hall event make sure you consider each of the following areas.
Staging: Most rooms will have a preferred or obvious location for the stage. Keep entrances and exits to the rear of the room so as not to cause disturbance during the event. Consider what's happening on the stage? How many people? Are they seated? Are they moving around? Is there a lectern? Flowers?
Backdrop: What's going on behind the stage? Is it attractive? Is it distracting? Avoid windows. Pipe and drape systems can hide a multitude and provide range of colour and texture options. If the budget stretches, a stage backdrop can be designed for the occasion.
Sound: Big halls can cause big problems when it comes to sound. The trick is more speakers and less volume. Spread the sound around the hall without having to crank it up. More volume causes more reverb. Nothing worse than sitting at an event in a hall with 2 speakers belting out and sound bouncing off every wall…nuff said.
Microphones: There are specialist microphones for every application. Better mics, better results!
Display Screens: When it comes to displays generally, we will use projection with large format display (LFD) screens (TV's) left and right. It must be said that all screens appear to shrink when brought into a hall. So, the bigger the better.
Signal & Switching: carefully plan your cables & signal flow.  Check out this previous blog covering signal flow. Halls eat up cable, so bring plenty. Allow for doorways, fire exits and other obstructions when planning cable routes.
Lighting: There are many options for lighting rental for school halls. But the most important is the lighting for people on stage. Perhaps signage lighting and room uplighters to add a sense of event.  Make sure that if the event is being video recorded that he subjects are well lit. Check out our event lighting basics guide for more information about lighting.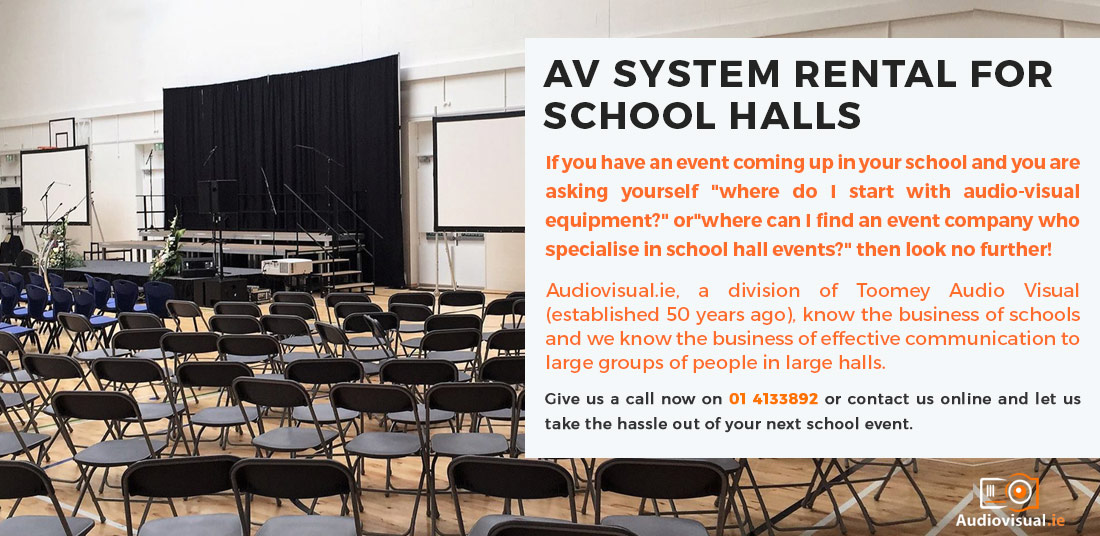 Specialists In Audio Video Rental for School Events
If you have an event coming up in your school and you are asking yourself "where do I start with audio-visual equipment?" or "where can I find an event company who specialise in school hall events?" then look no further! Audiovisual.ie, a division of Toomey Audio Visual (established 50 years ago), know the business of schools and we know the business of effective communication to large groups of people in large halls. Give us a call now on +353 1 4133892 or contact us online and let us take the hassle out of your next school event.