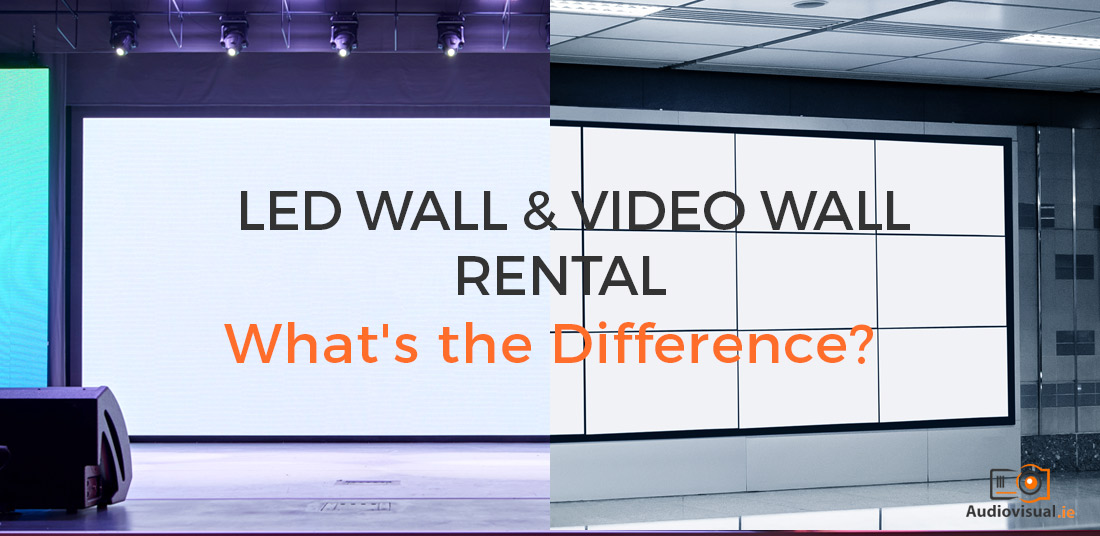 15 Mar

LED Wall & Video Wall Rental: What's the Difference?

If you're in the market to rent a large display, you've probably found that displays come in a range of shapes, sizes, and technologies. The most common rental screens currently are LCD & LED and in this post we'll explain the differences between the two.
LCD Display Panel Info
LCD (liquid crystal display) is a flat panel display type that has been popular for years in both the video wall and consumer electronics markets. Chances are, you already use LCD technology several times a day – it's the display type used in most smartphones, computer monitors, and television screens. LCD is an extremely high-resolution technology, so LCD video walls can display text, images, and video in sharp detail. However, when LCDs are tiled together to create a video wall, bezels (or seams) are visible between the individual panels. This can be seen as a disadvantage when comparing LCD to seamless display types like Direct View LED. LCD is particularly suitable for up close displays where there is a small viewing distance. Crisp HD & 4K graphics looking stunning up close.
Our Most Popular Video Wall Rental: We have catered to a whole host of video wall rental needs but our most popular videowall rental is a 2X2 55" set-up creating a 110" diagonal size screen with a super thin 3.3mm combined bezel. It's a great size for onstage display, exhibitions and of course watching the game!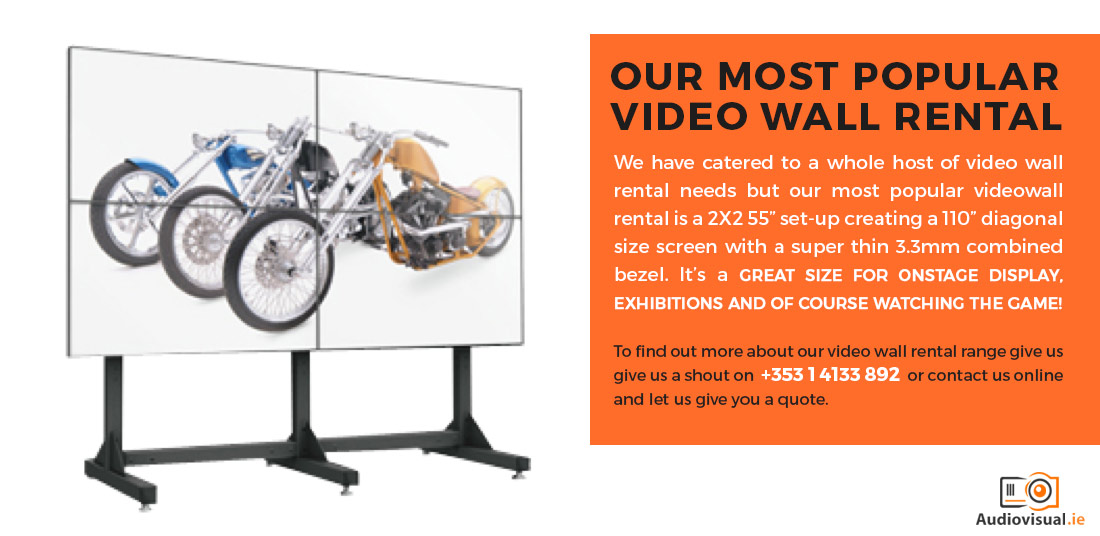 Direct View LED Display Panel Info
Like LCD, Direct View LED (sometimes just called "LED") is a flat-panel display type involving the use of light-emitting diodes (LEDs). However, Direct View LED works very differently from LCD. In a Direct View LED display, hundreds of tiny LEDs are mounted directly on a panel, and no liquid crystal or polarized glass is used. Instead of serving as a backlight (like they do in LCD displays), the LEDs in Direct View LED displays produce images themselves. Each LED is essentially a tiny lightbulb that emits coloured light when a particular voltage is applied to it. Clusters of red, green, and blue LEDs are grouped on the panel, creating the full-color pixels needed to produce an image.
LED walls are ideal for large venues and are built for video content. Crisp HD images will attract and engage the attention of the audience like no other! Check out this setup we did for EPIC in CHQ.
Most Popular LED Wall Rental: With so many sizes and options available for LED wall rental we might as well let you know which is the most common set up we encounter. Thus far our most popular LED wall rental is a 4Mtr X 2.5Mtr. It's a great video display for exhibitions and sponsored screen applications.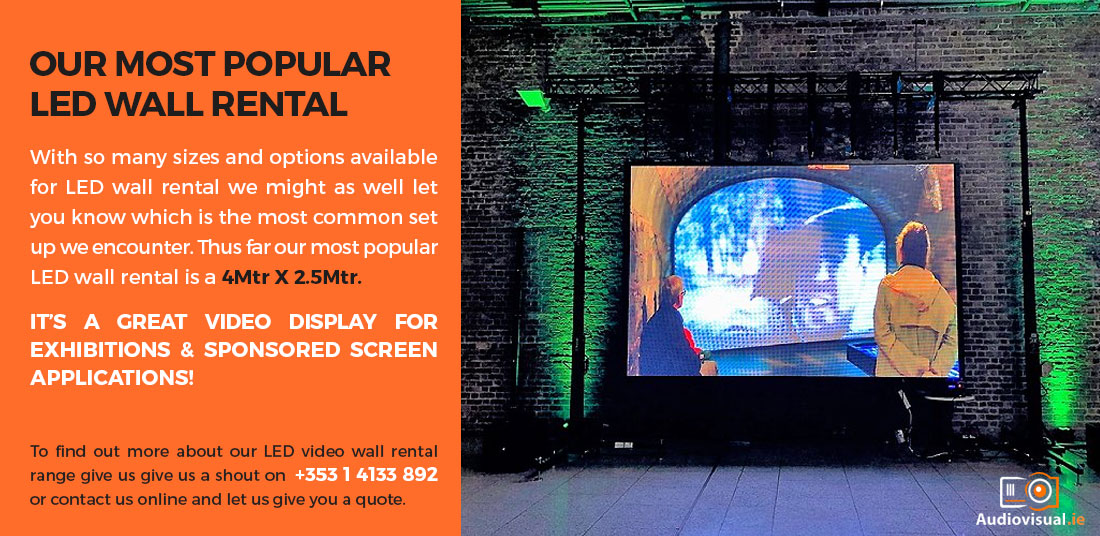 LED Wall & Video Wall Rental
Whatever you require for your screen needs, give us a shout on +353 1 4133892 or contact us online and let us give you a quote. We have years of experience and an extensive range of screens from 32" right up to 5Mtrs wide!