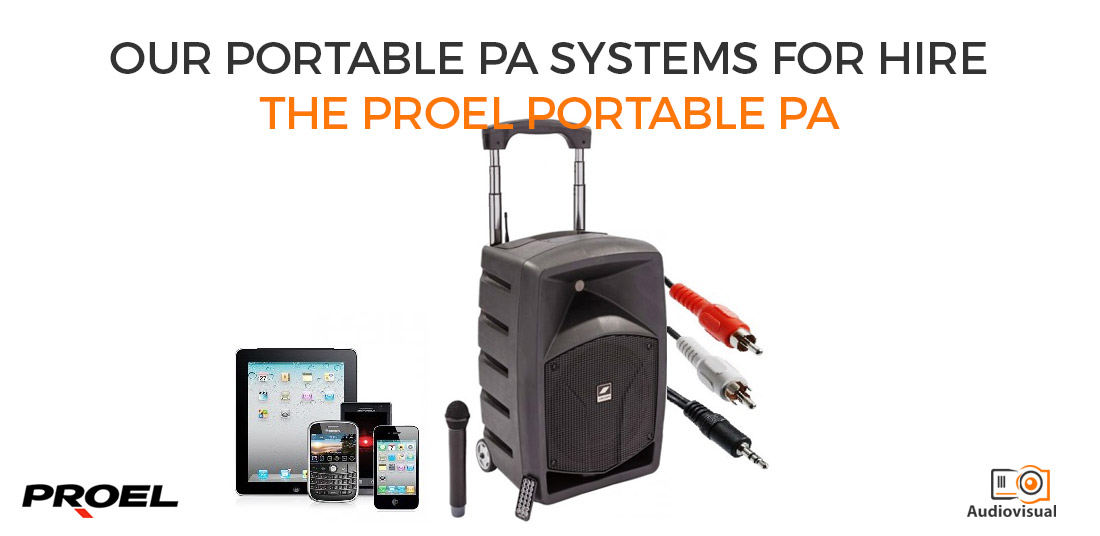 13 Nov

Our Portable PA Systems for Hire – The Proel Portable PA

Here at Audiovisual.ie, we hire out many different types of sound system, but some are perennially popular. The Proel portable PA is one such system. It's small but it packs a powerful punch. Whether it's for music or talking, this compact system will deliver crisp and clear audio for your audience. We've been renting it out for many years now and we've had nothing but satisfied customers and positive feedback.
The Proel Portable PA System Will Not Let You Down
Why be limited by space with a traditional sound system rental? Don't bring the event to your setup, bring your setup to the event! Whether it's indoors or outdoors, for music or speaking, our portable PA system will not let you down. You can run it off mains power or a battery and its compact size allows you to set it up virtually anywhere.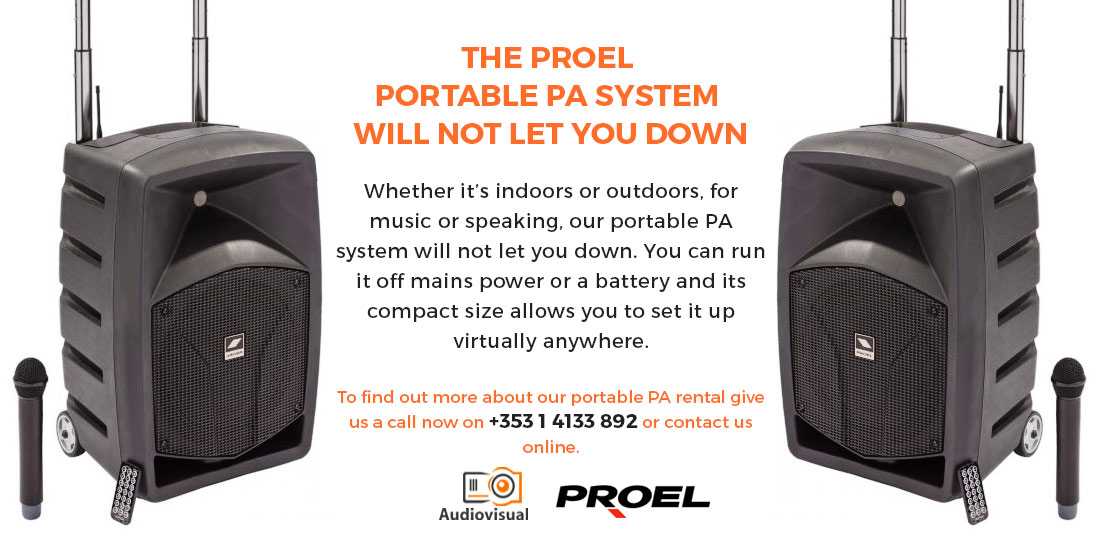 The Proel Portable PA – Making It Happen
The beauty of this little powerhouse of a PA system is that you can set it up virtually anywhere. Maybe you are planning on having a beach party, a school gathering or an office party – the Proel portable PA system will make it happen. All you need to do is bring the guests. You can take it into a forest or a field or you can simply set it up in your backyard. It will work in almost any environment. Maybe you are planning on having a graduation ceremony outdoors on the college campus or maybe you are planning on having a sports day and you need a PA system for commentary. The portable sound system is the perfect solution.
Hearing Is Believing
Good things come in small packages and this is certainly borne out by our popular portable sound system hire solution. Try it out and see for yourself what a difference it makes to have your event outdoors. If you want to make it memorable, the portable PA system will give you the means to do so. All you need to do is decide where to have your event and send out the invites.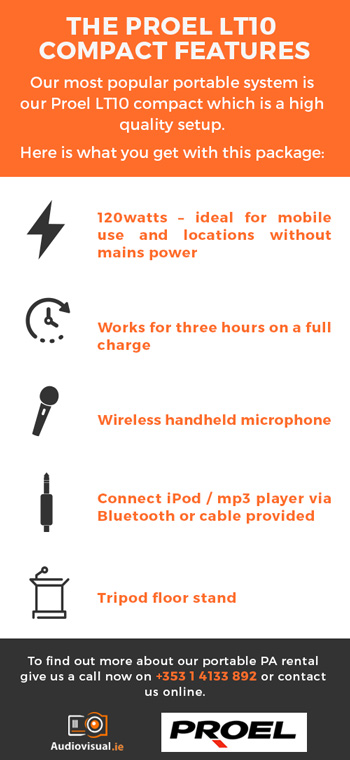 Our Portable Package Is Affordable & Powerful
Our portable package is both affordable and powerful. Your guests or attendees will hear you loud and clear or, if it's music you want to put through it, it will travel far beyond the party goers.
The Proel LT10 Compact Features
Our most popular portable system is our Proel LT10 compact which is a high high quality setup. Here is what you get with this package:
120watts – ideal for mobile use and locations without mains power
Works for three hours on a full charge
Wireless handheld microphone
Connect iPod / mp3 player via Bluetooth or cable provided
Tripod floor stand
Proel Portable PA Rental
If you need a PA system hire that isn't restricted by space, this portable package will almost certainly deliver the goods. Still not sure? Why not contact us today by calling +353 1 4133 892 or online and we will answer your questions and advise you as to whether this is the right setup for you!
Don't miss out on future blog posts and be in with a chance to win a €100 voucher by joining our mailing list now!