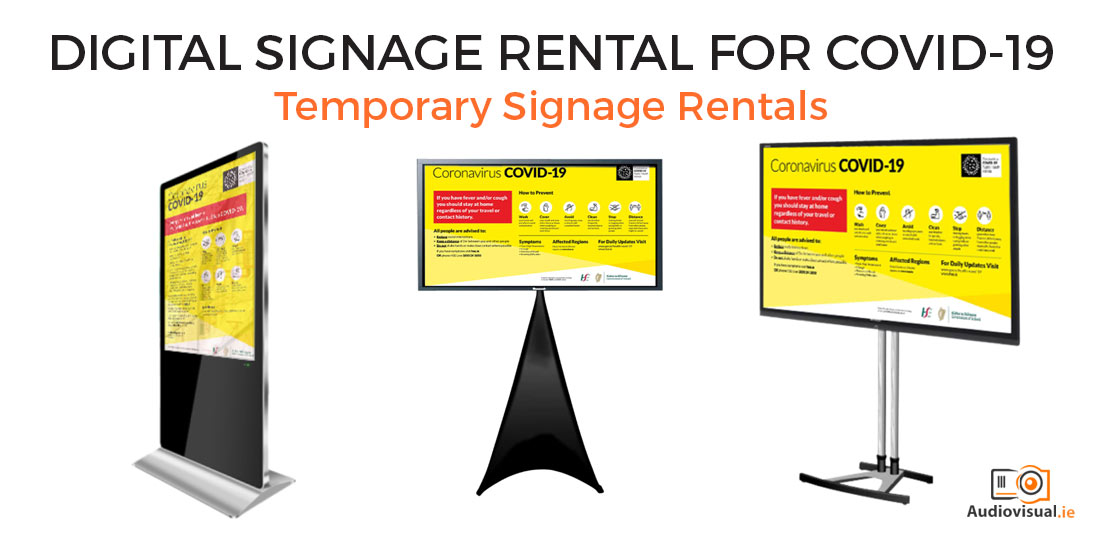 24 Aug

Digital Signage Rental for COVID-19 – Temporary Signage Rentals
Digital Signage Rental for COVID-19
In this unforeseen time of uncertainty, safety is of paramount importance. Both personal safety and the safety of staff and customers alike must be prioritised in order to beat the Coronavirus. As a result of this we have seen an increase in digital signage rental for COVID-19 temporary signage. In this post we'll look at some of the temporary signage rentals that are available.
Temporary Signage Rentals – Coronavirus
As businesses reopen there are many options available with regards to signage for both staff and customers. There can be considerable costs incurred and it can be hard to select which exact signage to purchase, where to locate it, where to get it printed etc. Digital signage provides a fantastic solution to this problem. One of the key advantages of digital signage is that you can design and change the content whenever you want and without any additional costs. This means that as the message changes so too does your content. For example, if the emphasis is on social distancing, this message can be reinforced. If the emphasis is more on mask wearing, content can be updated at every location in seconds. Furthermore, to avoid screen fatigue essential COVID-19 messages can easily be interspersed with other content keeping viewers engaged.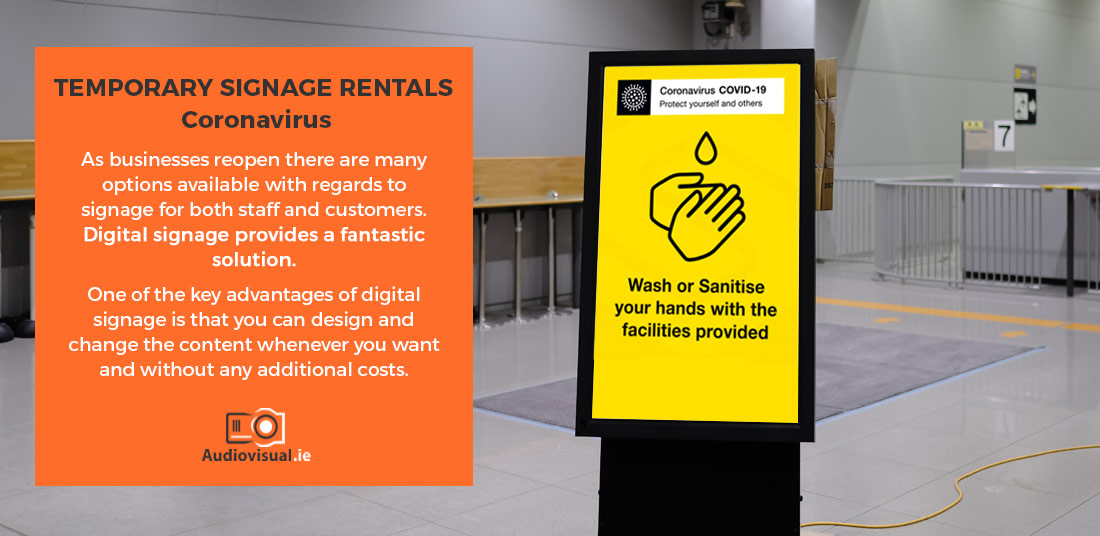 Advantage of Digital Signage
There are many advantages of using digital signage
Minimizes perceived wait times
Professional looking image for staff & clients
New creative content is inexpensive
Schedule your content depending on the time of day or day of the week
Digital signage screens can be interactive
You can double up your marketing efforts by using content online and on digital signage
Easy to update without ongoing costs
Reduces administration cost
Digital signage lets you leverage the power of video content
The Power of Digital Signage
We all know too well that digital signage screens are everywhere we go. In reception and foyer areas, shop windows, train stations and even in taxi cabs. We are surrounded by news, images, text, video and content. We can take in complex content in seconds and messages can be portrayed with a simple image or icon.  This is the power of digital signage.
Top 3 COVID-19 Signage Rentals
We've been busy fitting temporary signage solutions for customers and the top rentals are:
50" Signage Totem
43" HD Screen
Large 80" HD Screen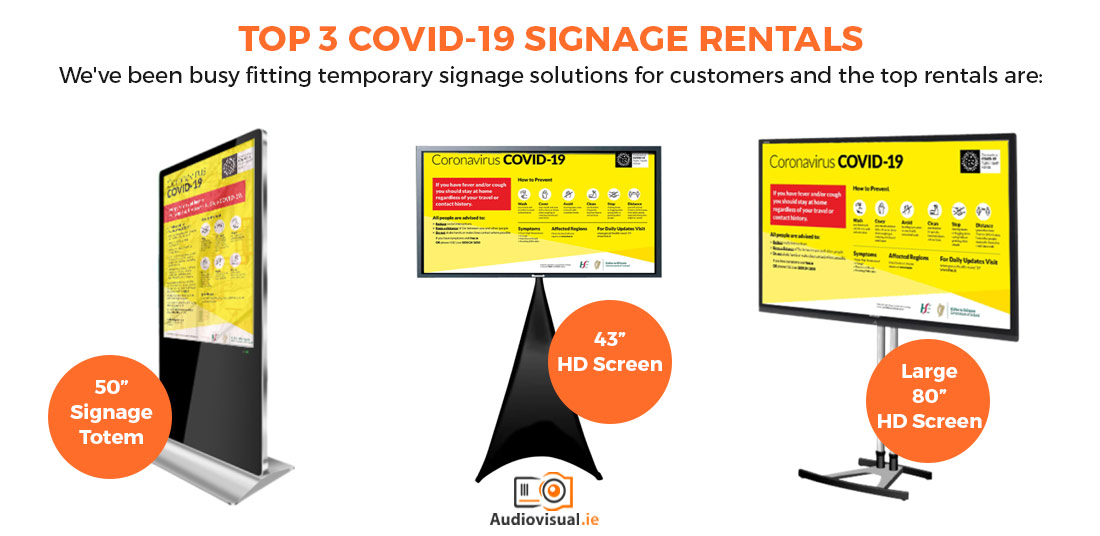 Full Range of Digital Signage Rental
At www.audiovisual.ie we provide a rental service for all types of digital signage screens. We can provide screens from 39" up to 80" and in both landscape and portrait formats. We rent 4K Interactive screens and we can provide media players, DSA cloud digital signage players or simple plug in USB solutions. You can also just plug a laptop into the screen to display your content. We can display the same content to any quantity of screens.
We can call out to your office and advise all the possible solutions available. If you want to add some dynamic content to your office call the rental team on 01 4133892 today or contact us online and we can deliver a solution to you for any duration. Rentals are available from 1 day up to rolling monthly contracts.