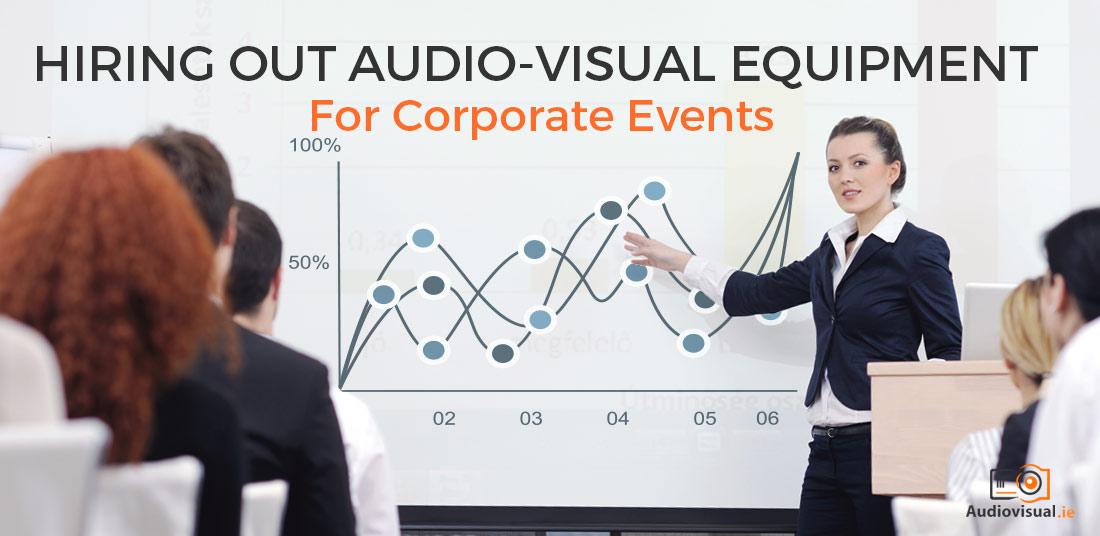 13 Aug

Hiring Out Audio-Visual Equipment For Corporate Events
AV Equipment for Presentations, Conferences & Corporate Events
The larger your company is, the more often you will find yourself in need of audio-visual equipment for presentations, conferences, etc. But this equipment is expensive to purchase and once it has been used, there is no knowing exactly when or where you will need it next. The solution? Hiring out your AV gear for any corporate events!
Renting Audio Visual Technology to Corporate Clients
We've been renting out audio-visual technology to corporate clients for a long time. The main benefit of renting is that we will take care of everything from installation and operation to collection, all the time keeping an expert eye on proceedings to make sure nothing messes up. Whether it is a PA system, a video wall or a projector, we have exactly what you need for that all important presentation or event.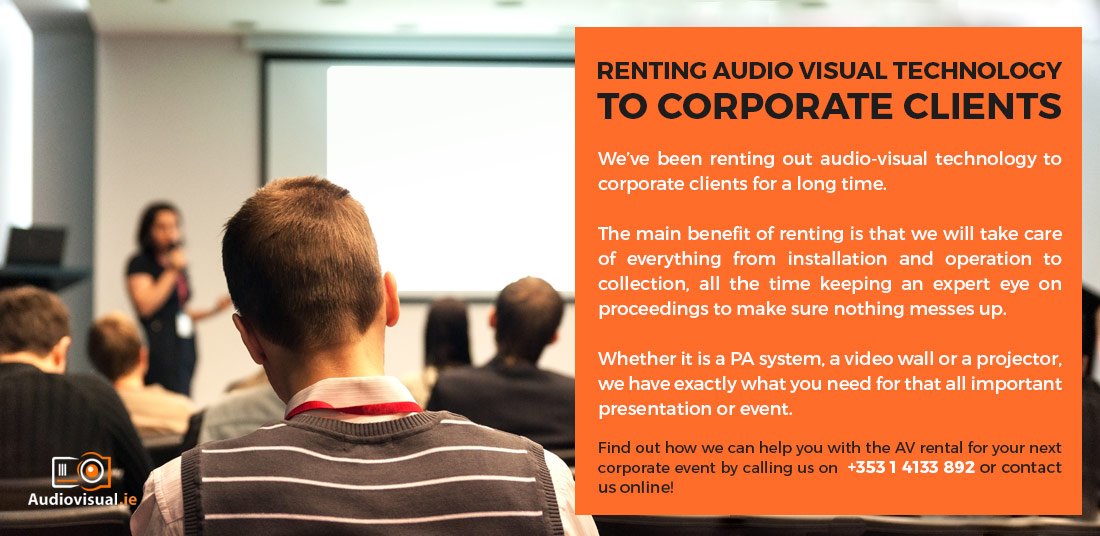 A Major Fleet of Visual Technology & Tools
People in the business world need visual aids to help them understand and appreciate what is being presented or proposed. It needs to be clear and direct. Nothing must be left to the imagination. We hire out a major fleet of visual technology and tools, such as interactive flat screens, video walls and corporate projector rental, to ensure that you get the message across. Of course, there are many other aids that can be employed to enhance the event e.g. stage, lighting and a good PA system. We take care of these things as well.
We Understand The Corporate Environment
There are many different types of event that can occur in the corporate environment. Because we understand this environment, we can advise you and deliver the exact audio-visual solution for any one. Whether it is a small presentation or a large conference we will meet your every audio-visual need. We've provided equipment to the Four Courts, for special events, annual events, exhibition booth marketing, etc. Hiring equipment out has many advantages over buying it and these advantages are especially evident in the context of corporate businesses. You simply cannot predict when, where or what you will need, so the option of having everything there for you, ready and prepared, is a very attractive one.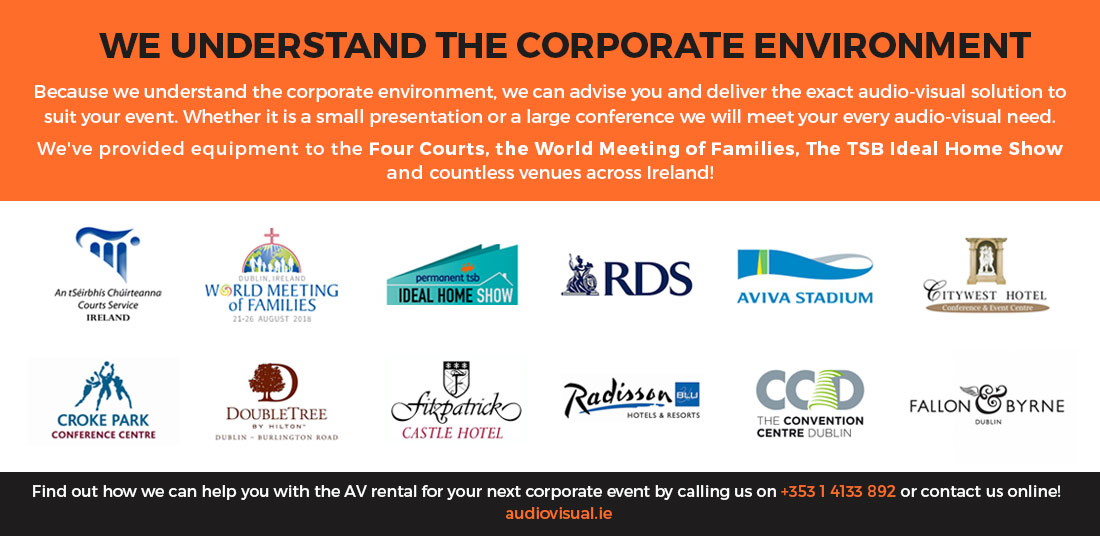 We Want Your Corporate Event To Succeed
It might be the case that you are not sure what you will need. Fret not. We will advise you every step of the way, until everything is in place for the occasion. We've been doing this for a long time, so you are in good hands with us. We want your corporate event to succeed as much as you do, not just because our reputation and good name depends on it, but because it's good business sense and we hold ourselves to a high standard of excellence when it comes to corporate AV rentals!
Find out how we can help you with the AV rental for your next corporate event by calling us on +353 1 4133 892 or contact us online!
Don't miss out on future blog posts and be in with a chance to win a €100 voucher by joining our mailing list now!