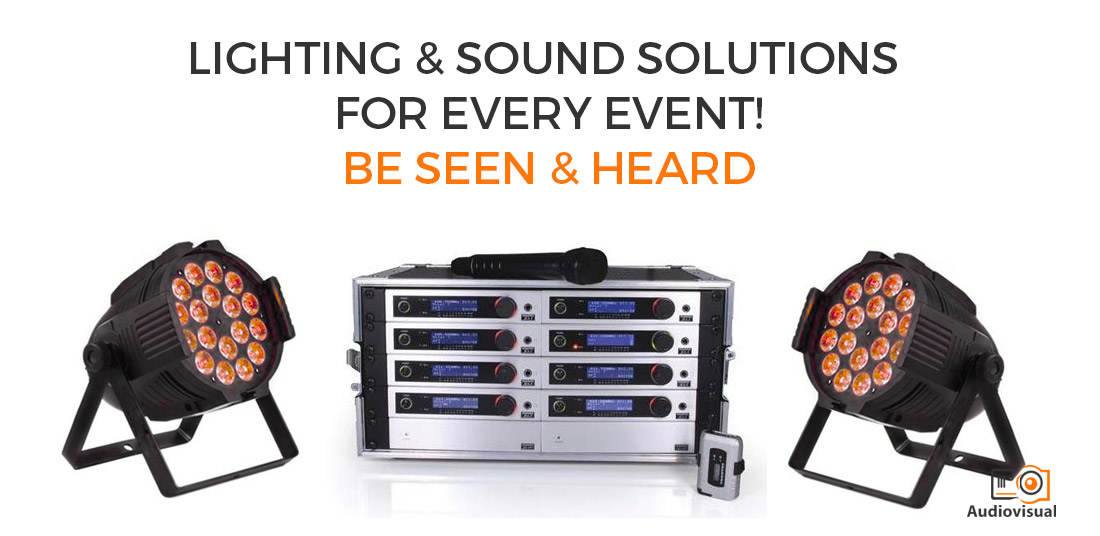 29 Oct

Lighting and Sound Solutions for Every Event! Be Seen & Heard

People often ask the question: which is more valuable to you, your hearing or your vision? We say enjoy both and be thankful that most of us can do so. If you are planning a party, it is the music that will provide the substance, but the lighting will provide the ambience. Never underestimate the effectiveness of good, sophisticated event lighting.
Event Lighting – Playing A Vital Role
Remember all those raves you went to when you were young? Imagine how lacking in atmosphere they would have been without the lighting flashing and transforming as the music pumped along? The idea of dance as a religion really came to the fore in the 90s and the lighting played a vital part in inducing into ravers the religious trance they were seeking.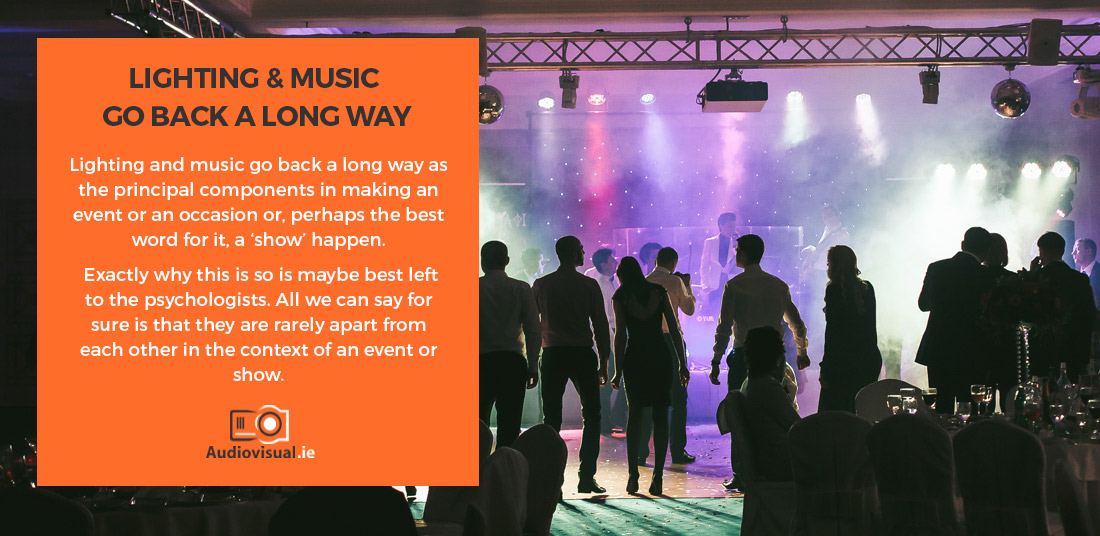 Lighting and Music Go Back A Long Way
But lighting and music go back a long way as the principal components in making an event or an occasion or, perhaps the best word for it, a 'show' happen. Exactly why this is so is maybe best left to the psychologists. All we can say for sure is that they are rarely apart from each other in the context of an event or show.
Putting On A Show With Both Sound and Lighting
If you are planning on putting on a show with both sound systems and lighting, we have both the equipment and experience required to, not only get the job done, but to do it in fine style. When you hire a party sound system from us you get the best deal possible. Our sound systems include both portable PA systems and regular packages, such as our best selling Dynacord 2 speaker 2000watt system and our Proel 'Party Package' and portable systems. We have a sound system to suit every type of occasion. Whether it's for music, live commentary or both, we will deliver on both equipment and know-how.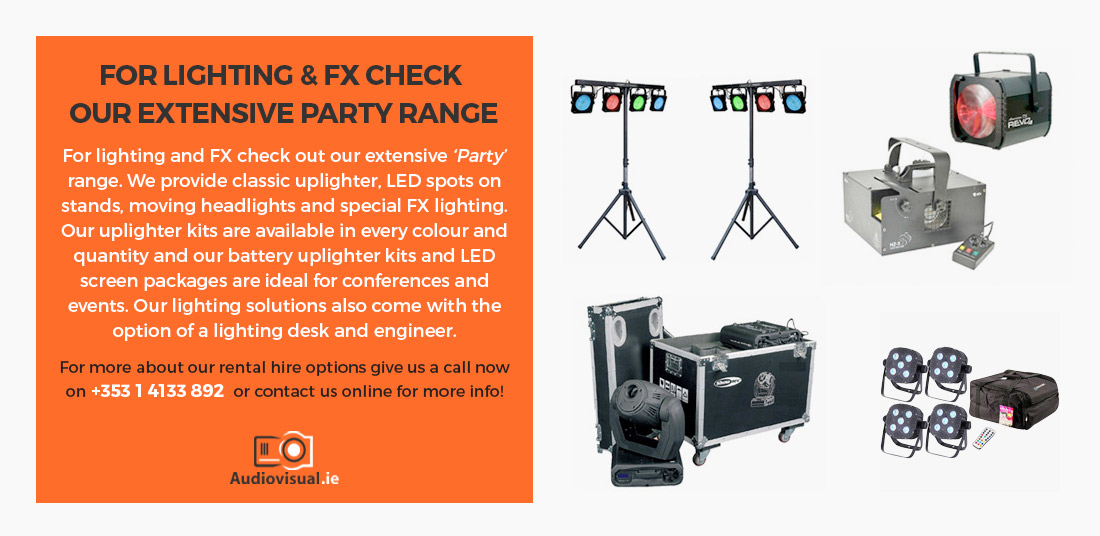 For Lighting & FX Check Our Extensive Party Range
For lighting and FX check out our extensive 'Party' range. We provide classic uplighter, LED spots on stands, moving headlights and special FX lighting. Our uplighter kits are available in every colour and quantity and our battery uplighter kits and LED screen packages are ideal for conferences and events. Our lighting solutions also come with the option of a lighting desk and engineer.
Impress With A Combination of Sound & Lighting
If you are looking to impress with a combination of sound and lighting, trust us and we will advise you as to what is the best hire for you. We will not only deliver the gear but also our vast knowledge and experience in getting the gig up and running smoothly and effectively.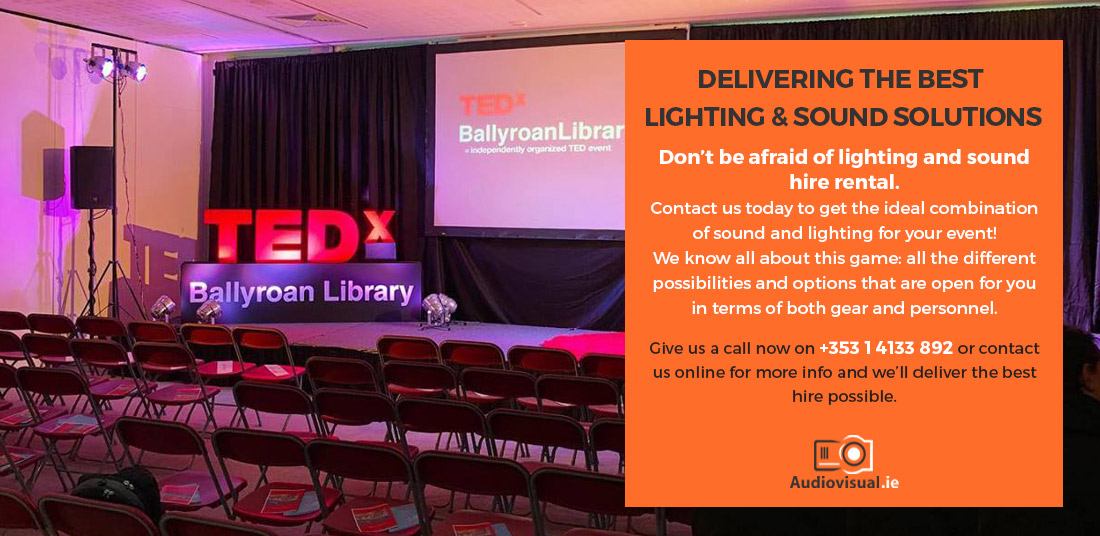 Delivering The Best Lighting and Sound Solutions
Don't be afraid of lighting and sound hire rental. Contact us today to get the ideal combination of sound and lighting for your event! We know all about this game: all the different possibilities and options that are open for you in terms of both gear and personnel. Give us a call now on +353 1 4133 892 or contact us online for more info and we'll deliver the best hire possible.
Don't miss out on future blog posts and be in with a chance to win a €100 voucher by joining our mailing list now!