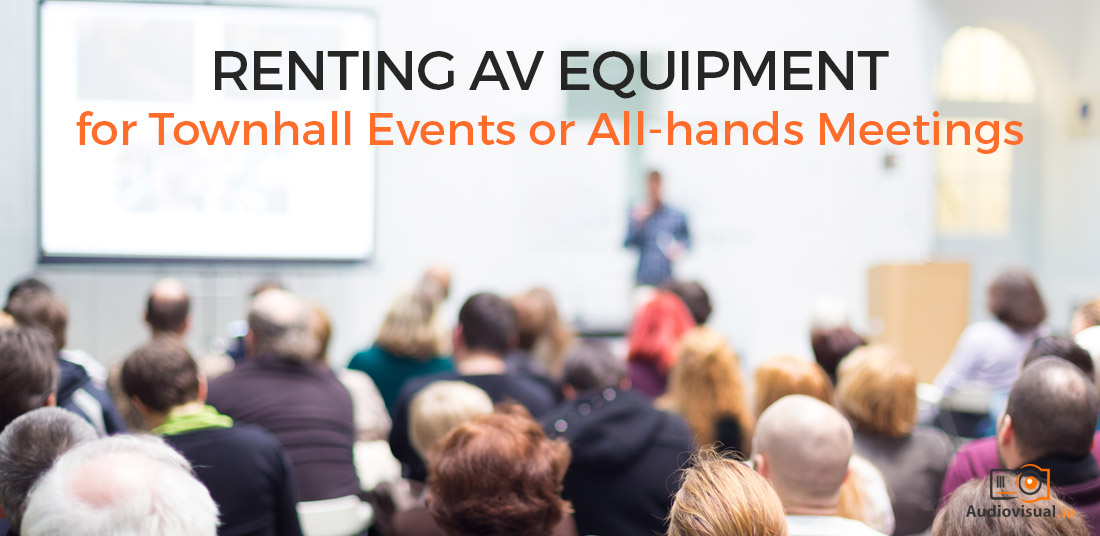 12 Sep

Renting AV Equipment for Townhall Events or All-hands Meetings

All-Hands meetings or Town hall meetings create a unique space for companies to accomplish lots of different things. Primarily they are a means of keeping a large group of people up to date on important events and milestones. They afford the opportunity to deliver clear communications in a time and space set aside for exactly that purpose. Whether you want to discuss better coordination of company resources, understanding of company goals or initiatives, or simply motivate the troops, the Town Hall or All-hands meeting is the modern day setting in large companies.

AV Equipment for Townhall Events & All Hands Meetings
Audiovisual.ie delivers audiovisual services for your All hands conference or Town Hall meetings reliably, consistently and within budget. With experienced technicians, you can offload all of your event needs nationwide to your dedicated Event Manager. We provide the standard audio, video walls, staging, lighting and offer solutions to incorporate iPads, social media and other new technologies to engage your attendees.
Before Confirming Your Townhall Event With a Hotel, Venue or Facility
Be sure you understand the extent of your audiovisual needs so you can verify during the site selection process that function space will be adequate. it is highly recommended that you consult with audio visual specialists BEFORE you book your venue or location. An AV professional will analyse your needs and your budget then help you choose the best solutions for getting the desired results. You may otherwise order things you don't need and overspend. Most important – keep technical support engaged throughout the program even if your needs are basic. If technical difficulties arise once you are on-site, you don't want to be without them!
Popular Equipment for Townhall or All-hands Meetings
There is a variety of equipment which is popular at townhall or all-hands meetings. This list isn't exhaustive but should give you a good idea of what is available and most commonly used for townhall meetings.
Stage
Sound System
Large stage Projection or Video Wall
Stage Lighting
Room Up lighting
Vision Mixer
Stage Set
Audio Recording
Webcasting
Audio Pressbox
Room Perimeter Displays
Prompt Monitors
PowerPoint Clickers (like the Logitech R700)
Cameras & Tripod Stands
Townhall Meetings With No Surprises!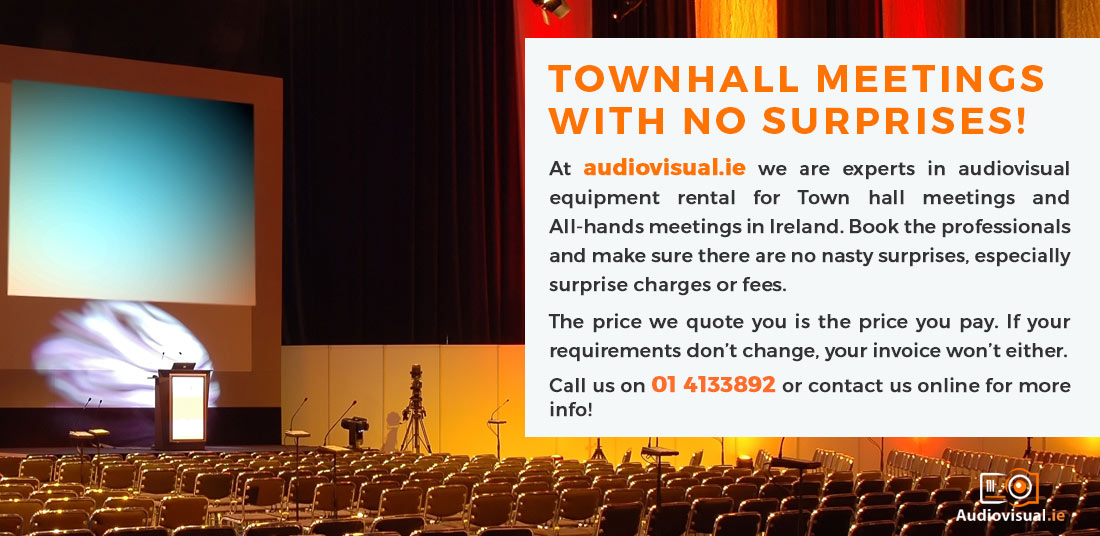 At audiovisual.ie we are experts in audiovisual equipment rental for Town hall meetings and All-hands meetings in Ireland. Book the professionals and make sure there are no nasty surprises, especially surprise charges or fees. The price we quote you is the price you pay. If your requirements don't change, your invoice won't either. Call us on 01 4133892, email me ivan@audiovisual.ie or contact us online for more info!