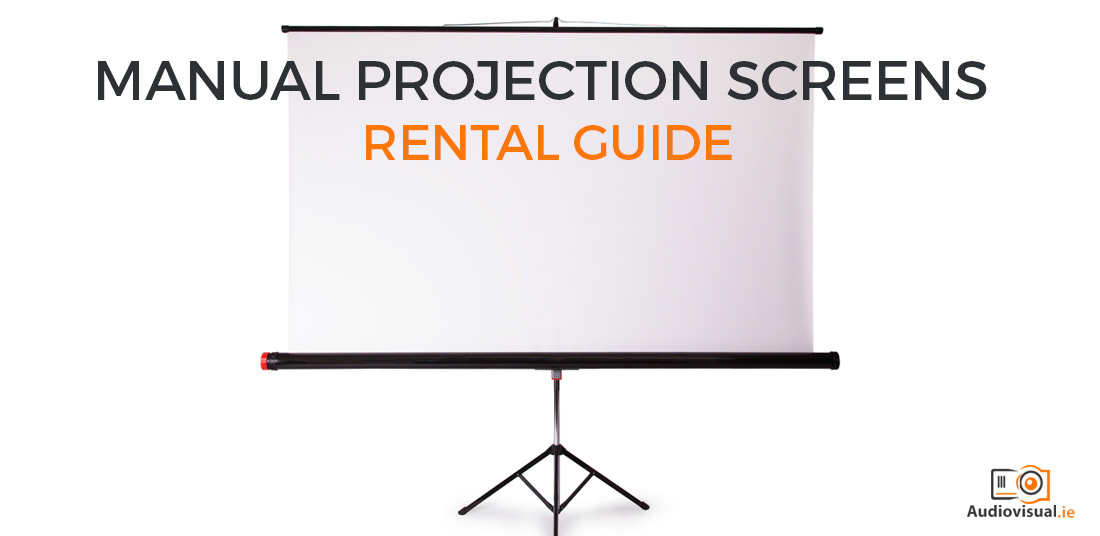 25 Oct

Manual Projection Screens – Rental Guide

As part of our series looking at screens for projectors we have previously discussed fastfold projection screens and electric projection screens and in this post we'll specifically looks at manual projection screens. Manual projection screens are highly versatile, easy to operate and suitable for almost any application including classrooms and meeting rooms, large halls and auditoriums and home use.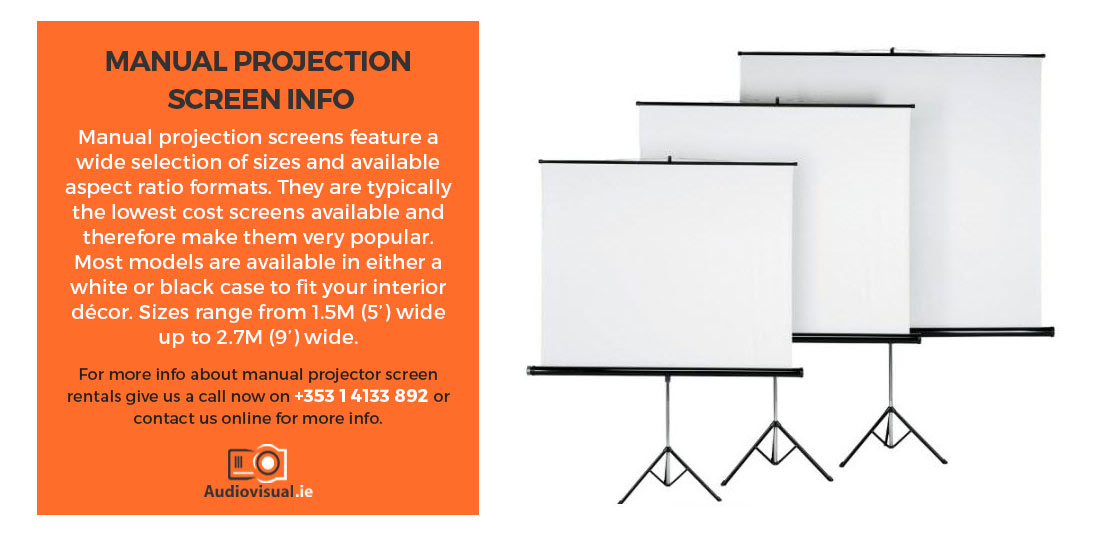 Manual Projection Screen Info
Manual projection screens feature a wide selection of sizes and available aspect ratio formats. They are typically the lowest cost screens available and therefore make them very popular. Most models are available in either a white or black case to fit your interior décor. Standard features include a lanyard for hard to reach applications, black-masking borders all around the entire viewing area, and a dual wall/ceiling mount design. Sizes range from 1.5M (5') wide up to 2.7M (9') wide.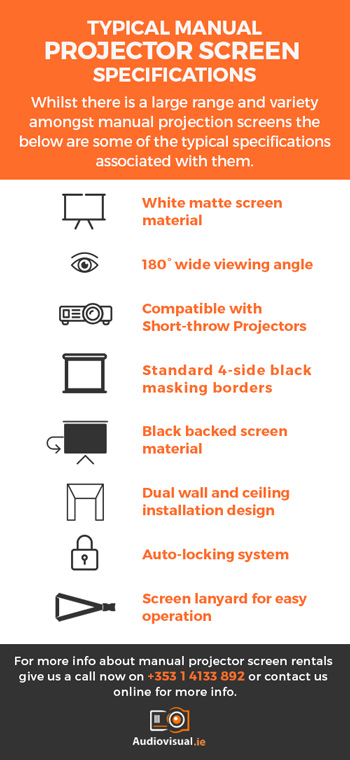 Typical Manual Projector Screen Specifications
Whilst there is a large range and variety amongst manual projection screens the below are some of the typical specifications associated with them.
White matte screen material is durable and easy to clean
180° wide viewing angle for commercial presentations or residential home cinema
Compatible with Short-throw Projectors
Standard 4-side black masking borders
Black backed screen material eliminates light penetration for superior colour reproduction
Dual wall and ceiling installation design
Auto-locking system provides variable height settings in any position
Screen lanyard for easy operation included – allows screen's pull down handle to be reached from high areas.
Size and Aspect Ratio of Projector Screens
When renting a projection screen you must take into consideration the size and aspect ratio of the screen. Until a few years ago, most laptops and sources used a 4:3 aspect running a 1024 x 768 resolution. More recently, we see 16:9 screens becoming popular due to the arrival of Full HD, 4k UHD Displays and 8k UHD resolutions. Many projectors will run WUXGA resolution (1920 x 1200) which project a 16:10 aspect. If this all sounds too technical, don't worry. Audiovisual.ie will always advise you as to which aspect ratio you require. As far as size goes, it's simple: the bigger the crowd, the larger the screen required.
New Slow Retraction Option for Projector Screens
Recently we encountered a new slow retraction model manual projector screen, which we thought was pretty cool. The slow retraction screen, as its name suggests, simply retracts the screen at a slow speed. This of course eliminates the age-old problem of someone tugging down to release the screen and letting go, only to have it roll up at high speed and get damaged.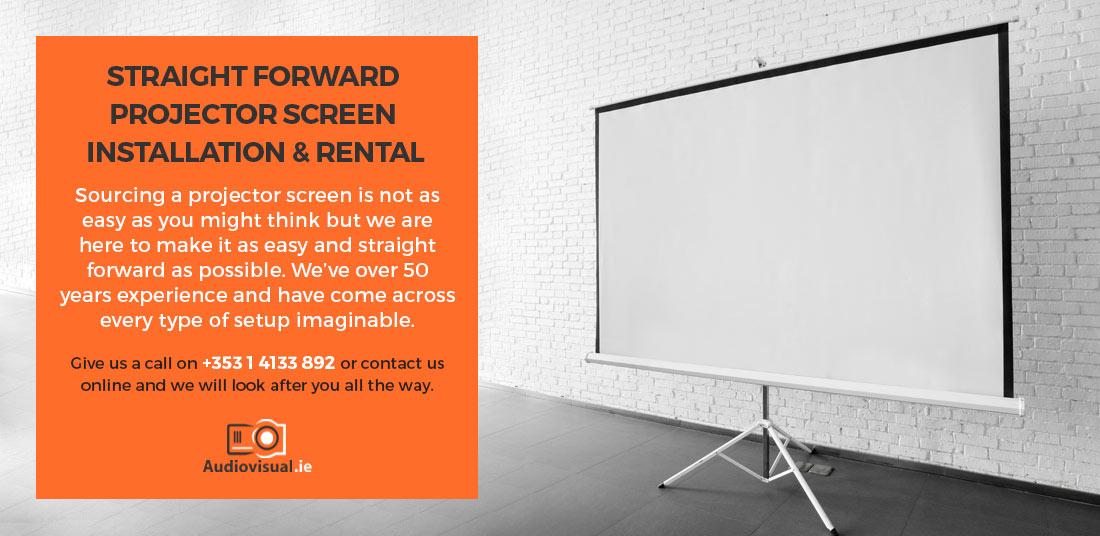 Straight Forward Projector Screen Installation & Rental
So, there you have it. Sourcing a projector screen is not as easy as you might think but we are here to make it as easy and straight forward as possible. We've over 50 years experience and have come across every type of setup imaginable. Give us a call on +353 1 4133 892 or contact us online and we will look after you all the way.
Don't miss out on future blog posts and be in with a chance to win a €100 voucher by joining our mailing list now!