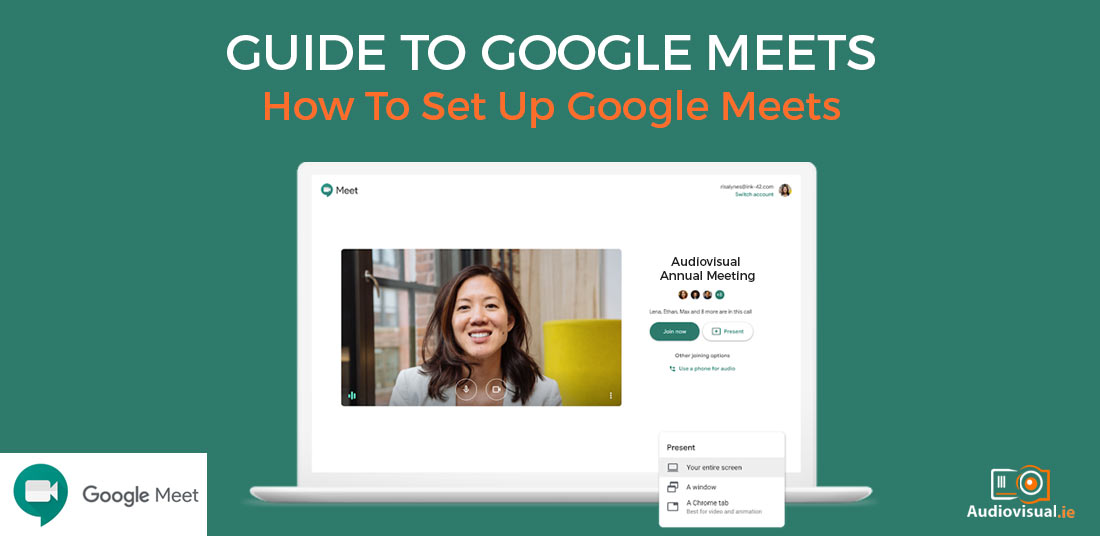 18 Nov

Guide to Google Meets – How To Set Up Google Meets

Many businesses are finding ways around meeting in person since closures at the start of the pandemic and with this we've noticed an increase in rentals for virtual AGMs and online events. Not only is it safer to hold meetings online but some businesses are saving money by conducting their business online and keeping staff working from home. To keep all staff up to date on their workload and how the company can move forward you have a variety of options. One of those is Google Meet. We've already discussed how to create Microsoft Teams Meetings and Zoom Meetings and in this guide we'll explain how you can set one up in Google Meets.
How To Setup Google Meets Meetings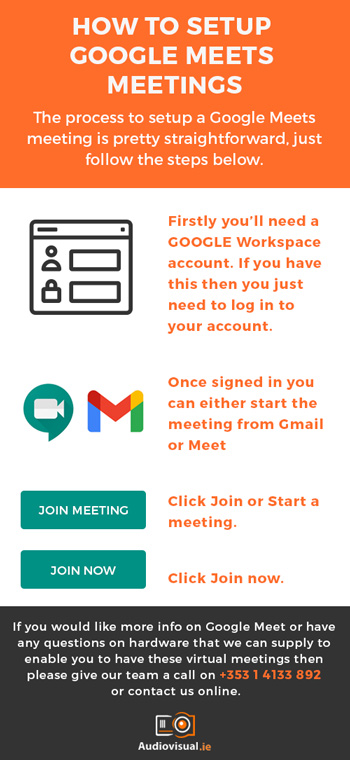 The process to setup a Google Meets meeting is pretty straightforward, just follow the steps below.
Firstly you'll need a Google Workspace account. If you have this then you just need to log in to your account.
Once signed in you can either start the meeting from Gmail or Meet
Click Join or Start a meeting.
Click Join now.
How To Add Someone To A Google Meets Meeting
Once you've got the meeting setup the next thing to do is invite the guests it. To add someone to a meeting, choose one of the below options:
Click Copy joining info and copy and paste the meeting details into an email or another app.
Click Add people and choose an option:

Under the Invitation section, select a name or enter an email address and click Send invitation.
Under the Call section, enter a phone number and press Call
How To Schedule Google Meets Meetings
If you'd like to schedule a Google Meets meeting beforehand then here's the steps you'll need to take. In Google Calendar, create an event. Then, click Add guests and enter the names or email of the people that you want to invite. Then click Save< and then click Send to notify guests.
Why Use Google Meets?
These steps are fairly easy to follow and once in Google Meet you'll have the benefit of live captioning, which allows Googles speech recognition software to convert speech into text for viewers to get your message in text form too. Google Meet works on any platform of your choice be it PC/laptop, tablet, android, or Apple device. You can share your screen to allow participants to view any slides, presentations, or applications you wish to share. Live chat is enabled to allow messaging. The host is also in total control on who can attend, who can contribute with the mute function, and the host has the ability to kick anyone from the meeting should they so wish.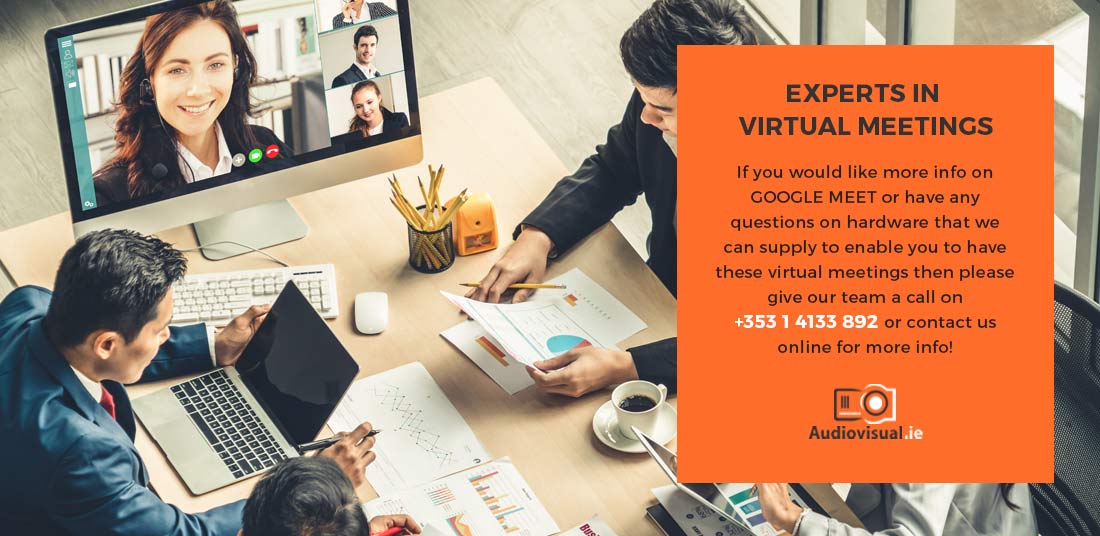 Experts in Virtual Meetings
If you would like more info on Google Meet or have any questions on hardware that we can supply to enable you to have these virtual meetings then please give our team a call on +353 1 4133 892 or contact us online for more info!