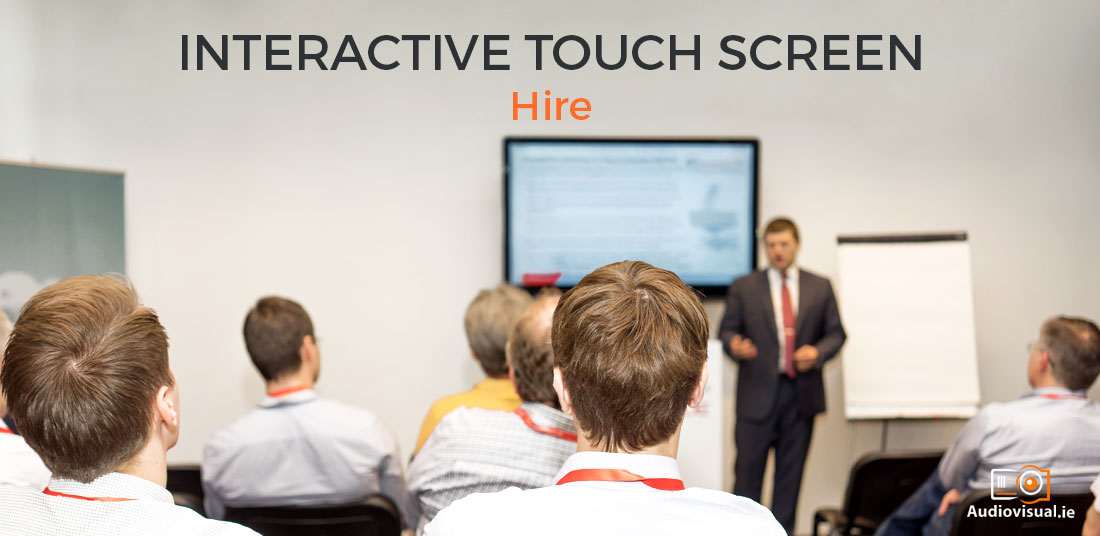 07 Jan

Interactive Touch Screen Hire

Large touch screen displays are great for event registration, lead capture and presentations at conferences, exhibits, corporate events and trade shows. Stunning largescale 4K graphics are guaranteed to grab the attention of onlookers.
Engaging Presentations with Interactive Touch Screen Hire
Utilising Interactive touch screens at your event will allow you to deliver engaging presentations and even allow your audience to participate, as they can literally interact with the data by selecting particular parts of an image or text. This also means that you are able to provide a personalised experience for the user, they will leave feeling more involved in the event. Allowing the audience to connect with the visual presentation is a method which will result in your company gaining instant feedback or collecting invaluable data, including live data feeds.
Quick & Easy Touch Screen Setup
Our touch screens are easy & quick to set up either as wall mounted or on a stand. They can also be portrait or landscape. Compatibility with combination of text, graphics, video footage, social media sites and web content means the possibilities for your presentations are endless. Inbuilt android provides an ideal platform for whiteboarding, annotation, web browsing or running up to 4K videos.
Range of Touch Screens Available
We have 65"4K, 75" 4K and 86″ 4K touch screens available. The screens we supply use cutting edge technology, offering functions suited for different event types. The touch screens provide the user with a realistic writing experience all the while delivering images in 4K, which offers rich colours and contrast with clear detail. There are 20 multi touch-points which are accurate and have no dead spots across the entire screen. No drivers or calibration are required, forget about projectors and screens for projectors screens – the future is here. The infrared technology means no wires, therefore always a clean professional look.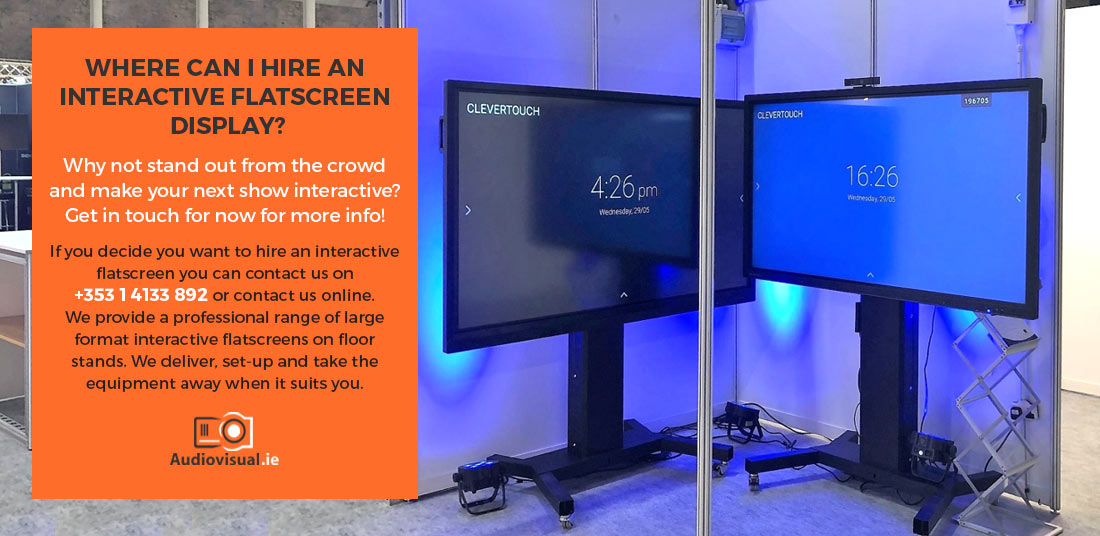 Where Can I Hire An Interactive Flatscreen Display?
If you decide you want to hire an interactive flatscreen you can contact us on +353 1 4133892 or contact us online. We provide a professional range of large format interactive flatscreens on floor stands. We deliver, set-up and take the equipment away when it suits you. Why not stand out from the crowd and make your next show interactive? Get in touch for now for more info!
Don't miss out on future blog posts and be in with a chance to win a €100 voucher by joining our mailing list now!